As part of her school's careers program, she had the chance to job shadow a veterinarian in her community of Brooks, Alta., for a day. 
"I shadowed Dr. Cathy Olson (WCVM '90), and I loved it!" says Elgersma, who is now a first-year student at the Western College of Veterinary Medicine (WCVM).
Her career choice made a lot of sense: Elgersma had grown up in a rural community surrounded by animals of all sizes. From a young age, she enjoyed working closely with her grandfather as she helped out with the cattle and horses on his ranch.
"I'd always loved animals, science, the outdoors and a rural lifestyle, and I knew that veterinary medicine would allow me to pursue a career that integrates all of those disciplines."
In Grade 10, she started taking online classes so she could free up her time to volunteer during the busiest hours at Newell Veterinary Clinic, a mixed animal clinic in her home town.
With the goal of developing herself personally as well, Elgersma was active in extracurricular events at school, in her church and in the community.
As a member of the Brooks Barracudas Swim Club, she swam competitively for several years and particularly enjoyed the races — a highlight for someone who thrives on challenges and is very competitive. She also volunteered as an instructor for the younger club members and enjoyed watching the kids as their skills progressed and they became more confident and excited about the sport.
When her brother started doing triathlons, Elgersma tried a triathlon race herself and was hooked. While she had years of experience with competitive swimming and running, her cycling skills were lacking, so she spent hours training on a stationary bike. Her hard work paid off when she won the triathlon event at the 2014 Alberta Summer Games and was later selected for the Alberta triathlon and cycling team.
"My favourite part about competing and representing Alberta during national competitions was creating great friendships with my teammates as well as getting to know many competitors from other provinces," says Elgersma. She went on to compete with the team for three years and enjoyed travelling across Canada to the various race locations.
While sports played a huge role in Elgersma's life, she was also greatly influenced by her parents who emphasized the importance of family and of giving back to the community. In 2010 their family travelled to Mexico to help a community that was recovering from a hurricane. Elgersma and her mother later went to El Salvador where they assisted with building and installing bio-sand water filters.
When Elgersma completed high school and began a Bachelor of Science in Agriculture degree at the University of Alberta (U of A), she continued to volunteer, helping out at the U of A's Poultry Research Centre as well as the university's Dairy, Resource and Technology Centre.
A summer job at Bow Valley Genetics provided exposure to a rapidly growing aspect of veterinary medicine, and she particularly enjoyed shadowing Dr. Rob Stables (WCVM '96) during an embryo implantation day — an opportunity to learn about each step of embryo collection and transfer.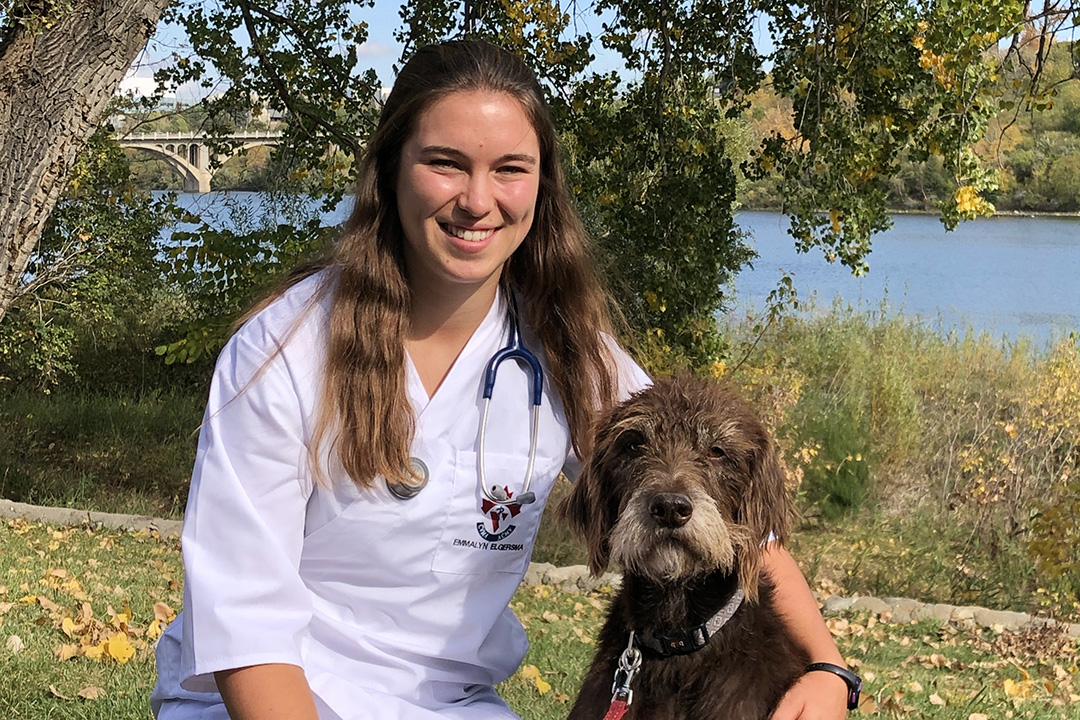 Elgersma also enjoyed her two summers working as a wrangler at Wilderness Ranch, a Christian horse camp in Alberta's Porcupine Hills that hosts 200 to 300 campers every summer. In addition to caring for the herd of over 60 horses, Elgersma and her horse Dandy led trail rides and taught the campers to properly ride, care for and saddle their horses.
"I loved sharing my passion for horses with the campers and seeing them become more comfortable around the horses," says Elgersma.
Before camp started in the summer, Elgersma added to her large animal experience by volunteering at Bow Valley Livestock Health, a bovine veterinary practice operated by Dr. Blake Balog (WCVM '12).
"Dr. Balog was a great teacher," says Elgersma. "He explained what he was doing before and after each procedure, and he allowed me to assist in restraining calves, running bulls through the chutes and helping with semen collections and trich [trichomoniasis] testing."
Now that Elgersma is attending classes at the WCVM, she's enjoying the hands-on aspect of the curriculum and particularly likes the animal production and management class as well as the animal handling labs.
While Elgersma expects to learn about many new and exciting opportunities over the next four years, she's most intrigued by mixed or large animal medicine right now, and she hopes to return to rural Alberta after graduation.
"The opportunity to live in a rural area, have a diverse case load and work in close relationships with local ranchers and clients is very appealing," says Elgersma, adding that community involvement will always be very important to her.
"I've been involved in many close-knit communities, and they've been integral in supporting my goals and getting me to where I am today."