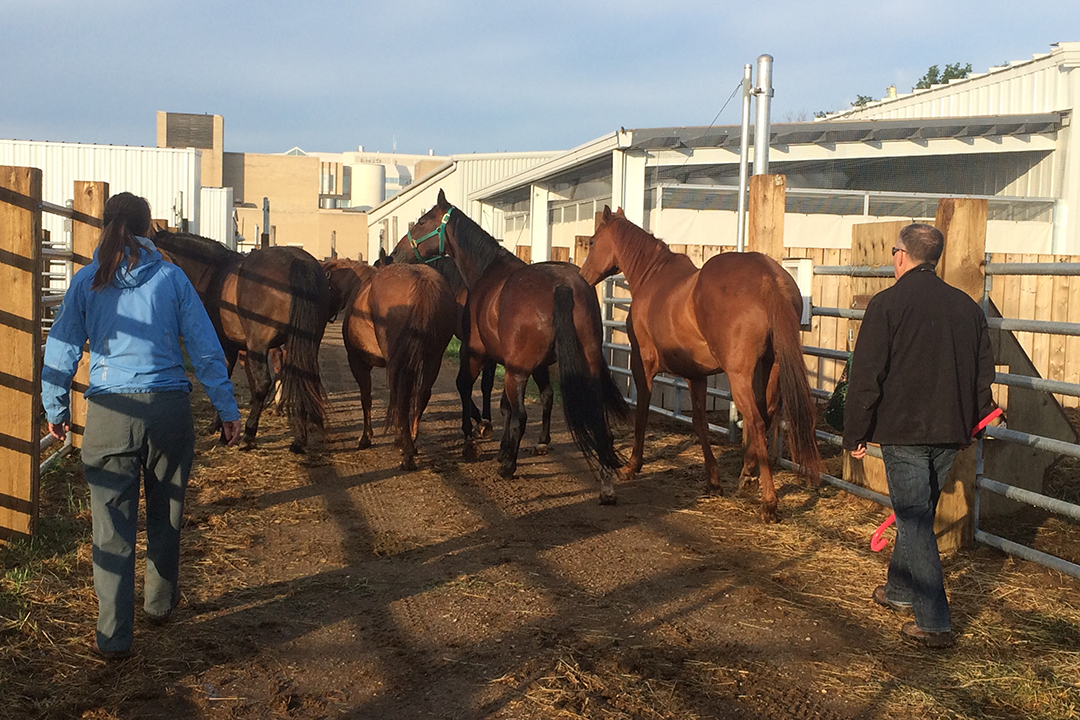 A new drug being tested at the Western College of Veterinary Medicine (WCVM) could offer a single-shot solution for mares experiencing difficulties breeding.
The ongoing research project, led by WCVM reproduction specialist Dr. Steve Manning, involves testing a new drug which contains a glycoprotein known as granulocyte-colony stimulating factor (G-CSF). The results of this study will be used to determine if the drug reduces long-term uterine inflammation in susceptible mares.
G-CSF works by increasing the number of neutrophils (a type of white blood cell) produced by the bone marrow. Neutrophils are the body's first line of defense when an infection occurs.
"We are hoping that by increasing [the white blood cells] in the body, they will also increase in the uterus and hopefully help these mares clear the inflammation faster," says Dr. Lea Riddell. She's an equine field service resident who is conducting the G-CSF research as the focus of her Master of Science (MSc) program.
Uterine inflammation, also known as endometritis, is a common problem encountered by equine veterinarians. Semen and bacteria are introduced into the equine uterus during breeding which causes an inflammatory response.
Normal mares can produce an immune response to clear uterine inflammation within two days, but susceptible mares are unable to clear the infection by themselves. As a result, susceptible mares are more prone to developing endometritis and often have increased difficulties becoming pregnant.
G-CSF has been used to address disease conditions in other species such as people and cows, but little is known about its effects on horses. Based on previous research conducted by Manning and Riddell in 2018, they were able to determine what dose of G-CSF would provide a safe and effective immune response in horses.
The doses used in human neonatal medicine served as starting points for a drug safety trial of G-CSF in horses. Low, medium, and high doses of the drug were tested in both young and old horses until a suitable dose could be determined. 
"We didn't want to be using a dose that would cause side effects," said Riddell. "So we chose a dose that increases their white blood cells consistently and isn't causing any ill side effects." 
Clearing post-breeding uterine inflammation would allow the mares to become pregnant more quickly and with less difficulty. According to Riddell, uterine inflammation has implications for both the horse and the owner.
"It becomes expensive to be rebreeding and treating these mares, and it can take multiple attempts to get the horse pregnant," says Riddell.
Conventional treatments for equine endometritis can include a uterine lavage (flush), administering medications that expel fluid and debris from the uterus, or introducing antibiotics directly into the uterus. Veterinarians often use a combination of these treatments over several days.
Addressing uterine inflammation in mares can be costly and time-consuming. If the research project lead by Manning yields positive results, there are several potential advantages of using G-CSF over other methods to treat endometritis.
A single injection of G-CSF could be given prophylactically to help prevent or decrease uterine inflammation. This treatment could eliminate or decrease the need for other more invasive treatments, while also improving the welfare of mares.
"The goal of our research studies is to help the clients we see every day," says Riddell. "For me, the main thing is that we are trying to improve the welfare of our patients."
The research team's work is financially supported by the WCVM's Townsend Equine Health Research Fund (TEHRF).
Angèle Lalonde of Saskatoon, Sask., is a second-year veterinary student at the Western College of Veterinary Medicine (WCVM). Her story is part of a series of articles written by WCVM summer research students.