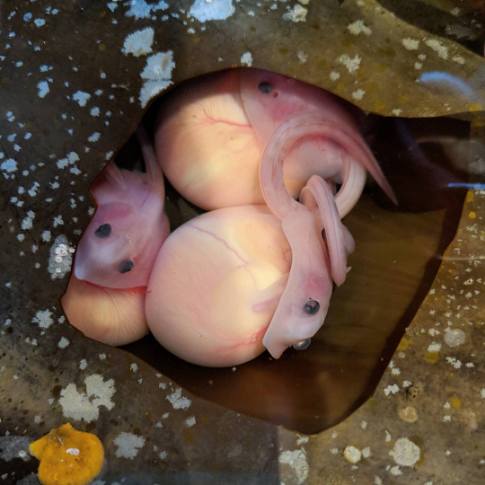 I pick up the tough, leathery pouch. Some species of skates —ray-like creatures which can span up to eight feet across — lay mermaid's purses to protect their developing embryos. The babies develop within the egg-like pouch for up to 11 months.
How the young of these elusive deep-sea creatures develop is poorly understood, but since August 2018, researchers and visitors at the Ucluelet Aquarium have had the rare chance to watch three baby skates develop inside a mermaid's purse found by a local beachgoer.
Ucluelet is a small surfing town just south of Tofino. In 2004, the community established Canada's first capture-hold-release (CHR) aquarium, the Ucluelet Mini Aquarium. The venue became so popular that the town built the larger Ucluelet Aquarium in 2012.
Capture-hold-release aquariums collect fish and invertebrates from local waters, display them for educational purposes, then release the animals where they were originally collected. Ucluelet's aquarium pumps water from the nearby harbour into its saltwater tanks, which provide temporary homes to everything from rockfish, sablefish, ratfish and sculpins to jellyfish, anemones and sea cucumbers.
The timing of the sea creatures' releases is variable and depends on the aquarium and the species. Most releases are semi-annual, some are more frequent (octopuses are released every three to four months), and some are only every few years (as is the case with large anemones).
For Canadian CHR aquariums to release specimens, they need a release permit from the Department of Fisheries and Oceans Canada's Introductions and Transfers Committee. The aquariums can obtain the permit only after a veterinarian has inspected the animals and judged them fit for release to minimize possible ecological, genetic and disease risks to the receiving environment and wild populations.
Dr. Craig Stephen is a professor in the Western College of Veterinary Medicine's Department of Veterinary Microbiology and director of the Canadian Wildlife Health Cooperative (CWHC) — a nation-wide group of wildlife disease researchers. He performs veterinary inspections on everything from Chinook salmon to wolf eels during their brief stay in captivity in these aquariums. 
Because community aquariums are small and have limited resources and funding, they hire veterinarians like Dr. Stephen to provide veterinary services when needed.
"We don't have the budget or the staff to do all the fancy things that big aquariums do, like scoping a wolf eel, so a lot of it is about preventative medicine," says Kit Thorton, head aquarist at the Shaw Centre for the Salish Seas (SCSS), in the community of Sidney, B.C., on southern Vancouver Island.
"Because we have a transient population compared to other aquariums, keeping the animals in tip-top shape so we can release them and they're not at a disadvantage is really important."
Caring for sea life in aquariums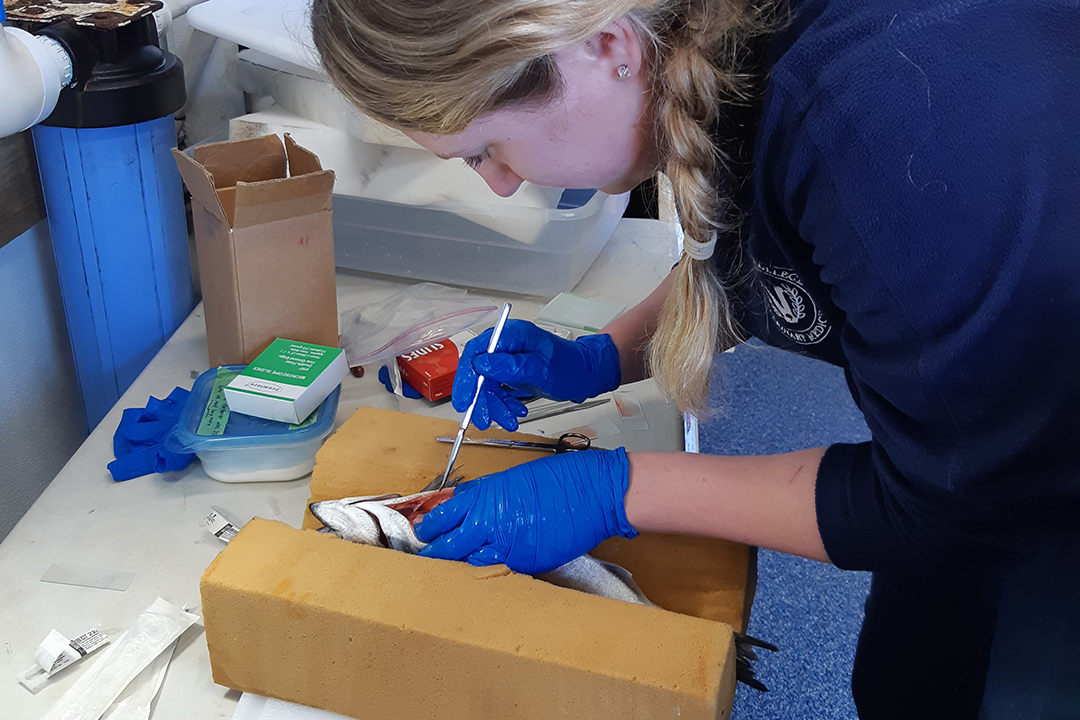 I am working with Dr. Stephen this summer to help determine the best management practices for these aquariums and to assist with veterinary inspections. The inspections we perform differ from the generic physical exam of a terrestrial animal, and pose interesting challenges.
Catching the fish stresses them, so we must observe them in their tanks. Schooling fish also look very similar and the tanks' acrylic sides cause glare — which makes identifying fish even more difficult. Finally, little is scientifically or medically known about many of the cold-water species in these aquariums.
"There is an important role for the veterinary profession to play in [understanding] aquatic animals," says Dr. Stephen. "There are more aquatic species than terrestrial [species], more food security issues, more conservation issues, and yet, as a profession, we spend very little attention on them … It's a really important area for us to develop opportunities for students and faculty to be engaged — in a country that has a bigger coastline than any other country in the world."
When we identify a problem with an aquarium animal during our inspections, we try to treat it. We also, on occasion, perform necropsies to diagnose problems. For example, after observing two spotted ratfish at the Ucluelet Aquarium swimming increasingly erratically in their tank, aquarium curator Laura Griffith-Cochrane, Dr. Stephen and aquarium staff decided to euthanize the fish and perform a fresh necropsy.
The procedure allowed us to acquire and examine the fishes' cerebral fluid. Under Dr. Stephen's microscope, the fluid's cells showed symptoms indicating meningitis — inflammation of the meninges in the brain — possibly caused by infection.
Appreciation for ocean oddities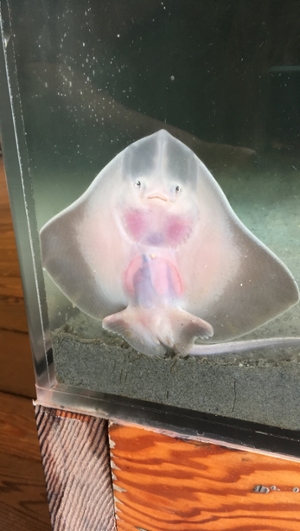 I also work with Dr. Stephen at the SCSS. Like the Ucluelet Aquarium, the SCSS houses local marine fish and invertebrates in tanks with water pumped in from the local harbour.
Although the Ucluelet Aquarium and the SCSS differ in some species and habitats, they share a common goal: engaging the community with the creatures in local waters. And the numbers suggest they are succeeding. Since 2012, the number of visitors coming to the Ucluelet Aquarium each year has more than doubled to 35,000 in 2018. The SCSS has also been increasing in popularity.
All the sea creatures housed at the aquariums attract and fascinate visitors, but Griffith-Cochrane says the mermaid's purse and its skate embryos currently developing in the tanks at Ucluelet also provide the community and aquarium with a unique opportunity to learn together.
"We've been able to talk about things that are beautiful and awesome in the ocean that people don't really know much about," she says. "I think people really bond with things that are cute and small …. And having something that people can have an emotional attachment to has helped us pass on some of those messages about why it's important to know what it is that you're catching and what sustainability means."
Back on the Tofino beach, I walk down to the surf, and gently place the mermaid's purse beneath the water. My appreciation for the goals and challenges by community aquariums — and for all ocean oddities — has increased throughout this summer. My love for Vancouver Island's captivating coastline, cold waters and aquatic creatures has never been stronger.
Hannah Reid of Nanoose Bay, B.C., is a fourth-year veterinary student at the Western College of Veterinary Medicine (WCVM). While working as a WCVM summer research student, Reid wrote this post as part of Science Borealis's Summer 2019 Pitch & Polish, a science writing mentorship program.