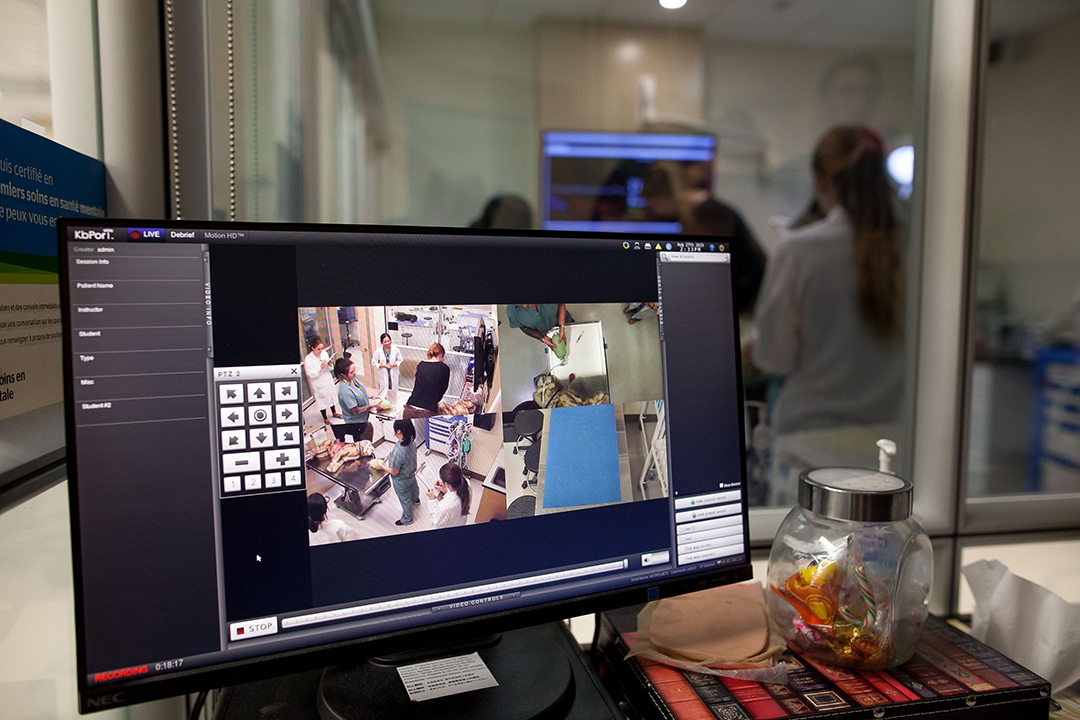 In response to the COVID-19 pandemic, the University of Saskatchewan (USask) and the WCVM switched from in-person classes to online learning within the span of a week in mid-March. All the veterinary college's final exams were also held online during the last few weeks of April.
"It wasn't pretty, but we limped across the finish line," says Dr. Chris Clark, associate dean (academic) at the WCVM. "We had three to four weeks of didactic instruction [left]. The fact that this happened at the end of the year is what saved us."
Things changed very quickly on March 13 when USask announced that all in-person classes were suspended. In less than a week, WCVM faculty members moved lectures and course materials online so classes could resume on March 19 for students in the first three years of the Doctor of Veterinary Medicine (DVM) program. The college's clinical instructors also had to quickly develop online rotations so senior veterinary students could complete in their DVM program.
"We are not going to pretend it went smoothly, but our people have been resilient," says Clark. "It really is a tribute to the innovativeness and hard work of our faculty, students and staff that we were able to make this happen."
Twelve core classes and a handful of third-year elective courses had to be moved online or cancelled, and some students were placed into other options.
"Unfortunately, our current second-year students have a bunch of surgery labs left to perform and there was no way those could be done in another format, so we will try to make those up at some point in the future," says Clark.
Despite the challenges of having to suddenly move all courses online, the students, faculty and support staff showed innovative thinking, patience and creativity throughout the last six weeks of the academic year.
"The faculty was incredible. It was a lot of work for our faculty to do this and it was incredible how they stepped up and learned the software, developed and delivered the lectures, and created discussion boards," says Clark. "I know one instructor strapped a GoPro to their head and did labs that way and for some smaller group classes, they held virtual classes so students could still engage with the material."
For students, it was a jarring experience to have their schedule and structured timetables changed in a matter of days.
Willow Burnes felt overwhelmed at first, but the veterinary student learned how to take things day by day and manage her time to get everything done.
"There was an overwhelming amount of information at once as professors got their courses and materials in the system," says Burnes, who just completed her third year of the DVM program.
Burnes is also a receptionist at the college's Veterinary Medical Centre (VMC), so she had to work through changes in the hospital including new shift schedules and coronavirus-specific protocols.
"It was busy, but we were put into teams and my team was supportive," says Burnes.
Hayley Down, another WCVM student, decided to head home to Moosomin, Sask., after realizing that in-person classes wouldn't resume this spring. In addition to her third-year studies, she started to work full time at Valley Flats Veterinary Services.
"It all happened so suddenly and it was hard to adjust mentally at first. It was hard to comprehend that we wouldn't see our classmates in person again," says Down. "I came home to be close to my family, protect my mental health, and make the best of the time to get some hands-on training while studying in the evening."
For Burnes, having transparency from the WCVM helped make the transition smoother and alleviate some concerns.
"The professors were honest and asked for our patience and understanding at the beginning because they were also learning everything new," says Burnes. "The admin team was helpful with updates and resources available to students, including financial assistance."
Clark gives credit to the students for adapting and handling the change with professionalism and integrity.
"Our students stepped up. This happened so suddenly for them and it is a completely different way of learning," he says. "The students showed their resiliency and dedication to their studies."
Even though this wasn't how the WCVM wanted to finish the year, Clark says his team are relieved that the college managed to complete the academic year. The focus now turns to next semester and what options are available based on different scenarios.
"The reality is veterinary medicine isn't just about knowing — it is about doing and doing means practising and being observed and coached," says Clark. "But we do have some flexibility, and we are working through multiple scenarios for what September will look like."