"There was lots of learning about animals and nature during those times," recalls Ashley, now a first-year veterinary student at the Western College of Veterinary Medicine (WCVM). "My mom always found opportunities to teach me [about] fish reproduction or the biomechanics of birds flying. Through most of my childhood we had cats and dogs in the home, and I always loved animals."
When Ashley was 12, she accompanied her mom to France for a year of volunteering with Worldwide Opportunities on Organic Farms (WWOOF). As they travelled the countryside and lived with a variety of WWOOF hosts on small family farms, Ashley and her mom helped with shepherding, feeding, harvesting, building — basically doing any jobs that needed to be done.
Ashley home schooled herself while speaking and reading in French, and she learned about European history, art and culture by visiting various towns and cities with her mom. She also had wonderful experiences that included chasing a runaway steer down the streets and into a clothing boutique, riding horses through the historic centre of a town and shepherding a flock of over 200 sheep across the plateaus of the Pre-Pyrenees.
"While WWOOFing I had the opportunity to be exposed to many different farming techniques and many species," says Ashley. "I did math for half a day every couple of weeks, and with my mom a biologist, I memorized the definitions of diffusion and osmosis."
Ashley gained some valuable experience through her travels, and once she returned to Canada, she was relatively well prepared to begin Grade 8 with her classmates in Yellowknife.
Ashley continued her volunteer efforts around the world by working with A Better World Canada during high school and university. She spent several weeks in Kenya where she helped children with disabilities at a hospital and at an orphanage.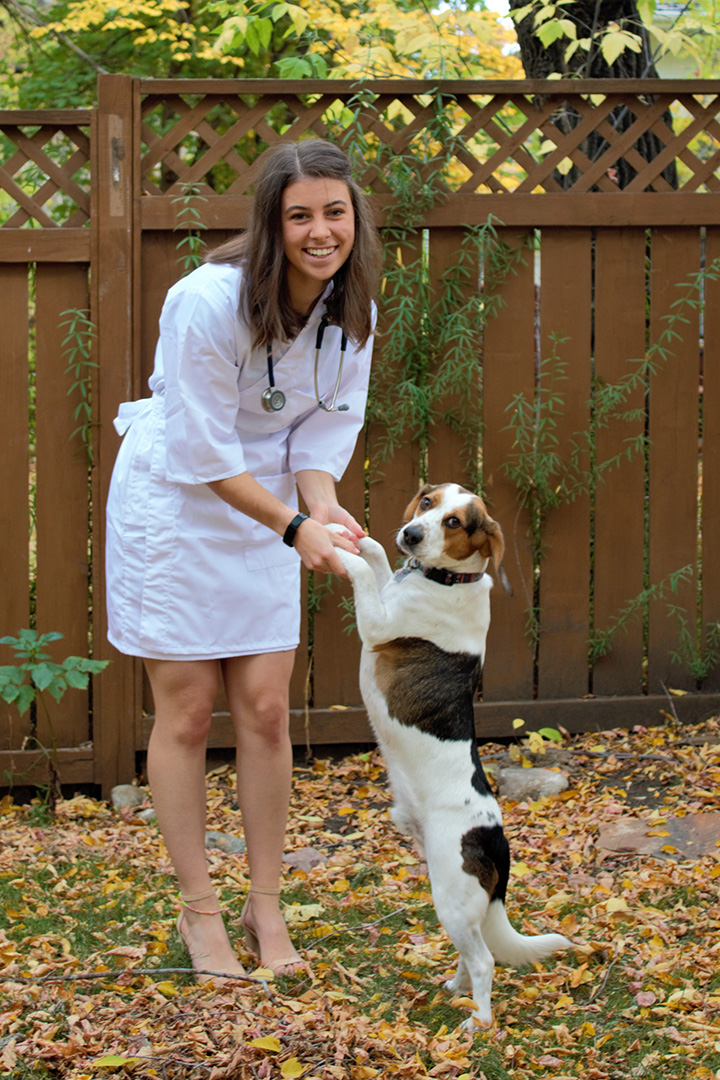 Although Ashley had always been interested in animals, she first began considering a career in veterinary medicine after her experiences in France. A high school biology teacher further piqued her interest, and by the end of her first year of university, she was confident that she wanted a career that involved hands-on experiences with animals.
Ashley began seeking opportunities to work with various animal species. She volunteered at the University of British Columbia (UBC) Altshuler Flight Laboratory where she assisted with neurological and behavioural studies of finches. She eventually developed her own research study involving wing morphology and biomechanics of passerines (perching songbirds).
"I loved doing the dissections, even on four-gram bushtits and kinglets. Isolating those muscles was like playing Operation as a kid," says Ashley. "I also really enjoyed the moment when I had my finished thesis and had just defended my research (over Zoom – COVID style). As much as I knew I didn't want to spend my whole life in academia, I understood the thrill of research."
Ashley worked at Amherst Veterinary Hospital in Vancouver, B.C., where she was supported by a great team of veterinarians and veterinary technicians who answered any of her questions and encouraged her to stand in on various surgeries and procedures.
She also enjoyed her summer job at the UBC Dairy and Research Centre and especially appreciated that the staff boosted her confidence by teaching her skills and then giving her tasks that helped her to practise and become comfortable using those skills.
This past summer Ashley diversified her experience even more by volunteering at Aspen Valley Wildlife Sanctuary in Rosseau, Ont. Her favourite moments included feeding the black bears and spending time with the healthy young racoons, especially in the evening when they would bring her "treasures" — sticks, pine cones and other items from around their enclosures — that they had gathered throughout the day.
Now that Ashley is studying at the WCVM, she's most enjoying the animal handling labs — a chance to be around animals and practise her skills in person.
"I'm really excited for rotations in fourth year and the summer jobs that I might have throughout the years," says Ashley. "I can't wait to be elbows deep in what will be my future career."
After graduation, Ashley is leaning toward working in a mixed animal practice along with some volunteer work in wildlife medicine. While she recognizes that the southern part of Canada offers more career opportunities, she would definitely consider returning to the North once she has a family of her own.
"There is something special about being raised in the North," says Ashley. "I don't know if I would be here had it not been for the childhood I had in the North and the adventures I had with my family and my community. I wouldn't be surprised if I return to the North to raise my children so they can have the same opportunities that I had."