"I got my first pony when I was three years old and my first taste of competition at a one-week summer camp when I was five years old," says Omer-Canitz from Saskatoon, Sask. "I was hooked right away. I loved everything about competing ... it was an addictive sport for a perfectionist, and there was always room for improvement, which kept me coming back year after year."
Omer-Canitz found the perfect competition partner when her horse Roland was born on the family farm in 2008. By the time the Oldenburg gelding was four years old, they were competing together, and for several years they travelled to hunter-jumper competitions throughout Canada and the United States.
When Omer-Canitz took a gap year to travel and ride horses after high school graduation, she signed on as a working student for international show jumper Brianne Goutal (now Goutal-Marteau). Omer-Canitz immersed herself in the world of show jumping as she accompanied Goutal and her team to competitions in California, New York and Florida.
By the following spring, Omer-Canitz returned home refreshed and ready to pursue a nursing degree. Although she was registered and ready to start classes at the University of Saskatchewan (USask), fate intervened that summer when she started working for her veterinarian dad at Omer Mobile Veterinary Services (OMVS).
"Looking back, it was only a matter of time before I realized I was destined to be a veterinarian," says Omer-Canitz, who is now a first-year student at the WCVM. "Part way through the summer, I realized there was nothing that I'd rather do with the rest of my life."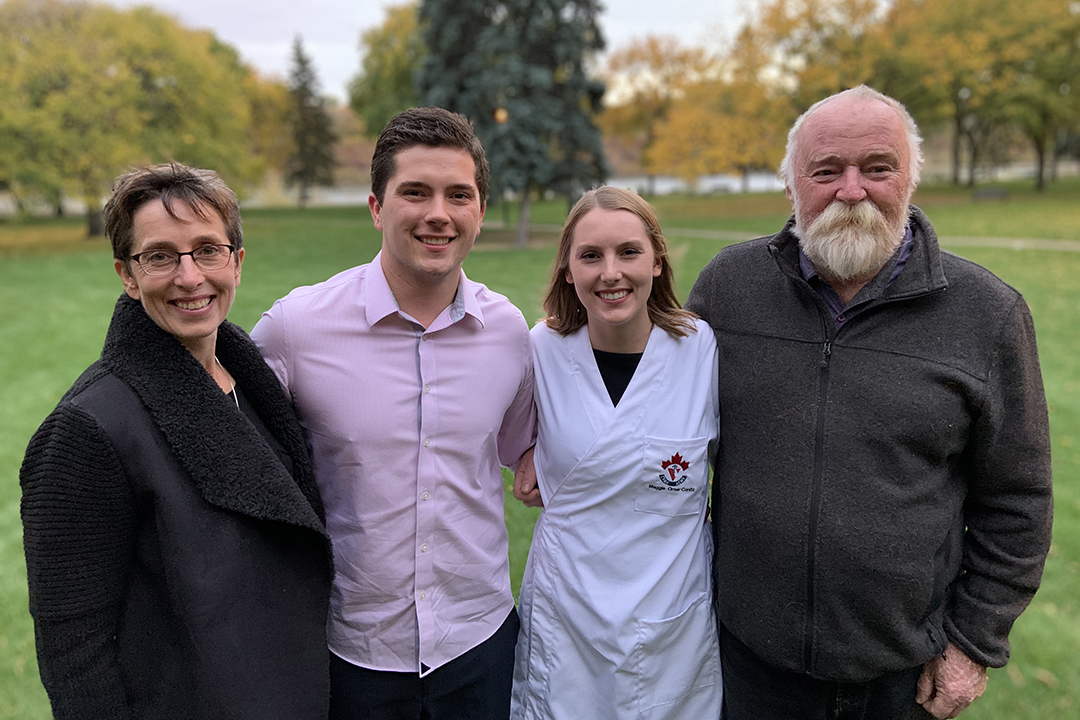 Omer-Canitz switched colleges and went on to complete a Bachelor of Science in Animal Bioscience degree at USask. She also began volunteering at various veterinary clinics to gain experience working with different animals while observing the diverse approaches and management styles in the practices.
As a volunteer at the WCVM's Veterinary Medical Centre, Omer-Canitz had the opportunity to work with Dr. Kira Penney and other members of the small animal rehabilitation team for several months. She particularly enjoyed observing the improvements of the animals that she was able to follow throughout their rehabilitation process.
Omer-Canitz also encountered many interesting cases while volunteering with Dr. Angela Reynolds (WCVM '14) from the WCVM's Equine Field Service — a chance for her to see some new diagnostic modalities while picking up a few tips and tricks that she hopes to use in her own practice some day.
Every summer Omer-Canitz returned to her job at OMVS where she appreciated the knowledge and practical experience she gained while working with her dad Dr. Rick Omer. She especially looked forward to their equine work at Saskatoon's Marquis Downs. 
"I loved working with the racehorses and getting to cheer them on in their races," says Omer-Canitz. "It was very rewarding to follow the patients from treatment to competition. Working at the racetrack ultimately led me to my undergraduate thesis topic on exercise-induced pulmonary hemorrhage, a common issue among racehorses."
As Omer-Canitz reflects on her past education and experiences, she's happy with her choice of an undergraduate degree that provided her with important animal handling skills as well as a much deeper understanding of the various animal production industries. She's also thankful that she volunteered in a variety of practices and was able to work with so many different animals.
"I would say that I'm definitely a 'horse girl' first and foremost, but I love working with all species," says Omer-Canitz. "I really enjoyed learning more about cattle … I also soak up all the dog and cat time I can get. I think I'm just an all-around animal lover. I can't pick only one species."
While she anticipates working in a private practice after graduation, Omer-Canitz is still unsure about the type of practice — but she expects that horses will somehow work their way into her line of work.
And although equestrian competitions will be on hold for a while, she still spends time with her equine partner Roland who retired this year after sustaining a career-ending injury.
While Omer-Canitz is grateful to all the amazing people in her life who encouraged her as she worked towards her goal of veterinary school, she particularly appreciates the support of her parents.
"My parents have been two of my biggest cheerleaders right from day one," says Omer-Canitz. "My mom was the one who taught me all about horses and got me so interested in them. My dad was the one who sparked my interest in veterinary medicine. I'm so proud that those two interests have come together to form a career that I know I will enjoy so greatly."