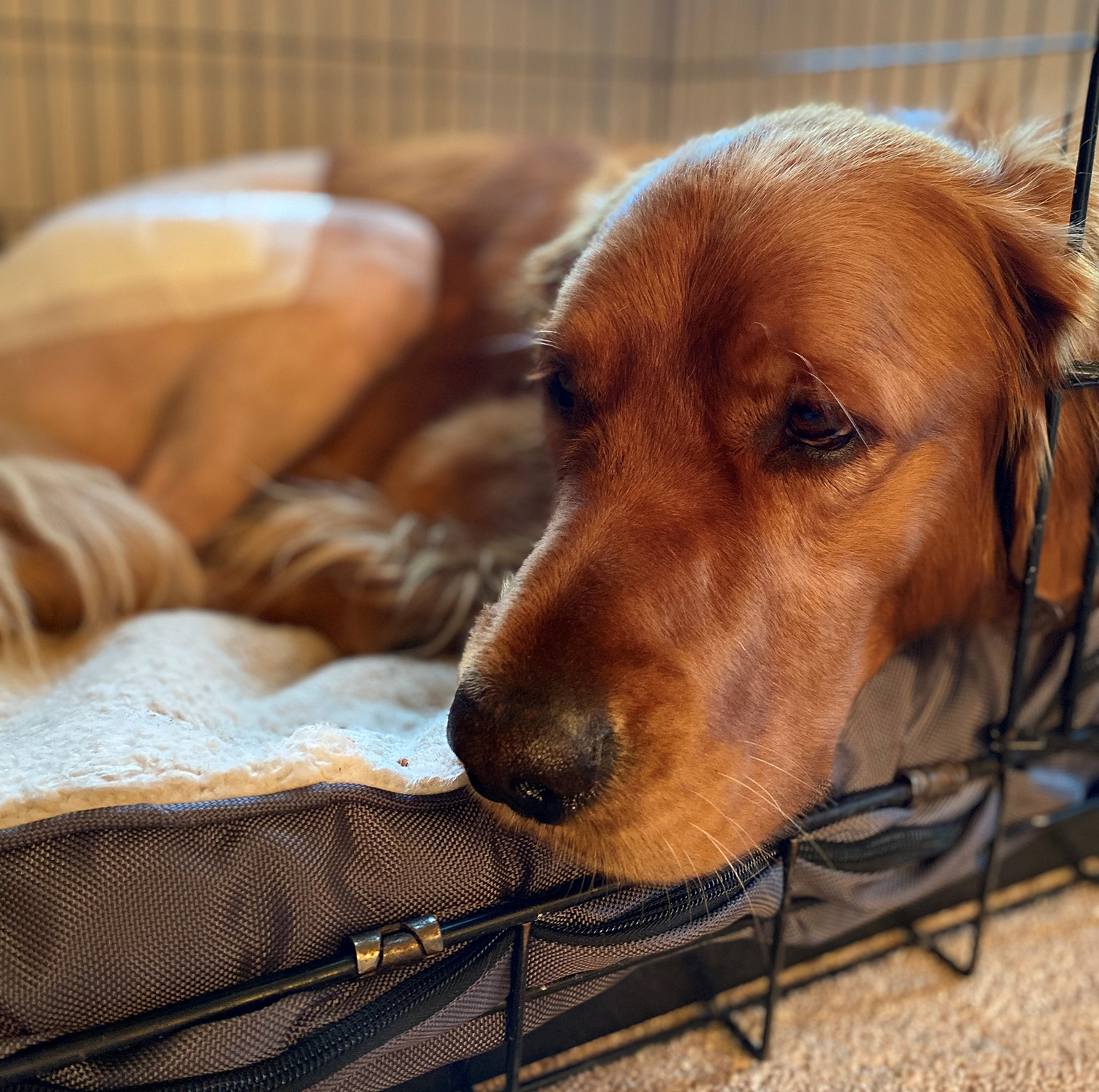 Bryan is a two-year-old golden retriever that suffers from hip dysplasia — an abnormal development of the hip joint. He's the first canine patient to receive a non-cemented total hip replacement at the Western College of Veterinary Medicine's (WCVM) Veterinary Medical Centre (VMC).
Small animal surgical specialist, Dr. Koji Aoki, performed Bryan's surgery in early September. A few months later, both Aoki and Bryan's owners, Jenna Leibel and Trevor Wilton of Melfort, Sask., are happy with the results.
"Overall, things went well for Bryan. The surgery was successful, and his owner did a good job at keeping him quiet after the surgery so he could heal," says Aoki, an assistant professor in the WCVM's Department of Small Animal Clinical Sciences.
When Leibel noticed Bryan's abnormal gait as a puppy, she contacted Aoki for his professional opinion.
"We took Bryan to see Dr. Aoki about a year ago, and he examined him then, and he pointed out his hip sway was caused by hip dysplasia," says Leibel. "We wanted the best for him, so we went with the total hip replacement."
Aoki began studying the new total hip replacement (THR) technique six years ago and completed the certification process in 2019. Two major companies — including one in the United States that Aoki worked with — offer training in the procedure. Aoki wanted to learn this technique to challenge himself, and he saw an opportunity to provide a critical service for patients in Saskatchewan and across Western Canada.
"This is a very challenging procedure. I like to challenge myself professionally," he says. "I also see this as an opportunity to provide this much-needed service for the WCVM."
Now, Aoki is the first veterinary surgeon in Saskatchewan to be certified for performing this procedure.
"After this first case, I feel more comfortable in my technique and skills, but now, I need more cases to keep improving."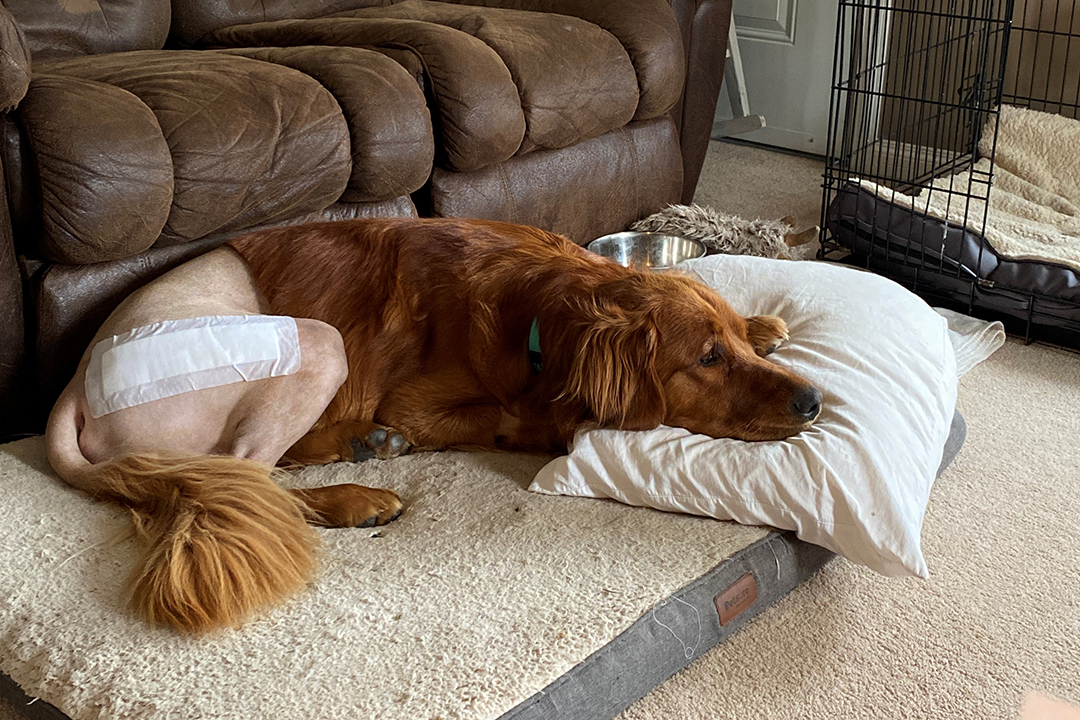 Hip dysplasia is a common condition in larger breeds and usually occurs in the first year of a dog's life. As the animal grows, there's increased instability — or a loose fit — of the "ball" (the femoral head) in the "cup" or the hip joint socket.
Typically when a dog with hip dysplasia is brought to the WCVM's specialty centre, there are three treatment options available — femoral head osteotomy (FHO), triple pelvic osteotomy (TPO) or total hip replacement (THR).
With the THR procedure, certified specialists can use cement fixation, the traditional technique, or the non-cemented option that has proven to be more effective in young animals.
"We can do cemented at any age, but if the dog is younger, then the non-cemented is the better option because we know the cemented fixation gets loose over time," explains Aoki.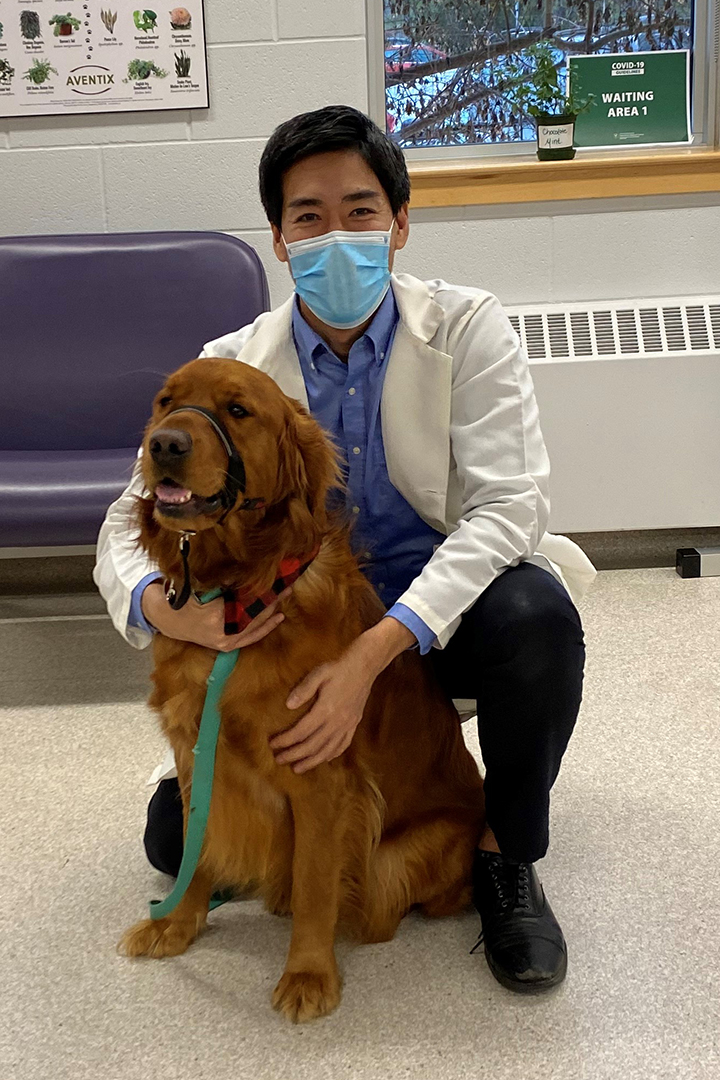 The patient's body reacts to the cement, a foreign object in the body. Over time, the dog's immune system will eat away at the cement, causing it to loosen. In comparison, "the titanium implant fuses to the bone, so the success rate is usually higher and the outcome will last longer."
"The biggest difference between the cemented and non-cemented [options] is it [non-cemented technique] doesn't get loose over time," says Aoki. "The patient won't come back with pain again. We are creating a happy, non-painful life."
After considering the options and relying on her career experience as a registered veterinary technologist, Leibel and Wilton decided to move ahead with the titanium THR. Leibel waited until Aoki was certified and comfortable with the technique because she didn't want to travel to Calgary for the procedure and post-surgery requirements.
"I used to work with Dr. Aoki, and I have a lot of respect for him, I always admired him as a surgeon, and I had a lot of faith in him," says Leibel. "Dr. Aoki was very clear on everything, he was honest and helpful throughout the process."
Bryan's case is a prime example of the procedure's benefits. The implant has fused to his hip bone, and the young dog is doing well.
"We are happy with the decision and the results. We are out of the woods as far as surgery failure, and we will continue to do his at-home physiotherapy and range of motion exercises," says Leibel.
Pet owners or referring veterinarians who are interested in the THR procedure can contact Dr. Koji Aoki for more information.