The three organizations worked together to provide applied subject matter expertise, research and entrepreneurship — paving the way for Saskatchewan's return to medical device manufacturing.
Support came from several colleges and units across campus, including the Western College of Veterinary Medicine (WCVM). 
"We are delighted to have played a key role in supporting RMD's development of this innovative technology that will help save lives and create jobs in Saskatchewan," said USask Vice-President Research Karen Chad.
"This success is the result of a visionary company, a health region and a top research university with expertise in many fields working together to help meet the critical needs of the province and the world."
RMD Engineering Inc. is a Saskatoon-based company whose subsidiary, One Health Medical Technologies, recently received COVID-19 Medical Device Authorization from Health Canada for an in-house designed, developed and manufactured ventilator.
Collaborating with USask and SHA subject matter experts, RMD Engineering successfully developed a prototype for an emergency use ventilator (EUV-SK1) for Health Canada certification. 
This approval now paves the way for One Health Medical Technologies to sell its ventilator to the SHA and subsequently to the Canadian health care market.
The Saskatchewan government has given the SHA approval to purchase 100 EUV-SK1 ventilators for patients who need them across the province, adding to the ventilators already earmarked for its COVID-19 response.
RMD's One Health Medical Technologies expects to have the first 20 ventilators ready for delivery by Dec. 7. These portable devices, which can be moved to the area of greatest need, would be used in SHA acute care facilities where most needed. 
"This initiative exemplifies the spirit of collaboration and entrepreneurship we're so proud of in our province," said Saskatchewan Health Minister Paul Merriman. "Our government fully supports this work, and we are pleased that residents in Saskatchewan and across the country will have access to this equipment if they need it."
RMD President Jim Boire said he was grateful for the "high level of trust" in his company from the SHA and the leadership of the USask Colleges of Engineering and Medicine that has led to a "world-class collaboration."
"When COVID hit, my daughter, a Royal University Hospital intensive care nurse, raised awareness of the potential impact on the healthcare system. Knowing we had the skill set, capability and capacity in-house, we chose to do something rather than nothing and created an emergency use ventilator using reliable technology and readily available materials," said Boire, a USask engineering alumnus.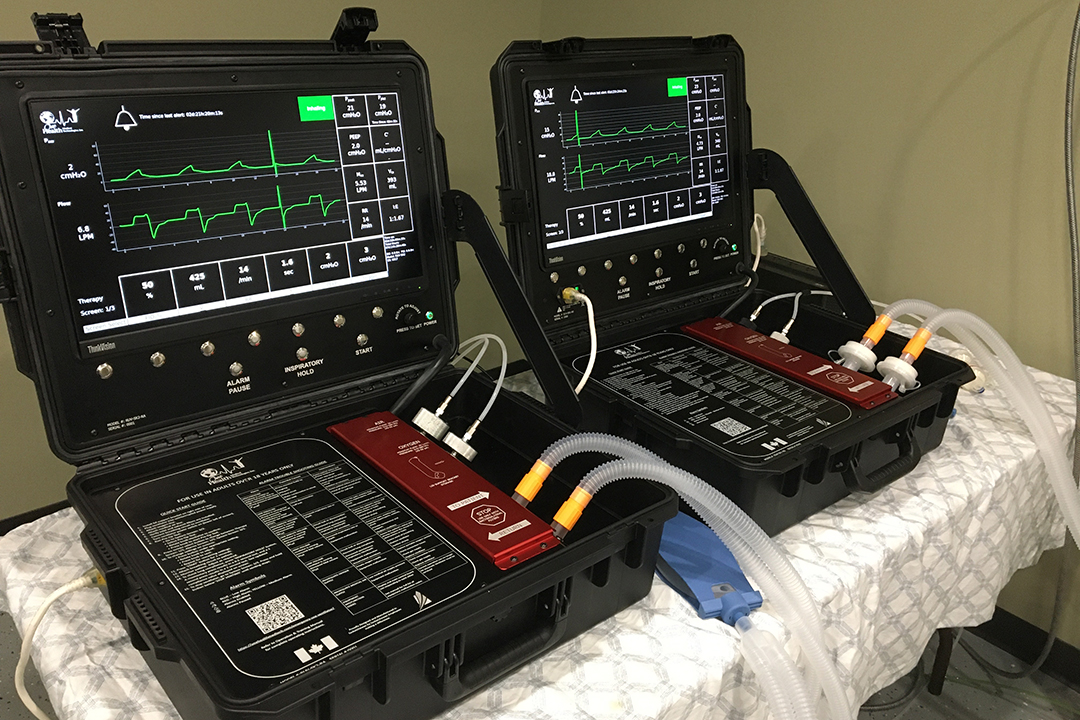 The company is in the process of ramping up for production and this will include hiring 15 to 20 additional staff. 
USask provided support to RMD, which employs many engineering alumni, and worked with the SHA in various ways. 
College of Engineering: Dean Suzanne Kresta supported the project in its initial stages, so the college could lend equipment to create parts for the ventilator prototypes and provide expertise to lay out the ventilator's electrical circuit board. RMD hired six engineering summer students to help ready the machines for assembly, and recent engineering graduates are currently working at RMD.


College of Medicine: Dean Preston Smith has supported the project. The SHA and College of Medicine professor Dr. Mateen Raazi,

who is the provincial head of anaesthesiology and reports to both the college and the SHA,

collaborated to bring in respiratory therapists and clinicians to test the machine and to provide their feedback.


Western College of Veterinary Medicine: Dr. Julia Montgomery, an expert in respiratory conditions, helped with writing the operation manual, testing of the machine function, the training video and the usability study.



College of Law:

Professor Patricia Farnese helped with regulatory work on standards for medical devices related to the Health Canada submission.


Respiratory Research Centre: director Donna Goodridge and Rebecca Erker, an ICU nursing graduate student, wrote the ventilator training manual.


RMD team members had taken Edwards School of Business executive education courses on project management and executive leadership that were invaluable in carrying out the project efficiently and effectively under tight timelines. 
The EUV-SK1 is intended for ventilator-dependent adult COVID-19 patients for use in traditional health care facilities and in spaces converted for the care of COVID-19 patients.
"The SHA is grateful for the dedication and work that RMD Engineering has invested in creating a Saskatchewan-made solution to support the needs of patients for ventilator support as the COVID-19 pandemic continues," said Lori Garchinski, SHA executive director of provincial programs — tertiary care.
"Enhancing our ventilator capacity allows for frontline teams to balance the needs of their patients with the appropriate available equipment."