"Why do we have to wait until disease breaks out and then develop vaccines?" says Gerdts, director and CEO of USask's Vaccine and Infectious Disease Organization-International Vaccine Centre (VIDO-InterVac).
"Why cannot we predict what the next pathogen will look like so when disease breaks out, we have vaccines available? It sounds naïve and really dreaming, but that's where the field is going, and VIDO-InterVac will be part of this."
The idea of having adaptable vaccine platform technologies is part of Gerdts' vision for VIDO-InterVac as "Canada's centre for pandemic research." VIDO-InterVac is already a global leader in efforts to combat COVID-19, and the first in Canada to isolate the virus, develop an animal model, and get a vaccine into animal testing.
The team's promising vaccine candidate has completed extensive toxicology testing in animal models. Once Health Canada gives approval, a Phase 1 clinical trial with about 100 volunteers (age groups of 18 to 54 years, 55 to 65 years, and 70 years and older) is expected to begin by late December 2020 at the Canadian Centre for Vaccinology in Halifax, N.S. The Phase 2 trial, involving hundreds of volunteers, will start in Halifax and may move to other sites. Phase 3, with tens of thousands of volunteers, will likely start in the fall of 2021.
"Once regulatory approvals are obtained, we expect to have a vaccine ready to use by late 2021, or early 2022," says Gerdts. "We said we'd be in clinical trials within 10 months, and we are where we said we'd be."
With other new vaccines already further along in testing, why does the world need another vaccine against COVID-19?
Gerdts urges people to take the new vaccines as they become available. But he notes that not a lot is known yet about how long immunity will last with new vaccines which involve a new technology, and there could be issues around storage, cost and accessibility. Using the same technology used in pertussis, diptheria and hepatitis vaccines, VIDO-InterVac is working on a proven technology with an excellent safety profile that is cost effective and easy to manufacture.
"To have sustainable long-term access, I think it's important for Canada to continue on with its own vaccines," he says. "This COVID-19 is not going to go away."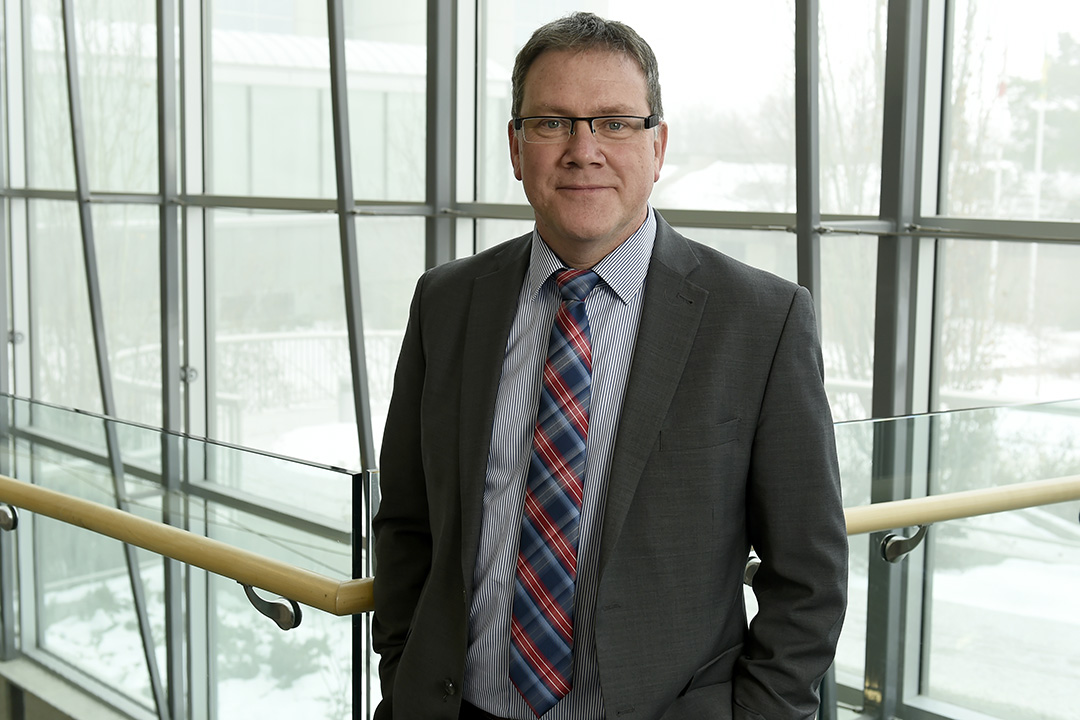 To be nimble and quick in vaccine development, three key things are needed: in-house access to high-containment laboratory space, vaccine manufacturing capability, and a wide range of readily accessible animal models for pre-clinical testing of vaccines and therapeutics, says Gerdts. 
"If this integrated, three-pronged approach to vaccine development had been in place here at the start of this pandemic, we'd be at least six months further ahead with our vaccine and in clinical trials by now," says Gerdts.
To help prepare Canada for combatting new emerging infectious diseases, VIDO-InterVac has embarked on a campaign to raise $60 million to expand and upgrade its facilities. Preliminary discussions with federal and provincial officials, as well as private donors, have been met with favourable interest. A submission to Ottawa for the next federal budget will be made soon.
VIDO-InterVac is building a manufacturing facility capable of producing up to 40 million vaccine doses per year of various animal and human vaccines, as well as testing anti-viral drugs and other treatments. Construction will be completed in a year, and once certified to GMP (Good Manufacturing Practice) standards, the project is expected to be producing vaccines in 2022.
To work with human and animal pathogens risk groups, VIDO-InterVac needs to upgrade key areas of its Containment Level 3 (CL3) facility to the highest containment level (CL4). The CL4 space would only be about 15 per cent of the centre's total space, but it would double Canada's capacity for dealing with Level 4 pathogens such as Ebola virus, complementing Canada's only other CL4 lab that's located at the National Microbiology Laboratory in Winnipeg, Man.
The third crucial need is to expand VIDO-InterVac's pre-clinical testing capacity with a new facility that would provide ready access to a wide range of animals, from bats to alpacas.
"With the global shortage of animals for research and all that's involved to procure them, it can take four or five months before we can start research. We need to be able to start work on vaccines and treatments on the day after a new disease breaks out," Gerdts stresses.
VIDO-InterVac has more than $13 million in contracts with more than 70 companies working on therapeutics, novel antivirals and vaccines, and is booking into next spring. The new vaccine development group will make it easier for industry to commercialize their discoveries.
"We hope to have funding for a fully integrated facility by next summer and to double our scientific staff over the next few years," says Gerdts.