But after a few years in private practice, Mayer decided to take specialized training and became a board-certified specialist in radiation oncology.
"My love for animals is what made me want to become a veterinarian. I hadn't planned on going into academia. But, it was a good choice for me because I enjoy teaching and the research," says Mayer, who joined the WCVM's Department of Small Animal Clinical Sciences in 2004.
"It is important to have people treating patients, but [we] also [need] people investigating what treatments are effective and what we can do to improve treatments. I see that [as the] responsibility of people in academia to ask those questions."
As a radiation oncology researcher, Mayer is dedicated to finding solutions to questions and better treatment options for cancer patients — animals as well as humans. She works collaboratively with other University of Saskatchewan (USask) researchers and has been recently working with groups from the College of Medicine, College of Arts and Science, and the Canadian Light Source.
Her husband, Dr. Niels Koehncke (MD), is a specialist in occupational medicine at the College of Medicine. The pair recently teamed up to investigate how to better protect the medical staff in our veterinary hospitals and clinics from radiation exposure.
"Radiation is super valuable, and we use it to make a diagnosis and treat our patients, but when using ionizing radiation for imaging or therapy, there may be some worker exposure and some harmful effects," says Mayer.
Their research focused on describing what was going on in the field and surveying specialists. The hypothesis was that people's behaviours and awareness of radiation are not at adequate levels for protecting workers.
"Workers are not always wearing their personal protective equipment (PPE). The PPE is heavy and interferes with their ability to do their jobs, and it isn't always available," explains Mayer.
Out of their research findings, the team developed training videos in four different languages — English, French, Spanish and Portuguese — to help workers better protect themselves when working with radiation.
"Those videos did improve the behaviour, and people were safer. But, they didn't get to where we wanted them," Mayer says. "Our goal is to continue to raise awareness and document what is happening. We want to lay the groundwork. We can't jump right to fixing a problem until you show that the problem exists."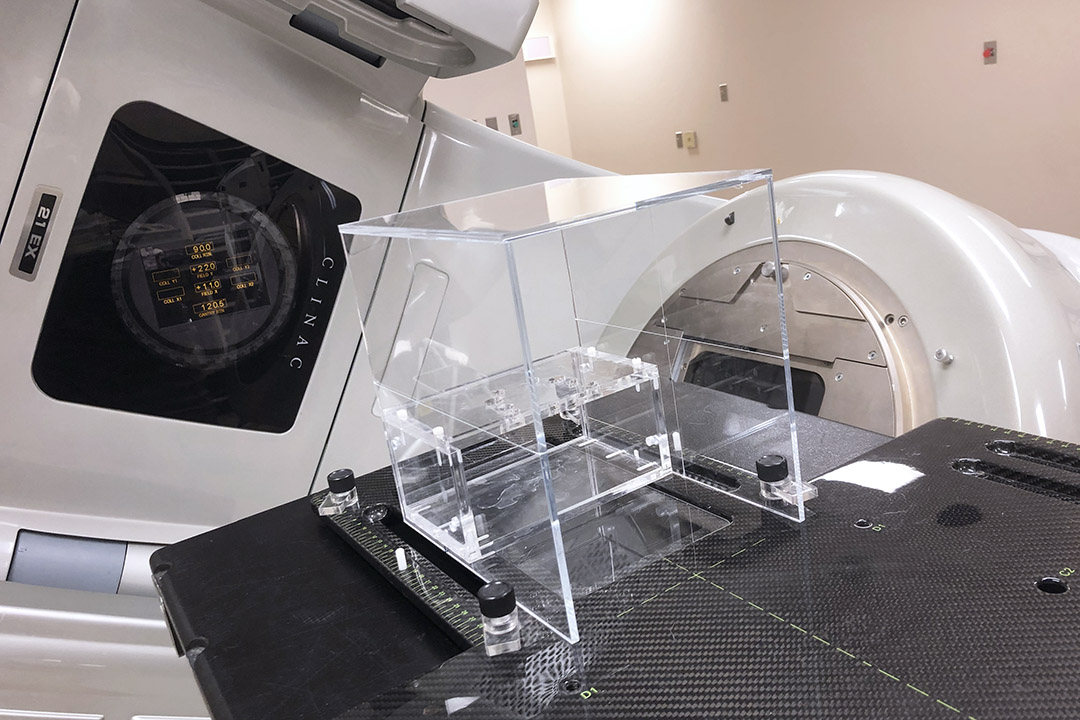 Another one of Mayer's collaborative research projects is a "head positioner." The device holds the patient's head in an exact position during stereotactic radiation therapy, a form of non-surgical radiation that is used to treat animals with brain tumours at the WCVM Veterinary Medical Centre.
Mayer worked with Dr. Sally Sukut (DVM), a WCVM veterinary radiologist, and employees at the USask Physics Machine Shop to design and manufacture the head positioner device that looks like a small box. Once the patient is anesthetized, the animal's mouth goes over the top, and the lower jaw hangs open. The outer box is used to line up the animal to the machine for the laser. A revamped version of the positioner attaches to the treatment table, which automatically corrects the animal's head position.
The device immobilizes the animal so the radiation therapy team can precisely target the treatment.
"If we don't treat accurately, we can fail to help our patients, and we can even harm them. It is essential to be accurate in radiation oncology, and this [device] helps us be accurate."
Mayer is also working with the Canadian Light Source synchrotron to look at microbeam radiation.
"We are looking to see when people have had a reoccurrence [of cancer] after having standard radiation treatment that could be treated with this microbeam radiation," she says. "We are in the early stage of looking at how the dose is deposited and whether it is achievable with the synchrotron."
The COVID-19 pandemic has delayed the team's research work, but Mayer hopes to move forward with their research in 2021.
"The goal of this project is to look at it with the long-term goal to do it in humans, but it is always a parallel. If it will be effective in human patients, there is no reason why we can't do it for canine and feline patients, too," she says.