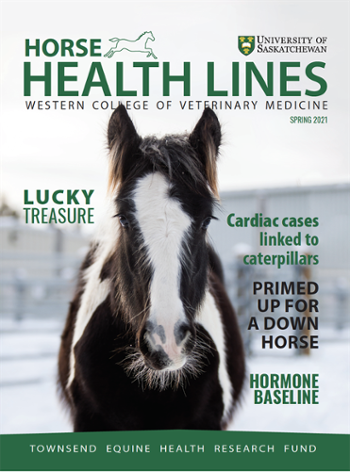 Click here to read the latest issue of Horse Health Lines. You can also view the publication as part of the Spring 2021 issue of Canadian Horse Journal.
Here's a sneak peek at the stories inside this issue:
Swirski shines as horse health advocate: Mikayla Swirski of Langley, B.C., was among 10 North American veterinary students who received scholarships at the annual American Association of Equine Practitioners' convention.
The point of no infection: Septic arthritis is challenging to treat, but a team of University of Saskatchewan researchers hope their findings will eventually lead to a better way of verifying when joint infection is gone.
Primed up for a down horse: When a down horse was brought to the WCVM Veterinary Medical Centre last fall, the large animal clinical team was ready to help.
Helping horses breathe easier: A new inhalation therapy for treating severe asthma in horses is now available in Canada.
Cardiac cases linked to caterpillars: Four cases of an uncommon cardiac disease were linked to an infestation of tent caterpillars in Saskatchewan.
Lucky Treasure: A congenital defect put a stain on a young filly's future until her luck changed for the better, bringing her a new home and a new lease on life.
Hormone baseline for horses in the West: A WCVM project is helping Prairie Diagnostic Services gather vital reference values so Saskatchewan's veterinary laboratory can begin offering equine endocrine diagnostic testing.
To learn more about the WCVM Townsend Equine Health Research Fund, visit the fund's website.