Swirski was one of five Oakwood Foundation scholarship recipients, while another five students received Merck Animal Health Scholarships at the event.
"It was an honour to be selected for the scholarship. It showed me that my dedication and hard work inside and outside of school was recognized, and it has pushed me to continue to educate myself in equine health," says Swirski, whose fourth-year schedule includes clinical rotations in equine field service, lameness and theriogenology as well as large animal medical imaging, surgery and medicine.
Administered by The Foundation for the Horse, both scholarship programs provide US$5,000 awards to promising veterinary students in the United States, Canada and the Caribbean who have shown leadership in their veterinary schools and commitment to careers in equine medicine. The Oakwood scholarships are supported by American philanthropists Renée and John Grisham.
Swirski's connection to equine health began early on in life: "I owned a horse when I was younger that, unfortunately, was very accident prone, so I frequently visited my veterinarian. This continued contact with my veterinarian sparked an interest in equine medicine."
Before moving to Saskatoon, she volunteered at New Stride Thoroughbred Adoption Society in her home community of Langley, B.C., training adoptable horses on the ground and under saddle. For the past five years, Swirski's favourite training project has been Hank, her nine-year-old mustang gelding.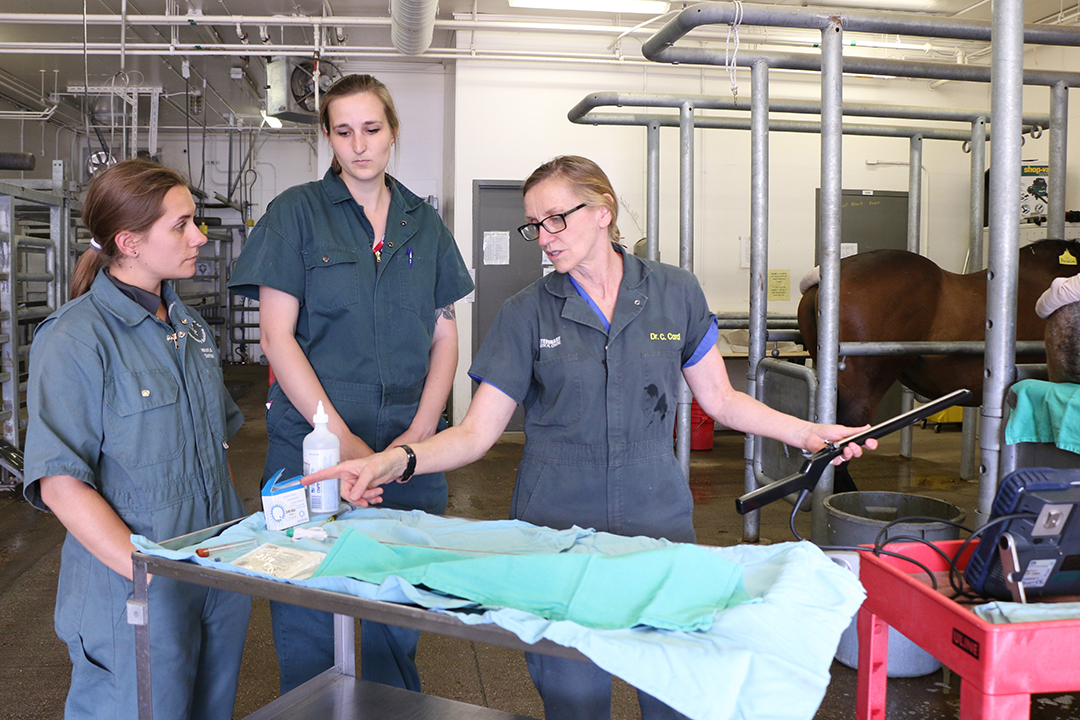 During her time at the WCVM, she has been an active member of the college's Equine Club — a student chapter of the AAEP. The club has been the ideal channel for Swirski, who is dedicated to educating herself as well as the equine community.
"As a future veterinarian, I feel it's important to gather as much equine knowledge as possible, but it's also our job to share that knowledge with the community," she says. "In the past few years, I have held various positions in the WCVM Equine Club, and my favourite event was Equine Education Day — an event held every year that brings in different age groups who all want to learn more about equine health."
Swirski is a familiar face in the WCVM's Veterinary Medical Centre where she worked as an equine research student with professor and theriogenologist Dr. Claire Card during the summer of 2018 and as part of the Equine Field Service's team for two summers in 2019 and 2020.
Once she completes her veterinary degree in April 2021, Swirski plans to begin a one-year equine field service internship at the WCVM so she's best prepared to practise as an equine practitioner.
"My primary interest is lameness and rehabilitation, but I hope to offer a well-rounded wellness program that can address multiple areas in equine health."
Read more equine health stories in the Spring 2021 issue of Horse Health Lines, publication for the Townsend Equine Health Research Fund.