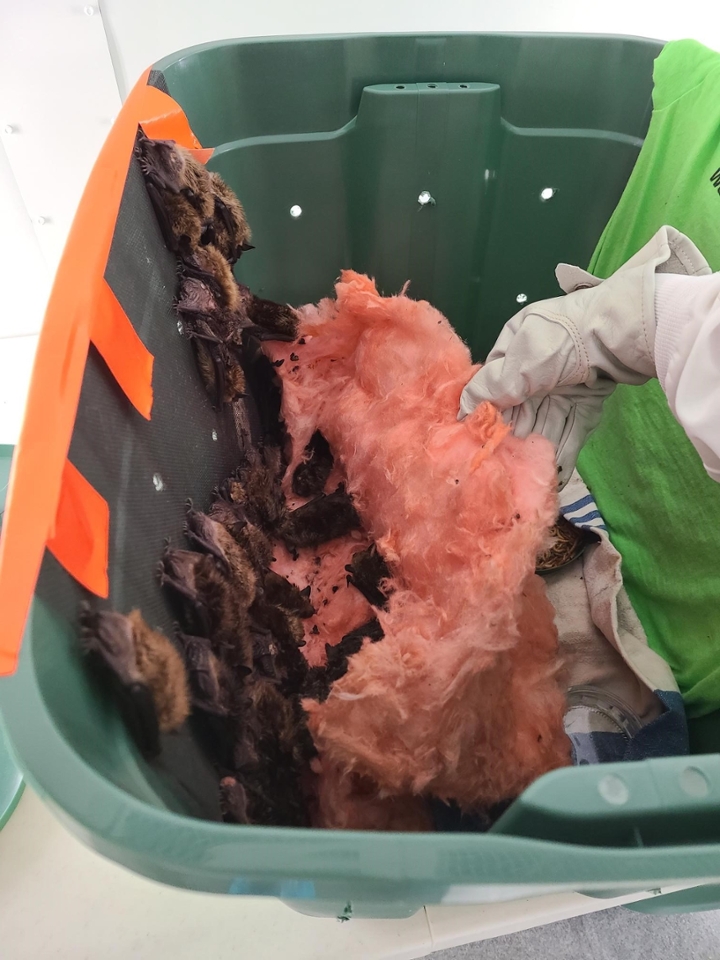 In February, the contractors uncovered the large colony of sleeping bats while working on a renovation project in the small community of Unity, Sask. As word spread, many volunteers jumped into action to help save them.
Living Sky Wildlife Rehabilitation, a Saskatoon-based charity, initially helped to house and rehabilitate the bats. Soon after, the University of Saskatchewan (USask) agreed to assist and offered an environmentally-controlled chamber at USask's Facility for Applied Avian Research (FAAR) at the WCVM so volunteers didn't have to keep the bats in their basements.
"This is a unique opportunity to help out, as the WCVM already does a lot with wildlife," says Dr. Dennilyn Parker, a specialist in avian, exotic and wildlife medicine at the WCVM Veterinary Medical Centre. "We are happy to be able to help out the rehabbers. This is such a unique situation, and we can help out and keep them [the bats] safe."
In early March, volunteers moved more than 300 female bats in plastic tote boxes to a specialized chamber at the WCVM. Two weeks later, the remaining bats (all male) were transported to the college once all of the tiny mammals had been examined and deemed healthy enough to return to hibernation.
The environmentally-controlled room at the WCVM is usually used by USask scientists for research projects involving different species of wild birds. The room's temperature can be set at 7 C with 70 per cent humidity, which is ideal for hibernating bats.
"This chamber mimics the environment that we want for the bats to survive and stay hibernating," says Monique Burmester, director of the WCVM's Animal Care Unit. "We can keep them happy and healthy in this environment until late April or May when they wake up and can be released back in Unity."
For the most part, the bats don't need much supervision or care. Veterinarians and members of the WCVM's Animal Care Unit check on the bats three times a week, ensuring that they have enough mealworm and water.
"They don't need much supervision since they are sleeping," says Parker. "Our Animal Care Unit team is taking care of them for the most part, and they [the bats] are pretty low maintenance right now."
They are big brown bats, the most common bat species in Canada. It is crucial for the WCVM and Living Sky Rehabilitation to help protect these bats while in hibernation as a disease called white-nose syndrome has increasingly caused challenges for North America's bat population.
"Our main goal here, especially with these bats, is to protect them since they are under a lot of threat from white-nose syndrome," says Parker. "Their populations are in decline because of this disease that is spreading, due at least partly to climate change."
White-nose syndrome affects hibernating bats and is caused by a fungus, Pseudogymnoascus destructans (Pd), which shows up as a white fuzz on bats' faces. The fungus grows in cold, dark and damp places. This disease has been around since 2006 and spreads quickly in colonies of bats since they hibernate in groups. There is no cure for white-nose syndrome, but researchers are working on understanding how it spreads in bat colonies so they can learn how to control it.
"Bats are susceptible to the disease because when they hibernate, their bodies slow down — including their immune system," says Parker. "When a bat is infected with white-nose syndrome, they don't come out of hibernation and [then they] die. Or they come out of hibernation too quickly and can't take care of themselves."
None of the bats hibernating at the WCVM appears to have the deadly disease, Parker states.
"We want to keep our bat colonies as healthy as we can and fight this off," she says. "By helping out, we can keep this colony healthy and safe and then return them to the area when it's time."
As the weather gets warmer, the WCVM will work with the Living Sky Wildlife Rehabilitation team to move the bats back to Unity when they come out of hibernation.