"I always thought I would be a carpenter or go into ranching, but when I helped pull that calf, I thought I could do this for life. So I applied to veterinary school, and here I am just over 10 years later," says McAleer, owner of Eagle Creek Veterinary Services.
McAleer, who grew up in Unity, Sask., graduated from the Western College of Veterinary Medicine (WCVM) in 2016. He now owns a mobile veterinary clinic, caring for small and large animals in the community of Rosetown, Sask., and surrounding rural areas.
During his Doctor of Veterinary Medicine (DVM) program, McAleer spent a summer and a fourth-year clinical rotation in Maple Creek at a mixed animal practice learning from other practitioners. After graduation, he returned to work at the same practice for two years before he and his wife, Tahirih, decided to make a move personally and professionally.
"It was a good two years, but we decided it was time to move on and change locations for both our jobs, careers, and lifestyle," says McAleer, who began his own mobile veterinary practice in 2018.
"There were two main reasons why we chose Rosetown: my wife's family's farm is in Harris, so we have family ties to the area, and there is a need for veterinary services in both large and small animals."
The four years that McAleer spent at the WCVM helped him prepare for life as a veterinarian, and his time spent in Maple Creek allowed him to gain a better understanding of life as an owner. He felt ready to tackle the new challenge.
"The WCVM prepares you with the fundamentals of how to approach a problem," says McAleer. "I grew my awareness and knowledge of ownership through talking to people who had done similar things, and I still occasionally call other veterinarians in the area or professors with more complicated cases. We have a network across the province that stays in touch."
Although every day is different for McAleer, he enjoys the versatility and challenges that come with being a mixed animal veterinarian and the constant learning that comes with the veterinary profession.
"Every day, there is something new to learn or a new way to look at … a problem or a complicated case," he says. "There is more responsibility as an owner — more tasks — but you are still constantly learning."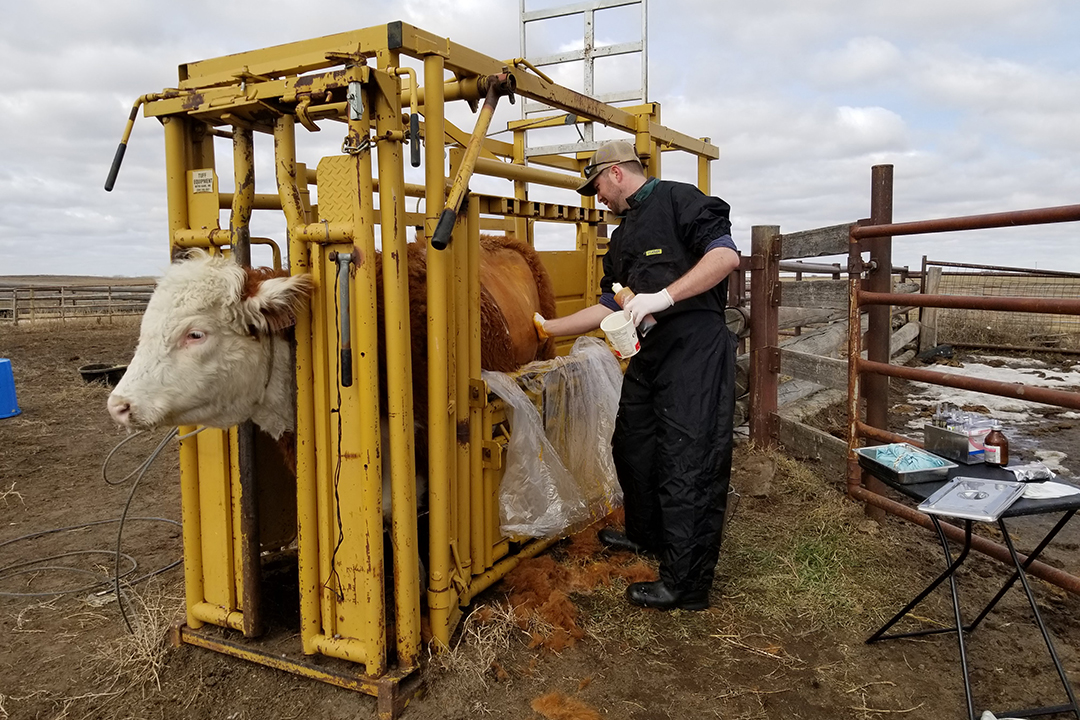 McAleer usually starts his day at 8 a.m. and finishes late in the evening. There are busy weeks and slower weeks throughout the year, but he's striving for more of a balance in his work. One way he plans on balancing is opening a storefront veterinary clinic in Rosetown. Once renovations are done, he hopes to have the clinic operating by this summer.
"There isn't much down time, and I am looking for more work-life balance. That is part of the reason to get that building up — I've spent so much time on the road," he says. "Being mobile, even with small and large animals, it is mostly seasonal. It does taper off since we can't do major procedures on animals year-round. But with the clinic, we should be able to balance that out and make things easier for everybody."
He plans to hire a clinical team including registered veterinary technologists, another veterinarian and some support staff.
"Over the next couple of years, we should be growing pretty well," he says.
McAleer says the clients are the best part of the job, especially in a rural community like Rosetown. In late January when McAleer's truck broke down outside a client's yard, the farmer towed the veterinarian's truck back to his farm's shop. Another local producer came by with an alternator so McAleer could get back on the road.
"It is things like that, the community that you build with your clients and the people in the area that I enjoy," he says. "The clients make my day."
McAleer hopes to bring that same sense of community into his practice for his clients and patients.
"From a veterinary service standpoint, I want it to be stable, reliable and honest veterinary care that works with the client to provide the best care possible for the patient," he says.
"I believe in giving the information to the client — getting them involved in the decision-making whether it is [for] their dog or cow herd, and providing them with the best options. And together, making a plan for the animal."
Click here to read how the Government of Saskatchewan is enhancing support for veterinary services in rural Saskatchewan communities.