University of Saskatchewan (USask) researchers and other Canadian scientists are in the process of conducting several studies in the hope of providing definitive answers. Indeed, the results of one study were just published in January's edition of Translational Animal Science, a periodical of Oxford Academic, Oxford University Press.
At the helm of the project is USask's Dr. Greg Penner (PhD), professor in the College of Agriculture and Bioresources' Department of Animal and Poultry Science, who holds a Centennial Enhancement Chair in Ruminant Nutritional Physiology. He noted that the National Cattle Feeders' Association has organized a voluntary auditing program for feedlots to ensure production practices are of the highest standards.
Dietary evaluation is a crucial part of the audit.
"There's an interest to ensure we are meeting fiber requirements for finishing cattle," Penner said. "When we look at the information available, we currently don't have the data to predict what that fiber requirement is or how we should represent fiber.
"This study is the first real adventure into trying to understand what parts of fiber are important for feedlot cattle and what levels we should be feeding to optimize health."
Penner lured Dr. Murillo Pereira (PhD), a post-doctoral research fellow, from Brazil to be lead scientist on the USask-based projects to understand the role of fiber in feedlot cattle diets.
"I'd never seen snow before I came here," admitted Pereira, whose family owns a beef operation in his home country. "It's awesome how it's possible to finish cattle in a feedlot system in minus forty degrees.
"For me it was a good challenge and a good experience to learn more about the Canadian system."
Pereira and his colleagues performed the study at the Livestock and Forage Centre of Excellence (LFCE) near Clavet, Sask. They separated 450 animals into 30 pens of 15 each, grouping them by weight to improve consistency.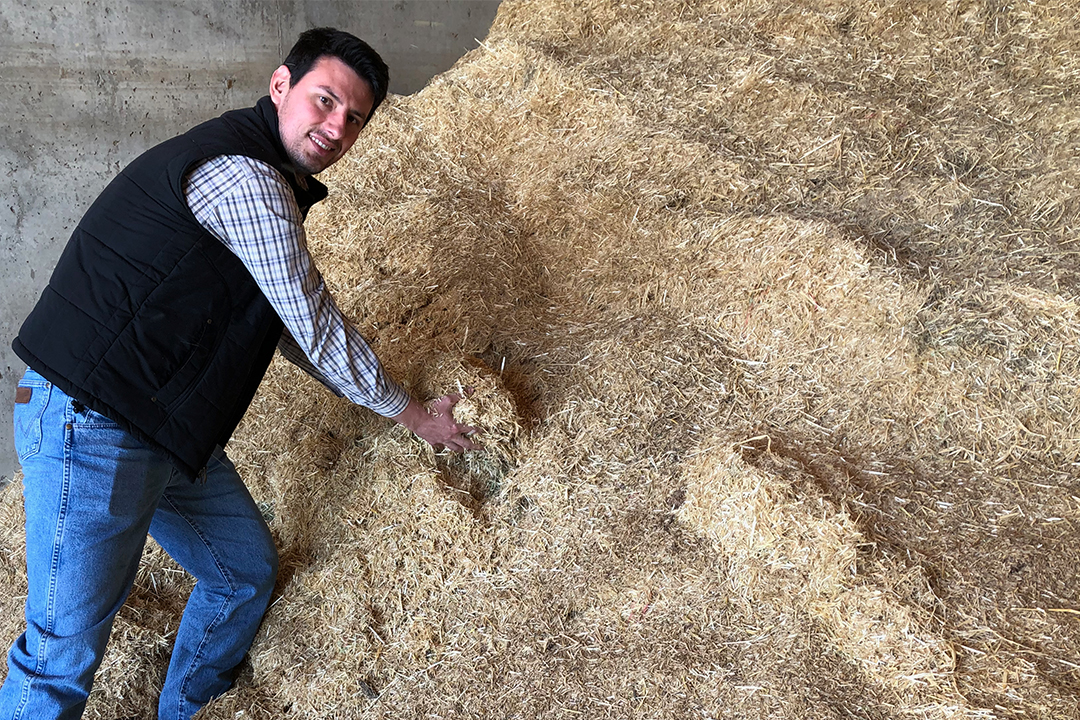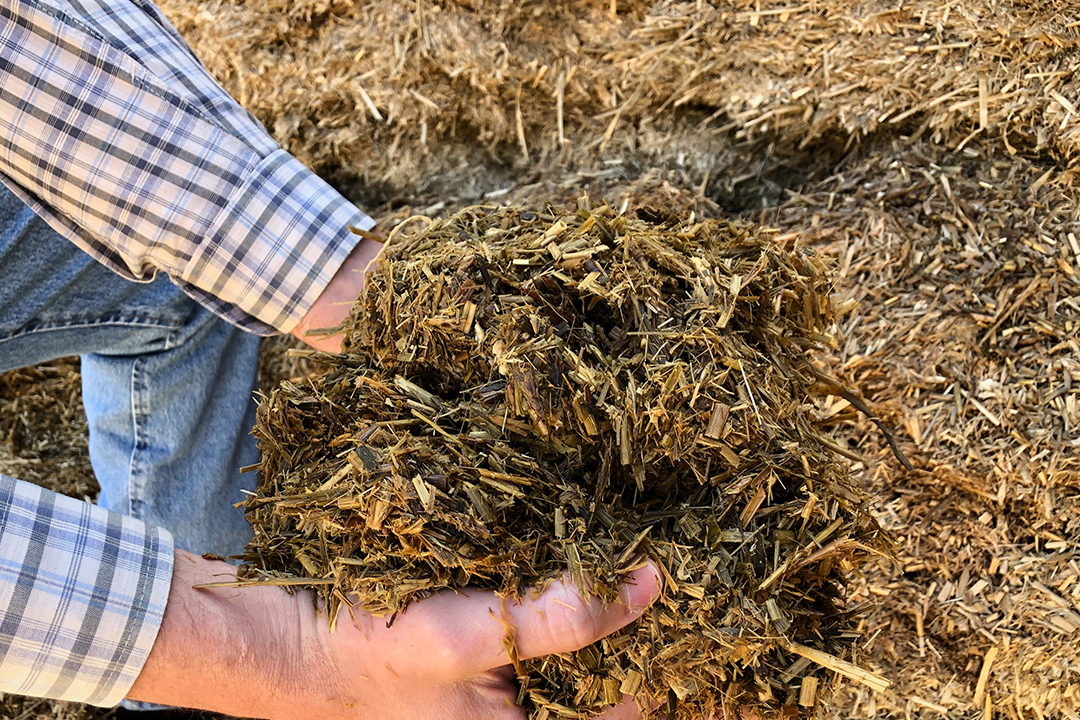 The scientists began with an adaptation period after purchasing them from an auction market. At first, they were fed 50 per cent each forage and high-concentrate diet. Over 24 days, the amount of forage—largely barley or wheat mixed with straw—was reduced to 10 per cent.
"This period is really important for animals," he said. "We have to adapt to the physiology of the animals. Inside the rumen we have microorganisms like bacteria and protozoa, and we have to adapt (these) to new feed. This is a challenge for the feedlot. The first 30, 40 days in the feedlot are the most dangerous period because we are changing (the diet) a lot.
"We try to work with high energy diets (so) we can have more performance—we can have more body weight gain, we can improve the carcass characteristics, we can have more fat in the carcass, all while improving feed efficiency—and with that the producer can make more money."
What Pereira and his colleagues discovered surprised Penner. First, the barley silage was of better quality than the wheat, despite using best harvest practices for both.
More importantly, even at the low rate of 10 per cent inclusion, greater forage quality proved to offer benefits.
"We didn't expect to pick up quality grade differences and we're still not sure how to explain the quality responses," he said. "They're very consistent. The quality parameters, using two independent techniques, both point in the same direction.
"I had expected growth rate or feed intake or feed conversion to be the factors affected, but we did not see that. This is a first step to perhaps encourage more attention to the forage component in finishing diets."
The main goals of the studies are to refine and measure the amount of forage in feedlot diets while maintaining performance, but there is also an eye on environmental factors.
"If we put too much forage in the diet, we decrease performance," Penner explained. "It takes more feed to produce the same amount of beef. They will produce more methane, so we will have a larger environmental footprint; it will take more days on feed.
"But if we feed too little forage, we risk digestive disorders for cattle. We're trying to find the balance: what is enough for the cattle to optimize their digestive health and still have all the benefits to reduce our environmental impact."
The research continues. Pereira hopes to have a second paper completed by July on a different but related study, and other work is ongoing elsewhere. The USask contingent is part of a large collaborative team including researchers at Agriculture and Agri-Food Canada at Lethbridge, Alta., and a researcher at the University of Guelph.
"We've completed three experiments now at USask, one at Lethbridge and in the process of another in Lethbridge and started one at Guelph," Penner said. "There's quite a few locations being utilized to make sure we have a broad array of cattle, housing conditions and available feeds."