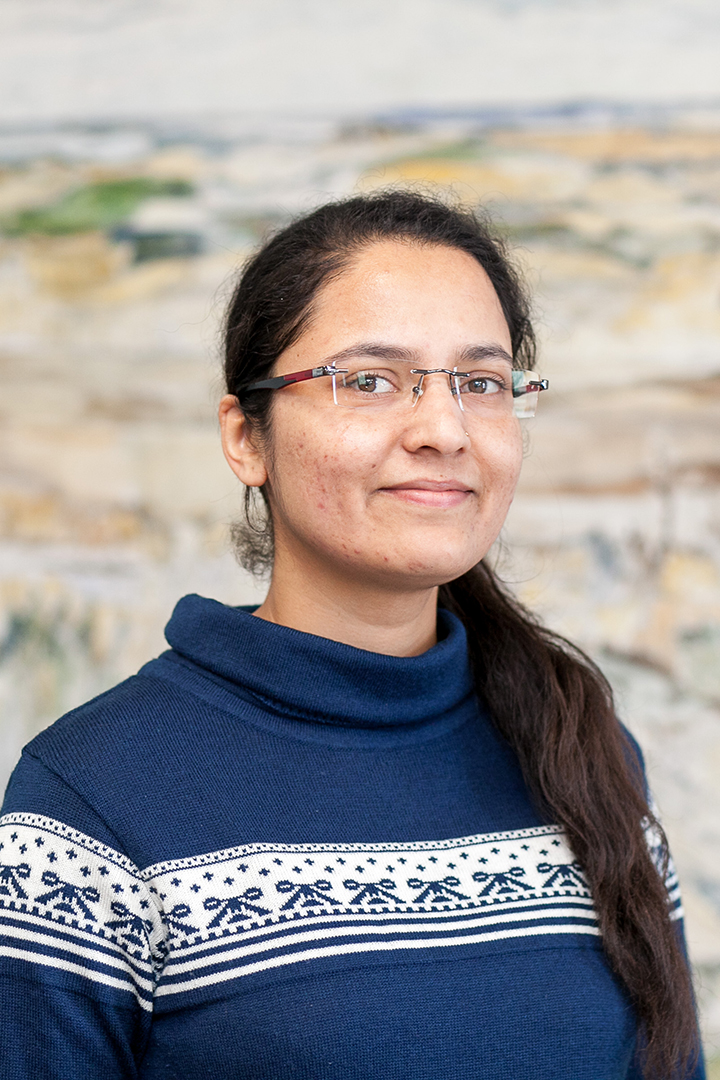 Necrotic enteritis, an intestinal disease caused by the bacteria Clostridium perfringens, primarily affects broiler chickens (poultry raised for meat) at a young age when their immune systems are immature. The disease causes the death of their intestinal lining and severely compromises their health.
One of the most common infectious diseases of poultry, necrotic enteritis has a significant economic impact on the poultry industry.
"Every year necrotic enteritis costs the global poultry industry $5 billion to $6 billion because of reductions in performance and the cost of disease treatment," says Hemlata Gautam, a PhD student in the WCVM's Department of Veterinary Pathology.
Although necrotic enteritis had been previously controlled by adding antibiotics to poultry feed, Canada and several other countries voluntarily stopped the practice of adding preventive antibiotic drugs in feed. That move was done in response to consumer preferences and to work toward reducing antimicrobial resistance.
However, withdrawing antibiotics has caused a re-emergence of necrotic enteritis, and multiple predisposing factors make it difficult to control the disease without their use.
Working with Dr. Susantha Gomis, a professor in the WCVM's Department of Veterinary Pathology, Gautam and other researchers are focused on understanding the mechanisms of necrotic enteritis so they can develop prevention strategies and establish cost-effective alternatives for poultry producers.
"We are trying to develop prevention strategies like vaccination and probiotic use while considering all aspects of the disease," says Gautam.
Developing prevention methods that allow producers to protect their poultry from infection without affecting public health isn't an easy task. In order for the researchers to study the clinical aspects of the disease, they first needed to develop an animal model that would consistently respond to infection in the same way a bird in the field would respond.
Developing an animal model was a difficult job that demonstrated the complexity of the disease and the factors that had to be taken into account while generating new control strategies. Gautam and the research team spent a year performing live animal trials before they successfully developed an animal model for the disease.  
"Through our animal trials we understood that the disease could only be reproduced consistently in the lab after considering all of the factors together," says Gautam. She adds that they had to consider multiple factors such as the strain of the bacteria and the bird's immune status.
The group eventually produced a model where the birds were first infected with a virus that weakened their immune system and made them more susceptible to infection by Clostridium perfringens. Once the birds were exposed to the bacteria, they consistently developed a clinical infection similar to that which would occur in a poultry barn. 
Now that the researchers have been able to replicate the disease for research purposes, their next challenge lies in fully understanding how Clostridium perfringens infects poultry and causes its devastating effects.
Although they have identified various toxins released by the bacteria and can see their effects in the intestine, the scientists are still working to understand the infection mechanism of the disease so they can use that information to develop prevention strategies.
It's not an easy task, and Gautam points out that the difficulty of determining ways to prevent necrotic enteritis exemplifies the challenge of producing healthy animals without using antimicrobials to prevent disease.
"The development of a prevention strategy has limitations, not only on cost but also on labour and instrumentation," says Gautam. "The prevention technique has to be practically implementable in the field. This practical aspect does put constraints and consideration in research activity. Our lab is completely acquainted with poultry field conditions in Canada and are working toward providing practical and affordable solutions for producers." 
This research study has received financial support from the Canadian Poultry Research Council (Poultry Science Cluster III), Agriculture and Agri-Food Canada and the Chicken Farmers of Saskatchewan. 
Alexa Dixon of Calgary, Alta., is a third-year veterinary student at the Western College of Veterinary Medicine (WCVM) who was a Boehringer Ingelheim Veterinary Scholar during the summer of 2020. Her research work was also supported by the Saskatchewan Agriculture Development Fund. Dixon's story is part of a series of articles written by WCVM summer research students.