These sperm and egg gametes, which carry the bison's genetic material, are a vital component of research that's dedicated to preserving the genetics and longevity of the threatened species.
On July 10, 2020, researchers at the University of Saskatchewan's (USask) Livestock and Forage Centre of Excellence welcomed Skeeter and Mo, two highly anticipated additions to their bison population. The Native Hoofstock Research and Teaching Unit is now home to approximately 50 wood and 50 plains bison, a demographically diverse group of bulls, cows and calves.
Born in the midst of the COVID-19 pandemic, these two wood bison male calves represent a significant achievement in the development of a diverse germplasm biobank that can efficaciously restore and uphold populations of North American bison.
Since the near-extinction event at the turn of the 20th century, wild bison herds continue to be threatened by human interventions such as the introduction of endemic cattle diseases and cattle genetics to its populations as well as the hybridization of wood and plains bison subspecies.
These threats have been compounded by the significant factors associated with transporting North America's largest land mammals. As a result, bison populations that include valuable genetics of both subspecies have become progressively more isolated.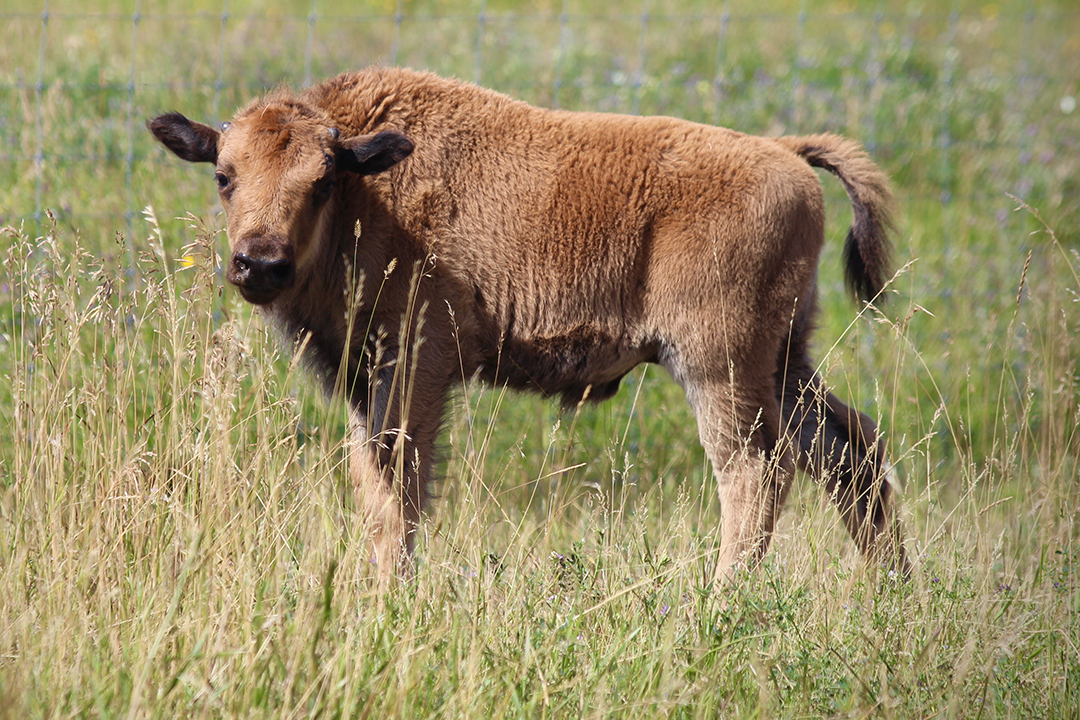 The USask Bison Research Group is a team of multidisciplinary scientists studying advanced reproduction in bison — specifically how a particular technique for staging and preparing the embryo can lead to greater pregnancy success.
In 2017, Miranda Zwiefelhofer moved from Minnesota to Canada and began her graduate studies in the Western College of Veterinary Medicine's (WCVM) Department of Veterinary Biomedical Sciences. Since then, she has conducted bison research and supported wild bison as a species.
"[I have] always had an interest in the conservation of wildlife and ecology, so working with the bison was a perfect fit," says Miranda, a PhD candidate at the WCVM.
Preservation of the isolated genetic material for this free-roaming population is no easy feat — and that's precisely why the birth of Skeeter and Mo was so momentous. The research and processes involved in generating the successive phases for developing the bison biobank are extensive, methodical and labour-intensive.
"You have to collect the oocytes (eggs) from the bison, mature the oocytes and fertilize them with fresh or frozen-thawed semen," says Miranda, who works with her supervisor, Dr. Gregg Adams of the WCVM's Department of Biomedical Sciences. "Zygotes are cultured and only approximately 20 per cent will produce embryos."
These embryos must be frozen in a process called vitrification. They are then stored, thawed and transferred into a surrogate bison that will carry them until parturition (birth) in less than nine months' time.
"One wrong move at any of these crucial points stops the biobank from being successful," says Miranda. "The male side can be pretty straightforward; however, the female side is not. It is a difficult process [working with] wild animals and living cells. We are still learning how to adapt our protocols at every step."
As Miranda focuses much of her time on working with these cells in the lab and in the field, her husband Dr. Eric Zwiefelhofer handles a great deal of the work that's involved on the animal side.
A postdoctoral researcher in the WCVM Department of Veterinary Biomedical Sciences, Eric completes many of the on-farm procedures necessary for egg and embryo collection, embryo transfer and animal handling.
"I've worked with cattle my entire life but working with bison is a completely different ball game," says Eric. "I've taken for granted the simplicity of embryo work in cattle but translating these technologies in bison [a wild species] can be quite a challenge."
Success in every one of these meticulous steps is critical for the production of a live calf. At the end of the day, live calves are the key to propagating these valuable genetics and ensuring the bison species is preserved for future generations.
Since bison herds have a resonant history in North America, many stakeholders have deep-rooted interests in the safeguarding of the species. The collective efforts of Indigenous peoples, academic institutions, government entities and wildlife conservation groups have converged to facilitate these successes.
The key takeaway from the successive research studies is the creation of procedures for embryo production and freezing that are specific to the bison species. All members of the Bison Research Group have worked together to ensure maximum viability of the valuable bison genetic material. They are currently refining and adapting protocols for use in wild free-roaming bison herds.
"Skeeter and Mo represent the third and fourth calves ever produced from frozen in vitro-produced embryos, the very first produced from immature oocytes that were collected from living bison," says Miranda.
"[These calves] demonstrate that our present techniques are effective and that it is possible to move bison genetics in a biosecure manner — bringing us one step closer to implementation in the field."
Jessie Hellquist of St. Paul, Alta., is a third-year veterinary student at the Western College of Veterinary Medicine (WCVM) whose research position was supported by the WCVM Interprovincial Undergraduate Student Summer Research Program in 2020. Her story is part of a series of articles written by WCVM summer research students.