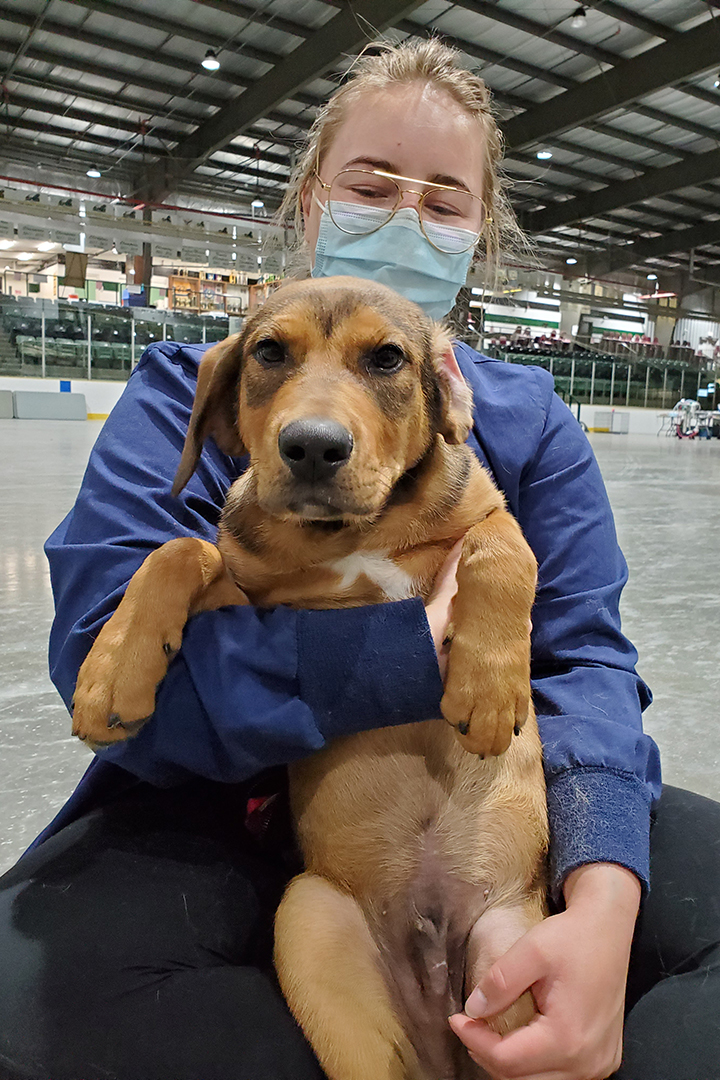 The college's team, along with community volunteers, managed to hold two clinics — one in Saskatoon and one in La Ronge, Sask. — in May and June after a one-year break caused by the pandemic.
"I think being able to get there, honestly, was a bit of a mark of success," says Dr. Jordan Woodsworth, a clinical associate in wellness and remote practice at the WCVM's Department of Small Animal Clinical Sciences. She's also the lead co-ordinator for the college's annual remote clinics.
"Everything was a little bit last minute in terms of figuring out whether we can go or not. There was a lot of organizing things in short order, but we were able to still provide a great learning opportunity for fourth-year students."
Since 2014, the WCVM has been working with Northern Animal Rescue (NAR) and other community members of the tri-community region of La Ronge, Air Ronge and the Lac La Ronge Indian Band to bring essential veterinary care to the area. The remote clinics also provide valuable learning experiences for students in the college's Doctor of Veterinary Medicine (DVM) program.
For animal owners in these communities, the nearest veterinary clinic is in Prince Albert — a 250-kilometre drive south. The WCVM's veterinary teaching hospital, which offers specialized referral services, is four hours away by vehicle.
High COVID-19 case counts in Saskatchewan and a disease outbreak at the WCVM's veterinary teaching hospital forced the veterinary college to change its plans for a northern remote clinic in May 2021. Instead, volunteer organizations and owners brought animals directly to the WCVM building for wellness examinations and spay-neuter procedures.
In total, NAR brought 11 animals from the La Ronge area. Volunteers brought four dogs from the Prince Albert SPCA while another 14 animals came from Sweetgrass First Nation, located near Cut Knife, Sask. In addition, two locally-owned animals were able to access care.
When organizers received the go-ahead for the June clinic in La Ronge, volunteers converted the ice surface in the Jonas Roberts Memorial Community Centre into a veterinary clinic with the main ice surface serving as the surgery floor. This year, due to COVID-19 restrictions, owners were not allowed to accompany their pets into the building where clinical team members conducted wellness examinations, gave vaccinations and performed spay and neuter surgeries.
Due to the pandemic, the team also had to be smaller for this clinic. Normally, anywhere from 80 to 100 veterinarians, registered veterinary technicians, students in veterinary and veterinary technology programs and other volunteers help to operate the clinic. This year, because of COVID-19 guidelines, the clinical team consisted of only 20 people.
Over four days, the team performed 56 wellness examinations and 38 spay and neuter surgeries for local cats and dogs. This represents about two-thirds the number of wellness exams and a third of the surgeries they would normally do, says Woodsworth.
The La Ronge remote clinics are part of the WCVM's clinical training for senior veterinary students, but for this year, organizers had to reduce the number of students from eight to a maximum of four trainees. Three fourth-year veterinary students took part in the May clinic, while in June, Megan Meardi and Taylor Davies spent five days in La Ronge completing surgeries and wellness appointments as part of their service learning clinical rotation.
Davies, who is from Langley, B.C., signed up for the rotation as a means of getting some more experience after having limited hands-on opportunities through the pandemic.
"I learned exponentially more than I thought I would," says Davies. "Every day I learned so much and got so much more confidence in my skills."
Meardi, originally from Guy, Alta., signed up for the rotation due to the immensely positive reviews she had heard from other veterinary students.
"I looked into it and originally it was, 'Wow, that would be a lot of good surgical experience and a lot of good clinical experience.' So, that's the reason why I signed up, but it was so much more than that," says Meardi.
Along with hands-on experience in anesthesia and surgical procedures, Meardi and Davies also participated in cultural awareness education programs.
"I grew up in Arizona. I didn't get a Canadian high school education, so it was just so great to learn about [Indigenous culture and history] and to just be more aware of the problems that are out there," says Meardi.
Meardi and Davies worked with Save Rez Dogs — an organization that promotes humane bylaws and organizes fundraising and public awareness campaigns to help animal owners from Indigenous communities access care for their animals. As part of their rotation assignment, the students also created a school presentation that combined traditional Woodland Cree teachings with information about how to stay safe and take care of dogs.
"Even if we didn't get the clinical experience, it would still be worthwhile just learning more about Canada," says Davies.
Both Meardi and Davies really enjoyed their time in La Ronge.
"If someone's thinking about the rotation or volunteering, do it," says Davies. "If I could do it again next weekend, I would."
There are plans for organizing further clinics in northern Saskatchewan. Woodsworth says that the team is hoping to expand the program and organize a future clinic in Île-à-la-Crosse, Sask.
"Hopefully in the fall we'll be getting up to the northwest part of the province, and then we'll see from there how that goes."
Jessica Colby of Montmartre, Sask., is a fourth-year student in the University of Regina's School of Journalism. She is working as a research communications intern at the Western College of Veterinary Medicine (WCVM) for summer 2021.