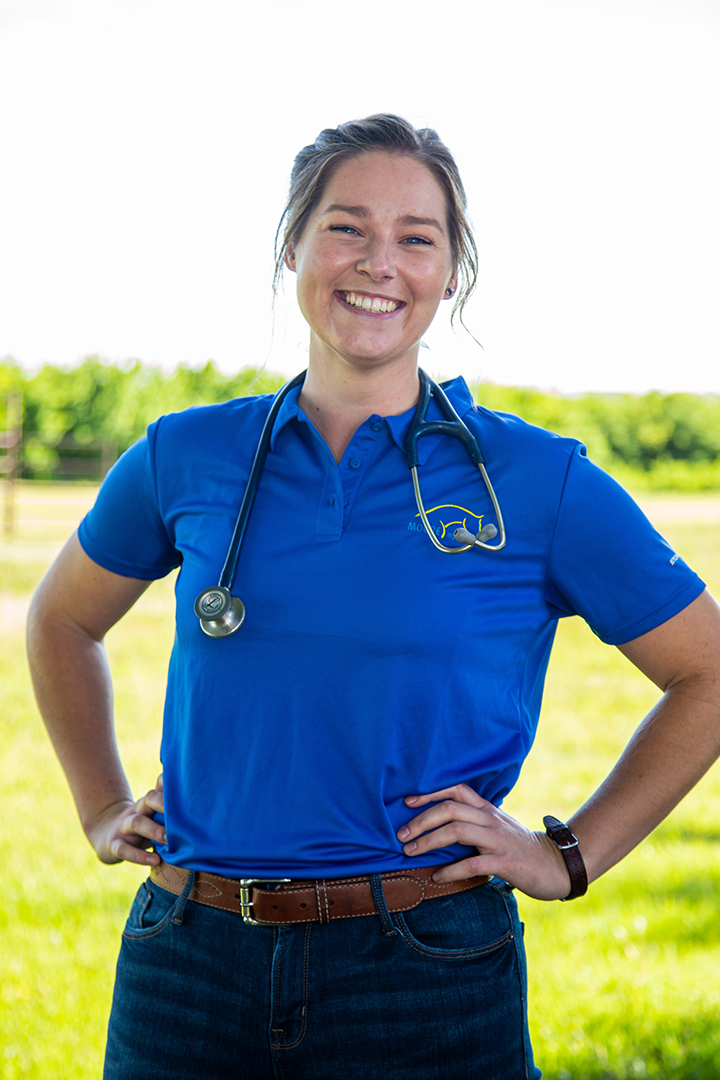 Westendorf eventually recognized that despite the occasional struggles or difficult cases, her parents truly enjoyed veterinary medicine. Their experiences also showed her that no matter what profession she chose, she would have to work hard to succeed.
"As I grew older, I started to understand that, and I saw how fulfilled they were with their successful cases and how grateful they were for their good clients that have been with them for 10 years," she says.
As an undergraduate student at Simon Fraser University in B.C., Westendorf also realized that based on her interest in physiology and anatomy courses, a career in medicine was a good fit. But human medicine didn't feel quite right, and she found herself pursuing veterinary medicine.
"So, it was kind of a combination of getting older, talking to my parents, sort of understanding myself and realizing that this is something that I wanted to do," says Westendorf, who became a veterinary student at the WCVM in 2016.
Westendorf completed a dual degree program during her five years at the veterinary college, earning her Doctor of Veterinary Medicine (DVM) degree in 2020 and a Master of Science (MSc) degree in 2021.
Supervised by WCVM veterinary pathologist Dr. Bruce Wobeser, Westendorf's graduate research focused on the Kenney-Doig scale that's used in equine theriogenology. Introduced in the 1980s, veterinary pathologists use this scale to evaluate equine endometrial biopsies — a common test for assessing a mare's fertility and her chances of having a healthy, live foal.
"This scale was foundational," says Westendorf. "It was a big advancement in reproductive medicine for horses and for endometrial diseases in general."
Her study focused on the level of agreement between veterinary pathologists when using the Kenney-Doig scale. To test the specialists' conformity, the WCVM researchers gave the same endometrial samples to different pathologists and asked them to grade the samples using the Kenney-Doig scale.
The Kenney-Doig scale rates a mare's ability to carry a live, healthy foal on four levels: a category I, IIA, IIB or III.
"If you see that the horse is a grade I or a grade III, that's either very, very normal (grade I) or very, very diseased (grade III)," says Westendorf.
Westendorf says that her study produced fair to moderate results. While no other agreement study exists for the Kenney-Doig scale in the published literature, it was on the lower end for the agreement that was produced.
"That means that the scale isn't as repeatable as we would like," says Westendorf. "If a clinician sends a biopsy to this diagnostic lab, they might get a different answer than if they had sent it to a different diagnostic lab."
Westendorf adds that these differences between the two diagnostic lab results may affect a client's decision on how they proceed with a mare's breeding program.
In June, Westendorf was presented with the Equine Foundation of Canada (EFC) Award during the veterinary college's spring awards program. The annual award, valued at C$6,000, recognizes a WCVM graduate student who demonstrates an interest and scientific merit in equine research.
"Equine medicine made a lot more sense to me," says Westendorf. "Horses, I've always had a good relationship with [them], and I've just always understood better."
The EFC is a national registered charity organization that raises funds in support of equine health. The award was established in 2013 after the foundation provided the WCVM with a one-time gift of $100,000 for the creation of an annual award.
"[The award] was to help them [the recipient] do whatever they needed to do to help us look after horses, because that was the big thing — we're people helping other people look after horses," says Charlene Dalen-Brown, vice president of the EFC.
For Westendorf, the EFC's award was "a huge stress relief."
"This substantial helping hand really helped me feel more secure about my finances and sort of relaxed about the fact that in six months, I'll have to start repaying my student loans," says Westendorf.
She's now living in Alberta where she's working as a clinical intern for one year with Moore Equine Veterinary Centre in Calgary.
"We do surgery, we do internal medicine, ambulatory, anesthesia, lameness," says Westendorf. "They also have another south clinic that has reproduction. So, there is the opportunity for me to go down there and learn some [reproduction] from their theriogenologist, which I'm really excited for."
Jessica Colby of Montmartre, Sask., is a fourth-year student in the University of Regina's School of Journalism. She is working as a research communications intern at the Western College of Veterinary Medicine (WCVM) for summer 2021.