With dental disease affecting 80 per cent of dogs over the age of two years, it's the most commonly diagnosed condition in our pets — and early diagnosis and treatment are important concerns for owners and veterinarians.
Because early diagnosis is so important, a research team led by veterinary dentist Dr. Candace Lowe at the Western College of Veterinary Medicine (WCVM) has been investigating the use of computed tomography (CT) scans for detecting dental disease in dogs.
If a dog is brought to a veterinary clinic for a dental appointment, clinicians will usually conduct an oral exam and take X-rays of the mouth to identify any problems. However, dental X-rays are not taken if a dog is brought in for a non-dental issue and requires a CT scan — and that's a missed opportunity for clinicians to diagnose and begin treatment for dental disease.
While X-rays are useful for revealing the common signs of dental disease, CT scans can alert a veterinarian to other signs — including particular changes to the lymph nodes.
"A lymph node is sort of the immune surveillance system and responder of the body," explains Dr. Monique Mayer, a radiation oncologist at the VMC and member of the research team.
"If you have an abnormal disease process, including dental disease, the job of the lymph node is to fight infection. If you have ongoing dental inflammation or infection, the lymph node will detect that and respond to it. It [dental disease] may upregulate or increase the activity of that lymph node which would increase the size."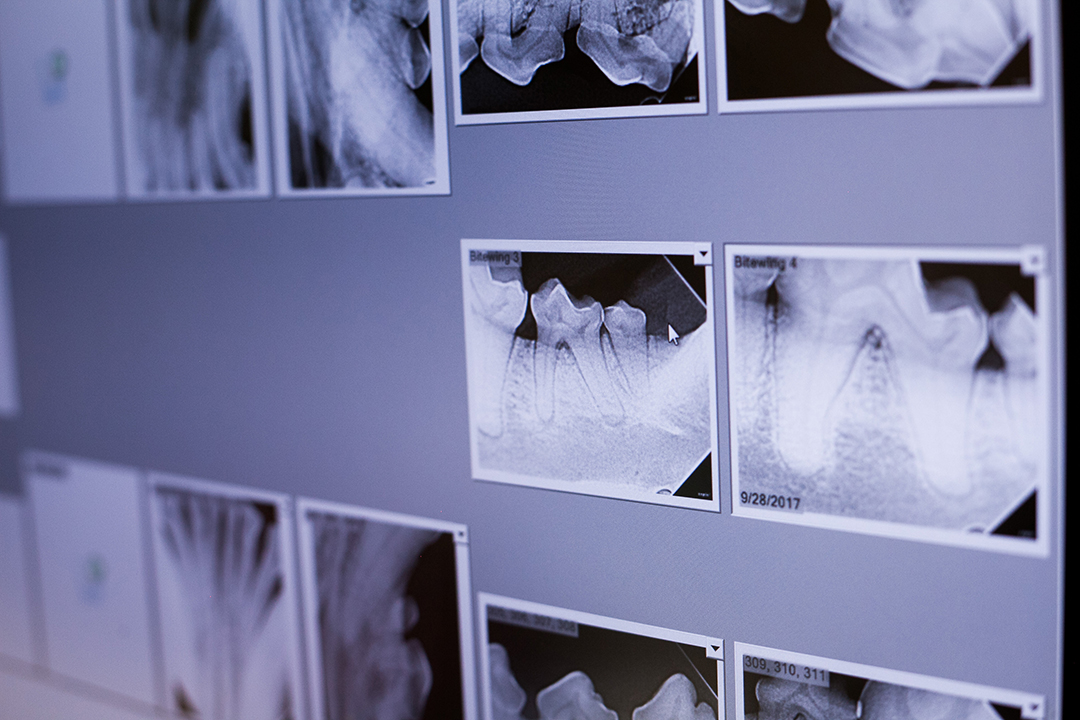 For this study, the research team contacted owners of incoming dental patients at the WCVM Veterinary Medical Centre and asked for permission to include their animals in the research project. Eligible animals were screened to ensure that they didn't have cancerous lesions of the head. Each dog participating in the study had a complimentary CT scan before its dental examination, and the research team used the results of those scans to establish a baseline.  
As a radiation oncologist providing treatment for cancer patients, Mayer routinely uses CT scans involving the lymph nodes when she is diagnosing and determining treatment options for cancers.
She's found that many of the dogs affected by cancer are older — and more likely to have pre-existing dental disease. By determining a normal size range for lymph nodes in older dogs, the researchers can use this baseline information to explore the impact of dental disease on lymph nodes.
This important information can also be useful for establishing whether enlarged lymph nodes are due to dental disease or to cancer that is spreading.
If CT scans can accurately identify signs of dental disease, incidental findings on images taken for other problems such as cancer could allow for earlier dental health intervention. Early detection along with a better understanding of the lymph node changes associated with dental disease can ultimately improve the prognosis and health of canine patients.
Meara Munn-Patterson of Fort McMurray, Alta., is a third-year veterinary student at the Western College of Veterinary Medicine (WCVM) whose research position was supported by the WCVM Interprovincial Undergraduate Student Summer Research Program in 2020. Her story is part of a series of articles written by WCVM summer research students.