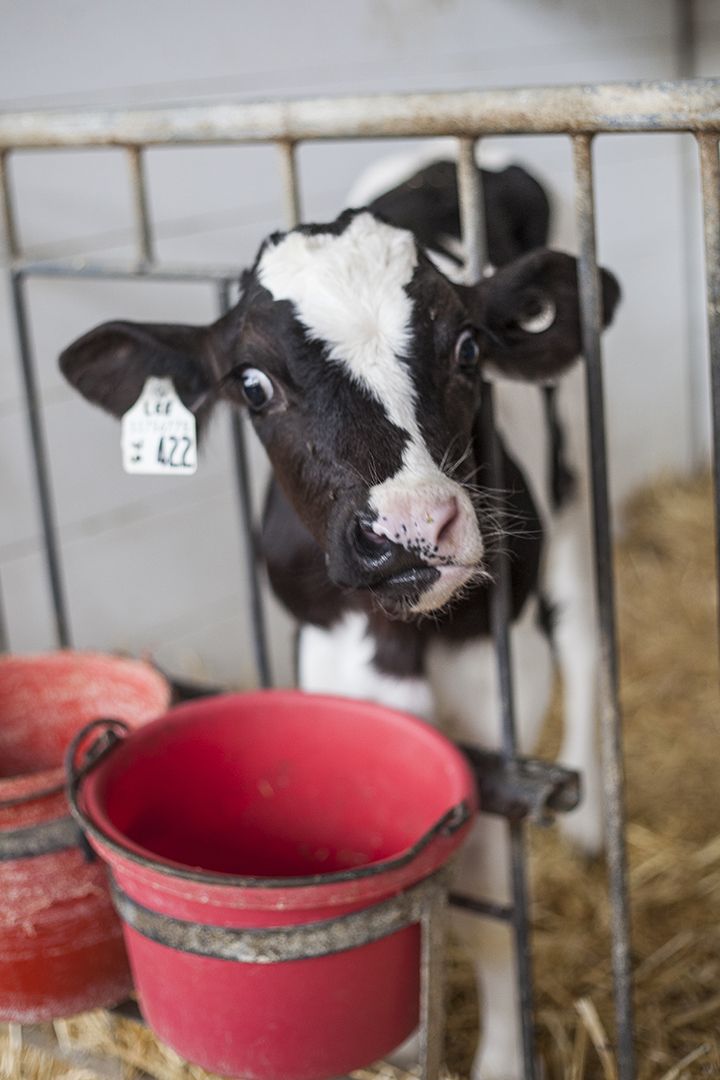 Salmonella Dublin (S. Dublin), a serotype or strain of the bacterium Salmonella enterica, is an emerging disease in Canada and a growing concern for the country's dairy farmers. In Saskatchewan, each diagnosis of the bacterial disease must be notified to the provincial government as a means of monitoring.
"Salmonella Dublin is a cattle-adapted strain, which means adult cows tend not to get sick from it. But calves do, and they get sepsis (systemic infection) and basically get multi-organ failure and may be euthanized or die," says Dr. Chris Luby, an associate professor in the WCVM's Department of Large Animal Clinical Sciences and the project's lead researcher.
"It [S. Dublin] does compromise animal welfare, and it is a potential threat to human health."
S. Dublin can occur in humans, although it's not common. When people get this type of salmonella, they are susceptible to sepsis instead of suffering the typical symptom of diarrhea.
Luby describes S. Dublin carriers as the "Typhoid Marys" of the bovine world. The bacteria are difficult to culture from feces, which is how it is spread among the carriers' herd mates.
"They [the carriers] show no clinical signs, yet [they] are spreading it around the dairy farm and it's really hard to identify those," says Luby.
Right now, the only reliable way to ensure that S. Dublin infection is eradicated is to take regular blood tests from every animal in a dairy herd — a costly option.
The idea for the WCVM study came about after there was a S. Dublin outbreak at the University of Saskatchewan's (USask) Rayner Dairy Research and Teaching Facility several years ago. Prairie Diagnostic Services, the province's veterinary diagnostic laboratory, identified the bacterial strain during a post-mortem examination of a dairy calf that was humanely euthanized due to the severity of its symptoms.
S. Dublin has been nearly eradicated at the university dairy, but it has taken a great deal of hard work and expense. To try and prevent further spread of the disease, each animal in the university's dairy herd underwent regular blood testing — a cost of about $2,000 every four months.
"You can get it under control, but it is a huge economic investment," says Luby. "And if we can make things a little simpler, I think we will get better control of it, industry-wide."
Luby and his research team are trying to find a more affordable way for dairy producers to test their animals for S. Dublin. The proposed new testing will call on dairy producers to collect a fecal sample from each dairy cow on the day she calves.
"The reason for that is that mammalian species have immune suppression when they give birth so that's the time when they're most likely to be shedding large amounts of salmonella, so hopefully that's our best chance to catch it," says Luby.
One month later, WCVM researchers will collect blood samples from the same cows. They'll repeat the same blood testing process on the same animals four more times throughout the year. The blood tests and fecal samples are "the gold standard to identifying the infected animal."
"We'll use that data to determine who are the infected animals, and from that we can then look at the fecal cultures and say how well did they do in comparison with the reference standard," says Luby.
Saskatchewan's Agriculture Development Fund (ADF) provided nearly $37,500 in support for the WCVM research study. Luby says the funding will allow the WCVM researchers to "identify the infected animals in a way that the producer could never afford to."
"In the field we already have these diagnostic tests, it's just building on the application of them," says Luby. "And so, hopefully we can make diagnosis a little bit easier."
Jessica Colby of Montmartre, Sask., is a fourth-year student in the University of Regina's School of Journalism. She is working as a research communications intern at the Western College of Veterinary Medicine (WCVM) for summer 2021.