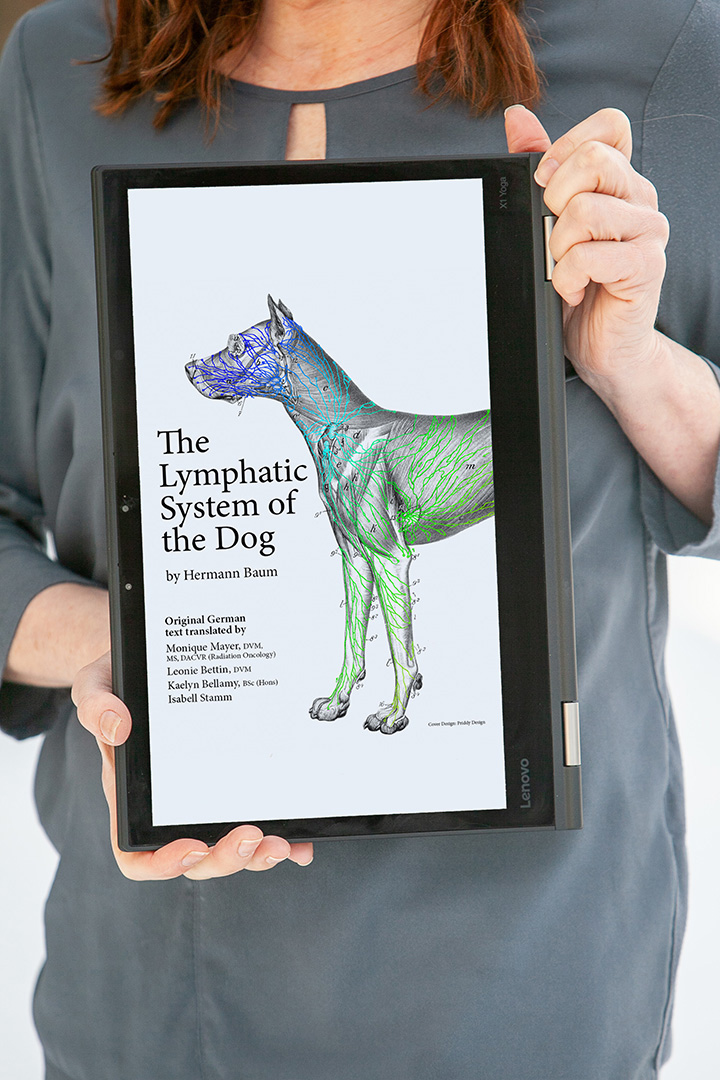 Mayer, a professor and board-certified veterinary radiation oncologist at the Western College of Veterinary Medicine (WCVM), was using a textbook written by German anatomist Dr. Hermann Baum in 1918. With no English translation available, she relied on the assistance of her mother, who is fluent in German, to decipher The Lymphatic System of the Dog.
"I found it to be an excellent reference, but we always faced the problem of it being in German," says Mayer, noting that Baum's scientific work hasn't been repeated. "Nobody really does this type of research anymore. The German anatomists really went into amazing detail."
After about 15 years of using this work, Mayer embarked on an ambitious project to expand the book's reach and to make Baum's valuable research more accessible to English-speaking users around the globe.
In collaboration with a team of University of Saskatchewan (USask) students and staff, Mayer translated the entire text, modernized it with enhanced images and interactive exercises, and published it to the USask Openpress site. Because Baum died more than 50 years ago, the original work was already in the public domain.
The open textbook includes Baum's original diagrams, three-dimensional computer renderings and images, and clinical notes from Mayer's own work in veterinary radiation oncology. It also includes additional interactive activities that are designed to help students engage with the text.
"For me, what's really neat about this project is that the textbook is over 100 years old . . .  we're taking a book and honouring that history and doing a translation and also adding 21st century technology to make it relevant to learners today," says Kristine Dreaver-Charles, an instructional designer who helped make Mayer's vision a reality.
Dreaver-Charles is part of the USask Distance Education Unit, which supports online learning strategies and helps to create open textbooks.
"It's historical, but Monique has really worked to bring it into the present and to think about and focus on what students and people in practice might need," says Dreaver-Charles.
Mayer completed the translation work with a team of students, using online translation services and editorial support from Dr. Leonie Bettin (DVM), a German graduate student in the WCVM's Department of Veterinary Microbiology.   
WCVM students will use the open textbook as part of their coursework in the Doctor of Veterinary Medicine program, but Mayer sees the book's reach extending far beyond the veterinary college. While the information is applicable to the diagnosis and treatment of canine patients, it could also aid researchers investigating the lymphatic system in dogs and humans.
Using the open-source publishing platform Pressbooks will allow students and researchers worldwide to access this work, which isn't available anywhere else in English.
This project was funded by grants from the WCVM Research Office and the USask Open Textbook Creation Adaption Fund, a program administered by the university's Gwenna Moss Centre for Teaching and Learning.