Her fascination with everything bovine only grew when she became a veterinary student at the Western College of Veterinary Medicine (WCVM) in 2018.
Stamm's dedication to the species paid off this fall when the fourth-year veterinary student received an American Association of Bovine Practitioners (AABP) Bovine Veterinary Student Recognition Award.
"This award means a lot to me and motivates me to continue with my interest in bovine medicine," says Stamm. "I have always had a special interest in bovine medicine and surgery, so receiving this recognition shows me that I am on the right track."
Sponsored by Merck Animal Health, the annual award was presented at the AABP Annual Conference that took place from Oct. 7 to 9 in Salt Lake City, Utah. Stamm is one of 18 North American veterinary students chosen to receive the award which is accompanied by a $5,000 scholarship.
While Stamm has a passion for cattle, she also has a great appreciation for the people who work with livestock — people she describes as "down home and honest."
As a long-time member of 4-H, Stamm had many opportunities to meet and work with beef and dairy producers while she was growing up. In preparation for a career in animal health, she also volunteered and worked at a dairy farm and at veterinary practices. These experiences increased her skills in handling cattle and gave her the chance to work with like-minded clinicians and producers.
During the summer of 2021, Stamm worked at Warman Veterinary Services in Warman, Sask. as part of the Saskatchewan Veterinary Medical Association's (SVMA) preceptorship program. She appreciated the close-knit community and the chance to observe and work with the clinicians as they addressed producer concerns.
Now that Stamm is in her final year of the Doctor of Veterinary Medicine (DVM) program, she's particularly enjoying the hands-on aspect of her rotations.
"I find working with cattle brings me a sense of calm that is welcome when times are stressful," says Stamm. "They are so strong, but yet such gentle creatures."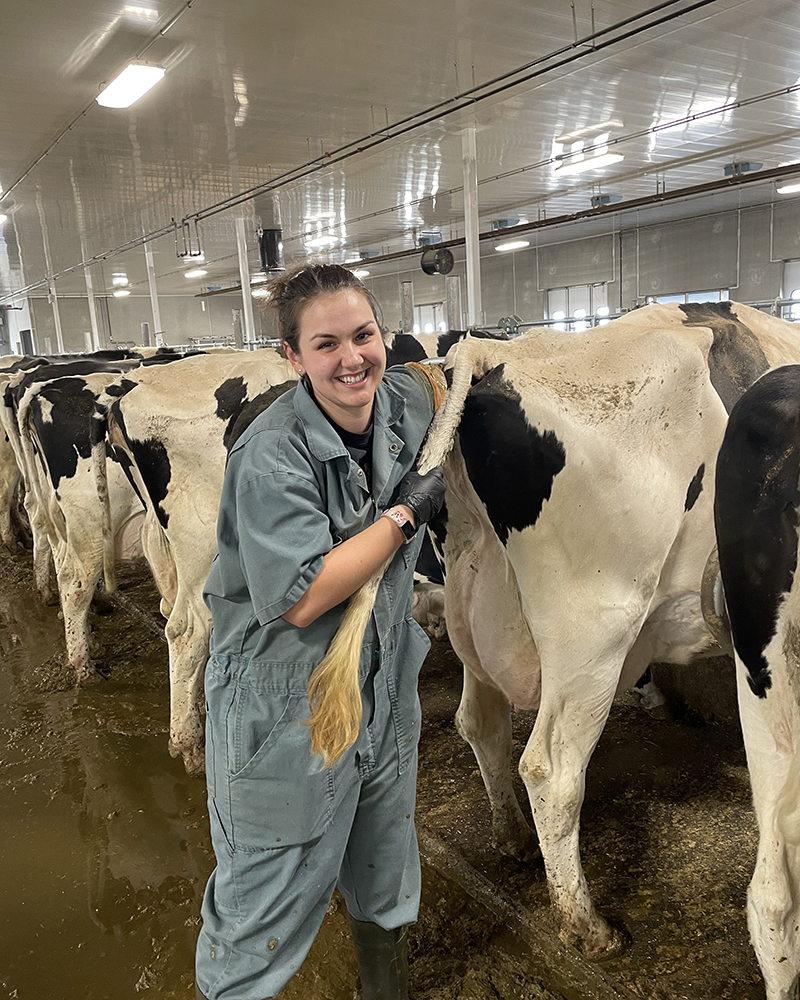 Stamm has chosen cattle-focused rotations and externships that offer a variety of experiences, including one that involves an intensive week at Feedlot Health Management Services in Okotoks, Alta. Another upcoming rotation at Agwest Veterinary Group in Abbotsford, B.C., deals with dairy reproduction and herd health medicine.
She'll also focus on dairy medicine during a two-week externship at Gull Lake Veterinary Services in Ponoka, Alta., that promises to provide even more experience in obstetrics and dairy herd health.
After graduation in June 2022, Stamm will attend the Summer Dairy Institute Program at Cornell University in Ithaca, N.Y. The six-week course is aimed at expanding the expertise of veterinary students and new veterinarians who are motivated to improve the dairy industry and the welfare of dairy cattle.
Once she's completed the program, Stamm hopes to join a private mixed animal practice with a special interest in dairy medicine and surgery.
"I can't imagine a future without some cows around," says Stamm. "I just have such respect for them because they are so hearty. You can (metaphorically) throw a brick at them, and it doesn't phase them. They just keep on living."
The annual AABP Bovine Veterinary Student Recognition Awards, sponsored by Merck Animal Health, are available to veterinary students in their second or third year of school. Stamm and her fellow recipients were selected based on their work experience, academic achievements, career goals and interest in bovine medicine.