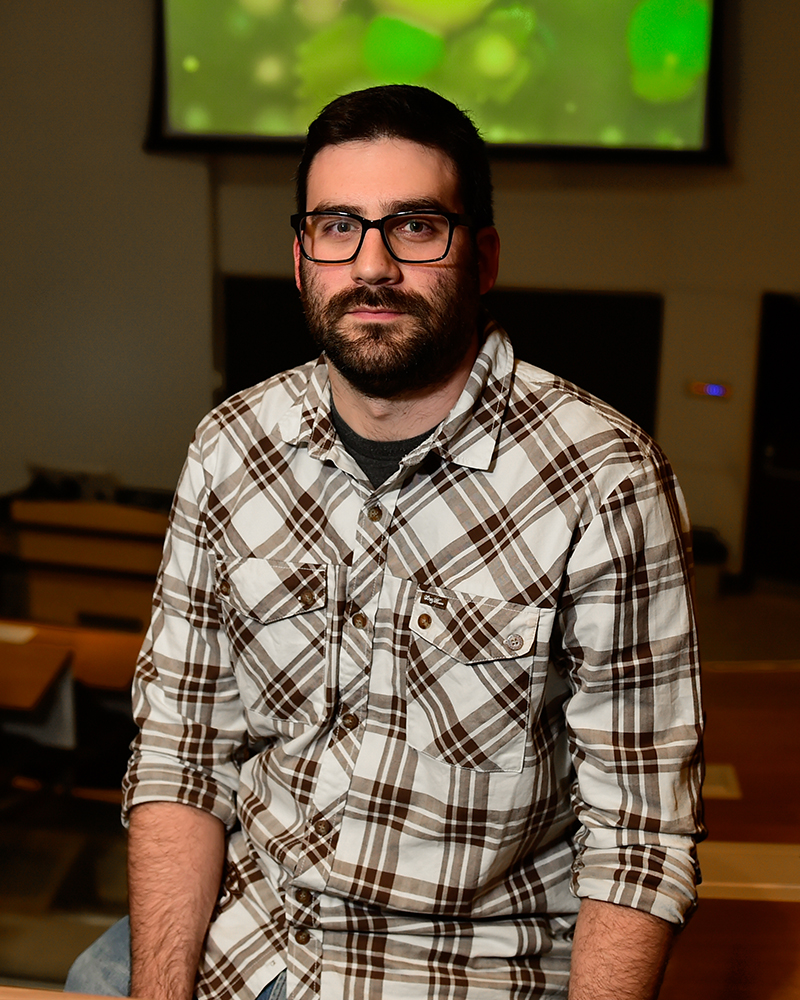 "It's a causative agent of pneumonia, it can also participate in the development of bovine respiratory disease (BRD), which is sometimes referred to as shipping fever," says Dr. Tony Ruzzini (PhD), the research project's principal investigator.
Shipping fever is the most common and most costly disease for the beef cattle industry. Clinical signs of M. bovis in cattle include coughing, rapid breathing, arthritis, nasal discharge, fever and decreased appetite. 
Ruzzini, an assistant professor of molecular biology at the Western College of Veterinary Medicine (WCVM), is collaborating with WCVM beef cattle researcher Dr. Murray Jelinski (DVM) to "find new or alternative treatments in the absence of a large number of effective antimicrobials (antibiotic drugs) or vaccinations." 
The bacterial membrane of M. bovis is quite rich in proteins that are anchored by lipids (fat molecules) called lipoproteins. As Ruzzini points out, the M. bovis membranes have a very different structure than typical gram-negative or gram-positive bacteria.
"And unfortunately, in this case, a lot of the drugs that have been developed to kill the bacteria target the membrane. So, most of those are effectively useless if you're trying to treat Mycoplasma," says Ruzzini.
"Our study is trying to leverage that richness in lipoprotein content, so we're trying to disrupt lipoprotein maturation … and that could have a few different effects. It may kill the cells outright or what it might do is simply disrupt the process."
Ruzzini and his lab can then start to evaluate genes predicted to be lipoproteins, some of which may not even make it to the membrane of M. bovis. The research team also wants to screen thousands of drugs to identify molecules that kill or bind to the membrane of M. bovis and disrupt the lipoprotein maturation process.
The project's goal is to identify a safe compound, which is already commercially available, that will disrupt the maturation of the lipoproteins.
Saskatchewan's Agriculture Development Fund provided funding for this study, along with financial support from the Beef Cattle Research Council, Alberta Beef Producers and Saskatchewan Cattlemen's Association (SCA).
The SCA regularly contributes financial support for research projects concerning both forage and the beef cattle industries. Through the SCA board of directors, the organization works to ensure that producers' funding support is used toward research projects that will help to enhance the beef cattle industry's competitiveness and sustainability.
"When we fund research … we want to ensure that beef production is sustainable for beef producers and for the rest of the Saskatchewan population for as long as possible," says Marianne Possberg, SCA beef production specialist. "We want to reduce costs and improve animal welfare and improve environmental sustainability."
Ruzzini sees his role as "contributing to solving problems that are primarily identified by industry stakeholders and then … my group is applying our area of scientific or research expertise to an issue."
"It's always good to see support of the industry back into research because it's not simply about the specific research project that's being done," says Ruzzini.
Training of all types of students — from undergraduate students to postdoctoral fellows — substantially contributes to the success of research projects, he adds.
"It allows [the students] to get exposure to applied research that contributes to the overall way of life or economy in Saskatchewan and the Prairie provinces."
Jessica Colby of Montmartre, Sask., is a University of Regina journalism student. She worked as a summer research communications intern at the WCVM in 2021.