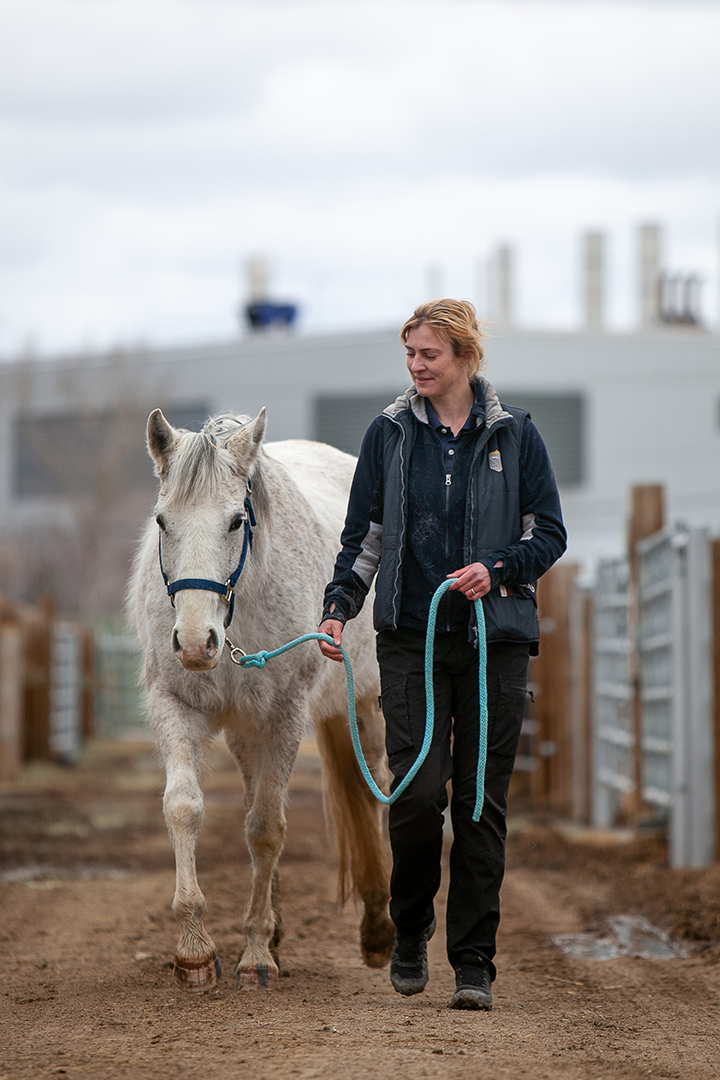 Reisbig grew up outside Oslo, Norway, and began riding with her mother. The city girl-turned-equestrian was soon working at some of the biggest horse shows in Europe, and as a teenager, she became the youngest certified amateur racehorse trainer in Norway.
Starting at the bottom and working her way up, Reisbig's rich range of experience includes serving as an FEI (International Federation for Equestrian Sports) steward at European dressage and show jumping competitions to working as an official veterinarian at U.S. Equestrian Federation and FEI-accredited events. She was an FEI drug testing veterinarian at the World Equestrian Games in Tryon, N.C., and was expected to work at the Paralympic Games in Japan before the COVID-19 pandemic intervened.  
"For me, horses were always a lifestyle from morning to evening. It was always a passion," she says. 
While becoming a veterinarian wasn't always part of the plan, Reisbig's behind-the-scenes experience at horse shows led to a desire to be an equine veterinarian. Determined to achieve her goal, she learned German and went to the Universität Leipzig in eastern Germany to earn her veterinary degree. 
Reisbig took a special interest in equine sport medicine during her veterinary studies. After graduating, she performed a one-year large animal surgery internship at the Universität Leipzig and then was selected for a combined Master of Science-large animal surgical residency program at The Ohio State University's (OSU) College of Veterinary Medicine in Columbus, Ohio. After finishing this program, she stayed on at OSU to complete her PhD degree in regenerative medicine. 
In 2020, Reisbig had received funding to complete a research project at the WCVM and had planned to work part-time as a locum veterinarian at equine clinics in Europe. But when COVID-19 restrictions cancelled her international travel plans, Reisbig found herself working during the calving season at the South West Animal Health Centre in Swift Current, Sask. 
During her one-year stint at the southern Saskatchewan clinic, Reisbig helped to build an equine clientele with horse owners coming from as far south as the U.S. border and west to Alberta.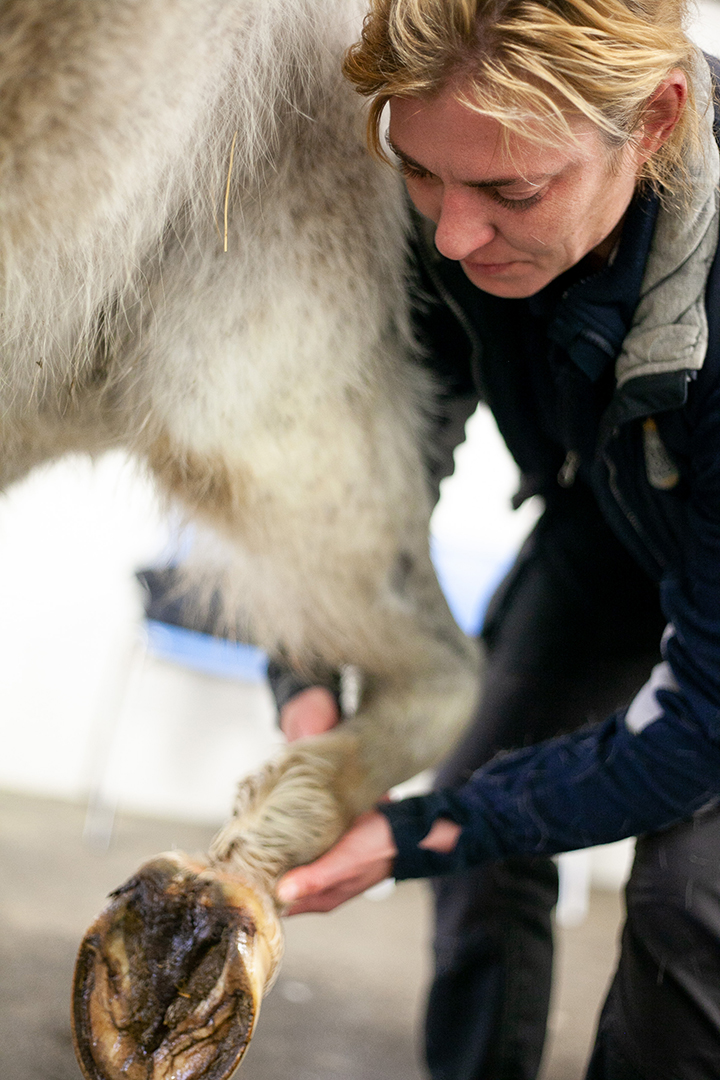 While she's seen far more working horses than sport horses in southern Saskatchewan, Reisbig sees many parallels between the international horse show scene and the western horse industry. 
"It's a very, very small world. And everybody helps everybody. That's the nice thing. A lot of things go by word of mouth, by experience — whether that's between vets or horse owners. It's very much a tight-knit community," she says. 
Reisbig says working in a smaller centre without quick access to as many advanced tools and specialists has been an incredible learning experience. 
"You have to deal with the situation as you find it. You have to deal with life-and-death situations where a three-hour drive might kill an animal. It's a whole different philosophy about how to deal with a problem," she says. 
"Going out into rural practice has shown me it's not about the letters [after your name]. Those are for me. The experience you have, the attitude you have, the work ethic you have — that's what makes the difference and that's what people truly respect and what they see."
While the move back to Saskatoon is bittersweet, Reisbig is excited to join the VMC's equine field service team. She will join Drs. Michelle Husulak, Nora Chavarria, Valentina Ragno and Steve Manning on the VMC's equine field service team that offers on-farm primary and emergency patient care as well as preventive health care programs to horses in the Saskatoon area. Another member of the team is Dr. Karen Pimentel who will complete her combined MSc-equine field service residency program this summer.
Reisbig is also eager to make use of the hospital's advanced diagnostic tools and have close access to a full range of experts at the college. The equine field service team is part of the VMC's overall horse health program that includes access to the veterinary teaching hospital's group of specialists as well as advanced diagnostic tools and facilities such as the Ryan/Dubé Equine Performance Centre and the Rae-Dawn Equine Intensive Care Unit and Foal Centre.
"I do have all the specialists at the tip of my fingers. If I need to refer, it isn't a long way. I can introduce people to whoever is going to take over the case," she says. 
She hopes to welcome her existing clients to the VMC and to build a new clientele base in the Saskatoon area. She's also looking forward to teaching and mentoring the college's senior veterinary students during their equine field service rotations. 
Reisbig begins her new role with the VMC's Equine Field Service on May 1. To make an appointment with the service, please call 306-966-7178 or click here to visit the VMC website.