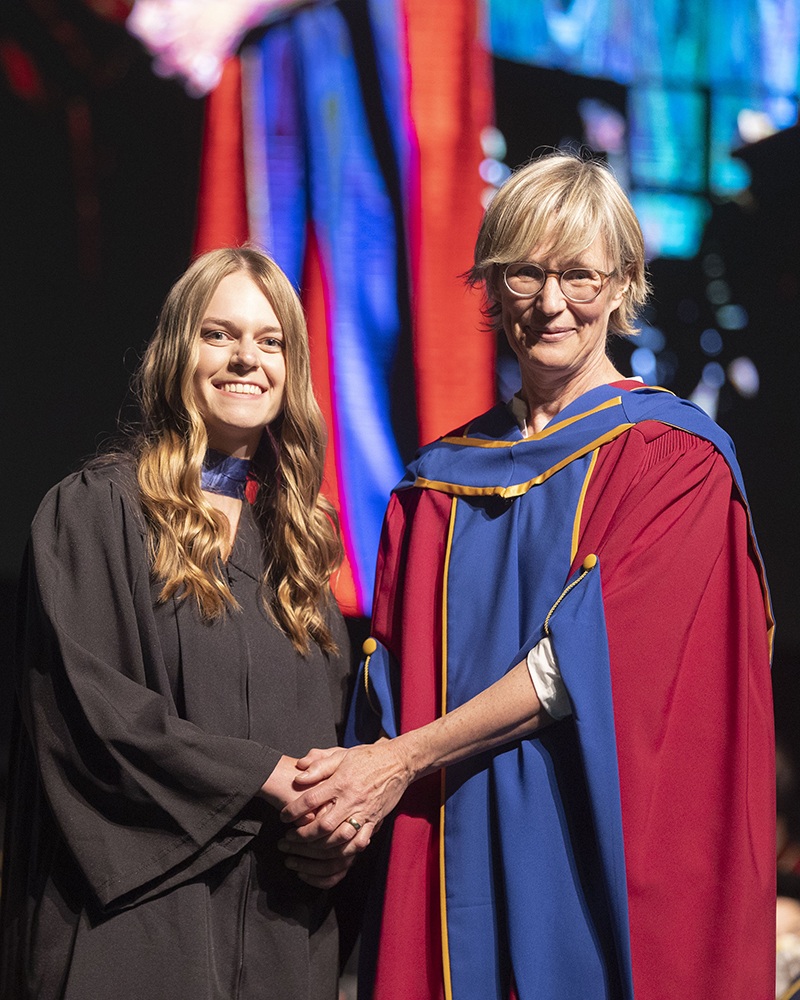 "It's just been a learning curve. Every appointment, there's something new," she says.
The 2022 Western College of Veterinary Medicine (WCVM) graduate is already getting acquainted with the busy days and variety of species that come with practising in a rural veterinary clinic.
In May Russnak joined the Edson Veterinary Clinic, named after the community of 8,000 people that's located about 200 kilometres from Edmonton and a short drive from the Rocky Mountains. With several job opportunities available in central Alberta, Russnak says the Edson location gave her a chance to live close to family in a community that felt like home.
Russnak grew up on a grain farm near Viking, Alta., and studied animal health at the University of Alberta for two years before attending the WCVM.
"I wanted to go back somewhere rural because I really enjoy the sense of community you get living in a smaller centre. There's lots of opportunity to get involved and really get to know your clients at work, the people you work with as well as people in the general community," says Russnak.
She adds that the practice has several veterinarians — including four WCVM alumnae — who will provide much-desired mentorship as she starts her career.
After a few weeks of work, Russnak had a good reason for returning to Saskatoon on June 8. She was one of the 78 members of the WCVM's Class of 2022 who received their degrees during the University of Saskatchewan's (USask) Convocation week in early June.
During the ceremonies, Russnak graduated with Great Distinction and received the 2022 WCVM Faculty Gold Medal, the college's top academic honour for graduating veterinarians. The award, which comes with a $3,000 prize, recognizes the student who has shown the highest proficiency during their four years of study. Russnak received an additional three academic awards during the spring awards banquet the same evening.
"It feels pretty surreal. I'm honoured," she says. "I was not expecting it, that's for sure. I have a pretty stellar group of classmates."
"Megan greatly deserves this award. She's an exceptional, hardworking student, and I have no doubt that she will succeed at whatever she puts her mind to," says Dr. Chris Clark, the WCVM's associate dean (academic).
Clark adds that he's excited to see that Russnak— along with a number of her classmates — have chosen to practise in rural mixed animal veterinary clinics where there's a high demand for veterinarians.
"Our college's veterinary program has gained a reputation for producing solid veterinarians who have the range of skills and experience needed to excel in all disciplines including mixed animal practice, so it's wonderful to hear that our top graduate has chosen to begin her veterinary career in rural Western Canada."
For Russnak, the opportunity to finally celebrate in person with her classmates was welcome after so much time spent learning online and in smaller cohorts during the COVID-19 pandemic.
Despite the changes caused by COVID, Russnak said she and her classmates found ways to support each other, whether it was forming "bubbles" to watch online lectures together or attending labs in small groups.
Fourth-year clinical rotations were an exciting chance to reconnect with her peers, and Russnak says she especially enjoyed her time in elective surgery and ruminant field service rotations as well as her calving externships.
With her DVM program complete, Russnak is looking forward to exploring the wide range of cases in a mixed animal practice and enjoying some outdoor adventures near her new home town.