"From a personal standpoint, I have family who were street involved, and who were in and out of the justice system and unable to manage their addictions until they got a dog. That dog literally saved their lives multiple times," she says.  
While working in private practice, Borchardt saw a need for services for pet owners within Saskatoon who were unable to access veterinary care due to barriers such as a lack of stable income, unstable living conditions or other challenges.  
She was drawn to working at the Western College of Veterinary Medicine (WCVM) because of the opportunity she'd have to offer community service in her role as a clinical associate with the WCVM Veterinary Medical Centre's wellness service.  
Borchardt, who graduated from the WCVM in 2013, had volunteered with the college's remote veterinary clinics in La Ronge for several years as a new veterinarian and saw the important role that the clinics play in providing care to an underserved community.  
After Borchardt joined the college in 2018, she set to work looking for a way to make a similar type of event happen locally. She connected with the national organization,  Community Veterinary Outreach (CVO). This registered charity aims to improve the health of homeless individuals and their pets through a "One Health" model of care. One Health is an integrated, multi-disciplinary approach to optimizing human health, animal health and environmental health.  
CVO had already set up a structure for bringing together veterinarians with other community organizations and hosting events such as pet fairs and mobile clinics in other parts of Canada. 
The success of these initiatives depends on volunteers, and fortunately, Borchardt received eager support from the WCVM students who are members of the college's One-Welfare Veterinary Outreach (OVO) club. This student group invites its members to engage in socially accountable activities in their communities through a One Health lens — providing health promotion and basic veterinary services to people who wouldn't otherwise be able to access them.  
"Ultimately being a part of OVO reminds me of my motivation as a health care provider to do what I can to be a better human to other human beings and the animals in their lives," says Catherine Beaupre, a WCVM student who served as the club's president during her third year of studies at the college.  
She's hoping more students will become active club members in the next school year, and says involvement presents many opportunities to grow as veterinary professionals.   
"For me, it's not only about enhancing my leadership skills, but really doing what I can to be a better professional. How can I better approach the clients that I'm interacting with in a way that's culturally sensitive and, or more informed?"  
Throughout the 2021-22 school year, the student group worked with CVO's national sponsor, Royal Canin, to bring pet food deliveries to core communities in Saskatoon through a partnership with SWITCH (Student Wellness Initiative Toward Community Health) and Prairie Harm Reduction. This program highlighted the acute need in the community.  
Borchardt says that with rising food costs, "it's very much a choice of who in the household eats. Is it the kids or is it the dog?" 
"We will take a delivery of food and before we even hit the door, half of it's gone," says Beaupre.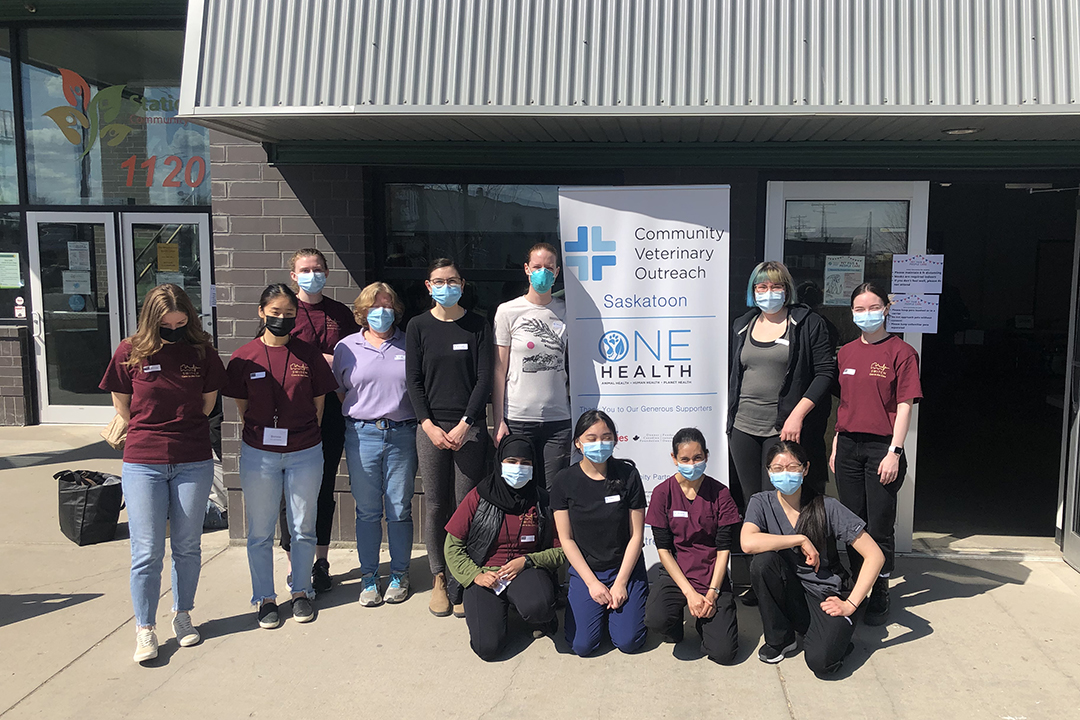 The student volunteers also played a large role in presenting the first in-person CVO One Health event since the onset of the COVID-19 pandemic, which was held in April at Station 20 West in Saskatoon for members of the city's core community.  
The "Pet Fair and People Care" event brought together public health and veterinary volunteers from the community, as well as other USask students from the University of Saskatchewan's interdisciplinary SWITCH) program, to provide free food, public health education on COVID-19 and vaccinations for community members.   
Veterinary volunteers were part of an "Ask the Vet" booth, providing general animal health information for owners as well as pet-focused gift bags and free nail trims for their pets. 
"I thought this was a great way to use my degree and my spare time to help the larger community and their pets," says Dr. Allison Hay, a volunteer and a 2020 WCVM graduate who now practices at Forest Grove Veterinary Clinic in Saskatoon. 
"As veterinarians we don't just care about the pet, we care about the client and making sure you are healthy enough to care for your pet."  
WCVM student Imara Beattie was one of the volunteers who participated in the event, and for her, a highlight was witnessing people's excitement as they talked about their pets.  
"Because veterinary medicine is often a private business, it can be a bit of a barrier for people to speak with veterinarians and build that relationship. From a financial perspective and from an awareness perspective, it might be hard for people to cross that barrier into a vet clinic," says Beattie, who begins her third year at the college this fall. "I think veterinarians have a role going into the community — going the other way and reaching out to people." 
Borchardt — now  CVO Saskatoon's regional director — says the pet fair event is a stepping stone toward the development of a referral-based mobile veterinary clinic that serves Saskatoon's low-income pet owners who have otherwise been unable to access veterinary care.  
Increasing the scale of CVO to include Saskatoon would not have been possible without support from PetSmart Charities of Canada and the Donner Canadian Foundation. As a result, their first One Health clinic will be held this month. They will  provide wellness services such as vaccinations, deworming, check-ups and grooming for pets as well as naloxone training, substance use, and nutrition education for their people. Eventually, they plan to offer spay and neuter services through partnerships with local veterinary clinics.  
For students, being part of initiatives like the CVO events allows them to see examples of ways they can be empowered to address the needs of their communities in an ethical manner after graduation, says Borchardt.  
"The reality of our society is that there are lots of pets that do not have access to veterinary care. When you deal with those in a private, fee-for-service health care system, that can be very disheartening, and it becomes a real challenge for mental health," she says.   
Ultimately, the volunteers say it comes down to supporting anyone who wants to have a pet and helping them take care of their animals.   
"We need to really deconstruct the idea of pets being a privilege because there are so many health benefits for people of all different backgrounds," says Beaupre.  
"Everything that is beneficial about pets should be allowed to everyone. They're companions, they give unconditional love, they're family members," adds Borchardt. "Everybody has a right to be loved, wherever that love comes from." 
For information about volunteering with CVO Saskatoon, please contact saskatoon@vetoutreach.org