He oversaw a new equine hospital — and he finally owned the horses he'd so badly wanted to ride as a young boy growing up outside of Mexico City.
Still, he wanted to learn more. Advancing his skills as an equine surgeon meant giving up the life he'd built and moving to Canada.
"It wasn't enough just to be a general equine vet," says Guerra, who had no further options for specialized training in Mexico. "I wanted to keep growing, going to school."
Driven to becoming a board-certified equine surgeon, Guerra began a rotating internship at the Ontario Veterinary College before being matched to the Western College of Veterinary Medicine (WCVM) for a large animal surgical residency program.
"I wanted to get top knowledge and that's why I decided to leave my comfort zone, [to] move to another country and leave everything behind," he says.
Guerra had never heard of Saskatchewan before coming to the WCVM in 2019. Since then, he and his wife Abril have built a life in Canada with their two-year-old son Mateo who was born in Saskatoon.
While Guerra loves Canada and can see himself pursuing a career here, his experience working in a rural practice in Mexico continues to help him as he works on his primary research project at the WCVM.
Guerra is testing a combination of easily accessible local block and sedative drugs, lidocaine and xylazine, to provide longer acting pain control during nerve blocking procedures on horses. Nerve blocks allow for pain control and help clinicians locate the origin of lameness in the limbs of horses. By testing different drugs in combination, Guerra and his supervisor Dr. Keri Thomas aim to extend the duration of pain control.
"We thought [this drug research was] pretty important because they're cheap, everyone in the world can use them. I thought that it was pretty cool to do something that they can use in Mexico City, Namibia, Argentina— wherever you want," he says.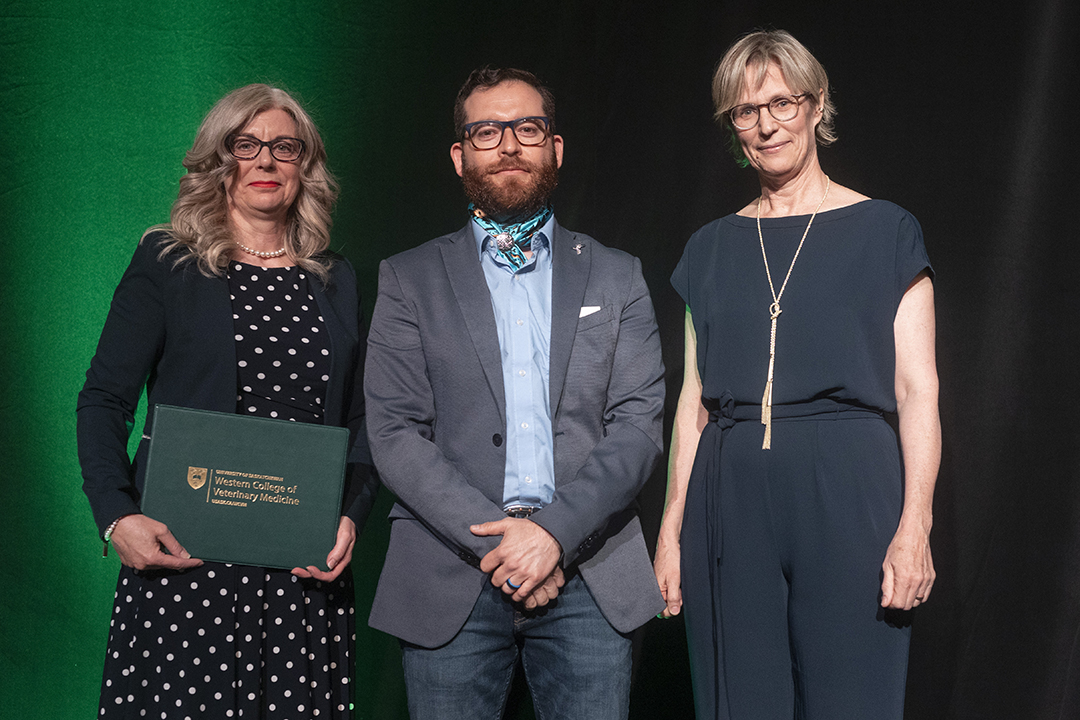 While Guerra has access to cutting edge drugs, treatments and diagnostic technologies at the WCVM's Veterinary Medical Centre (VMC), his experience working in rural Mexico makes him acutely aware of how equine practitioners in rural areas or with smaller budgets must adapt their work to suit their clients' needs.
He also notes that medication shortages caused by supply chain disruptions have remained a continued barrier, which is another reason to diversify the range of drugs available to surgeons.
Guerra also participates in a handful of other research studies at the WCVM including an investigation of inflammation markers in equine joints with Dr. Joe Bracamonte and a study on surgical techniques for cattle with Thomas.
Guerra's dedication to research has earned him accolades at the veterinary college. He has received tuition awards from the Townsend Equine Health Research Fund for the past three years, and in June, Guerra received a $5,150 award from the Equine Foundation of Canada (EFC) in recognition of his demonstrated interest and scientific merit in equine research.
"Sometimes as an intern, [as a] a resident, your family has to go through a lot. I'm not taking this award on my own. It was a huge family honour," says Guerra, who spends many hours working and on call at the VMC while juggling his research work.
"Sometimes you think that you work hard and no one really cares. But having an award like this means so much. Professionally, it feels awesome, but economically it's a relief. I just want them [the EFC] to know that I'm extremely grateful. Their generosity and the way they support this is just amazing, and I'm super thankful for it."
'People helping people helping horses'
The Equine Foundation of Canada (EFC), whose fitting motto is "People helping people helping horses," raises funds to support and promote equine health through science and direct action. Since 1984, the EFC has provided funds for projects, equipment and student support — including annual scholarships at three Canadian veterinary schools — to help improve the welfare of horses in Canada.
In 2013, the EFC established the Equine Foundation of Canada Graduate Student Scholarship at the WCVM, which annually awards a graduate student who shows interest and scientific merit in equine research. Equipment purchases for the WCVM also include an equine simulation model as well as endoscopes and monitoring tools that have helped to expand diagnostic capabilities for the college's equine team.
In the past four decades, EFC has contributed more than $470,000 in veterinary student scholarships to Canadian veterinary students and over $806,000 in equipment purchases in support of equine health care.
To support this charitable foundation or to become a volunteer, contact EFC president Bob Watson (403-378-4823 or cbwatson@cciwireless.ca). Tax-exempt donations can be made by cheque (c/o Susan Nelson, EFC treasurer, 326 Dyke Road, R.R. 2, Falmouth, N.S., B0P 1L0.