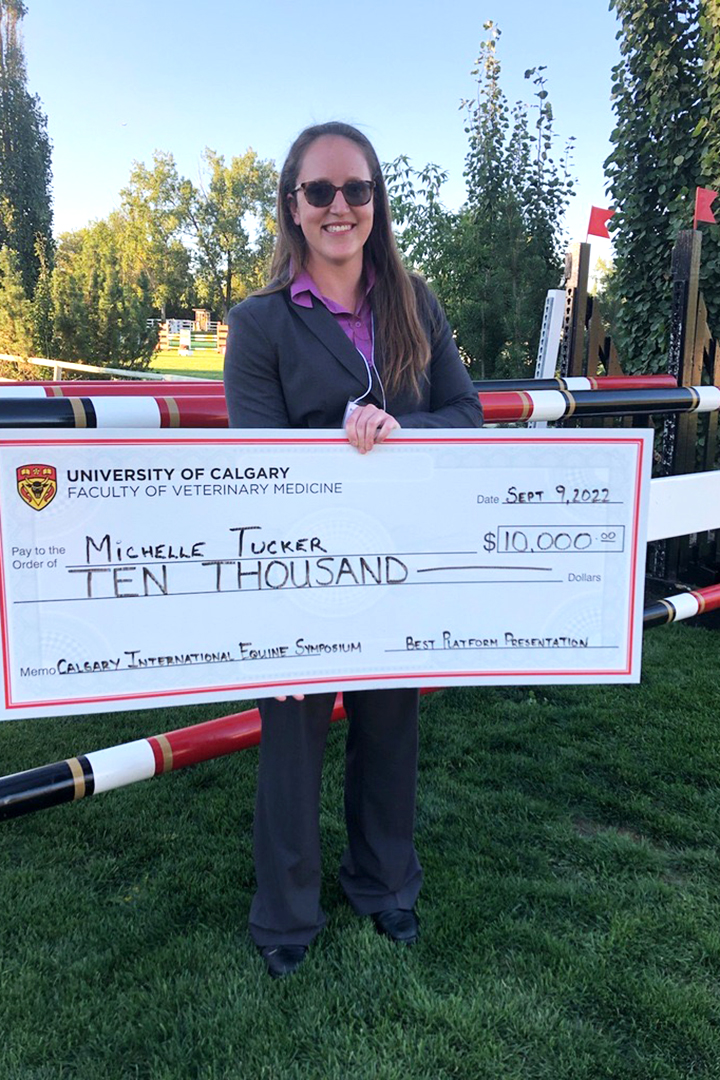 Tucker was one of 17 WCVM-based graduate students who received their graduate degrees at the University of Saskatchewan's Fall Convocation on Nov. 9. Exactly two months earlier, she was also the grand prize winner at the University of Calgary Faculty of Veterinary Medicine (UCVM) International Equine Symposium on Sept. 9.
Tucker's podium presentation detailing her research work on benchtop and computational models of equine larynxes won top marks from judges along with a giant $10,000 cheque that was presented to her during the Spruce Meadows' Masters Tournament — an international show jumping competition in Calgary. 
"I was incredibly humbled and just elated. They had to call my name a couple of times before I realized they were calling my name," says Tucker.
Another WCVM-based graduate student, Toni-Anne Saworski, also received a $1,000 award in the master's student poster category for her equine parasites research work.
What Tucker has done in her award-winning research work aptly reflects her unique background. Before Tucker decided on a career in veterinary medicine, she completed a degree in biosystems engineering and biology at the University of Kentucky.
After leaving the engineering world, she went to Texas A&M University where she finished her Doctor of Veterinary Medicine (DVM) degree in 2014 and then completed two equine clinical internships in Oklahoma and Kansas.
Her next move was to Saskatoon and the WCVM in 2016 where she began a combined Master of Science-large animal surgery residency. After completing her clinical training and gaining board certification, Tucker switched to the direct PhD program route – supervised by equine surgical specialist Dr. James Carmalt in the WCVM's Department of Large Animal Clinical Sciences.
"Moving to Canada was one of the biggest adventures of my life so far and I really grew a lot from it," says Tucker, who grew up in Kentucky. "I got to work alongside some wonderful people." 
While at the WCVM, Tucker's research focused on a condition known as recurrent laryngeal neuropathy (RLN) — also known as "roaring" in horses. The condition involves the degeneration of the recurrent laryngeal nerves, causing audible, abnormal breathing sounds during exercise.
In Tucker's PhD research work, she studied two different models of multiple upper airway surgeries for recurrent laryngeal neuropathy. She compared the different surgical procedures from both an experimental perspective and through computational analysis of the fluid mechanics.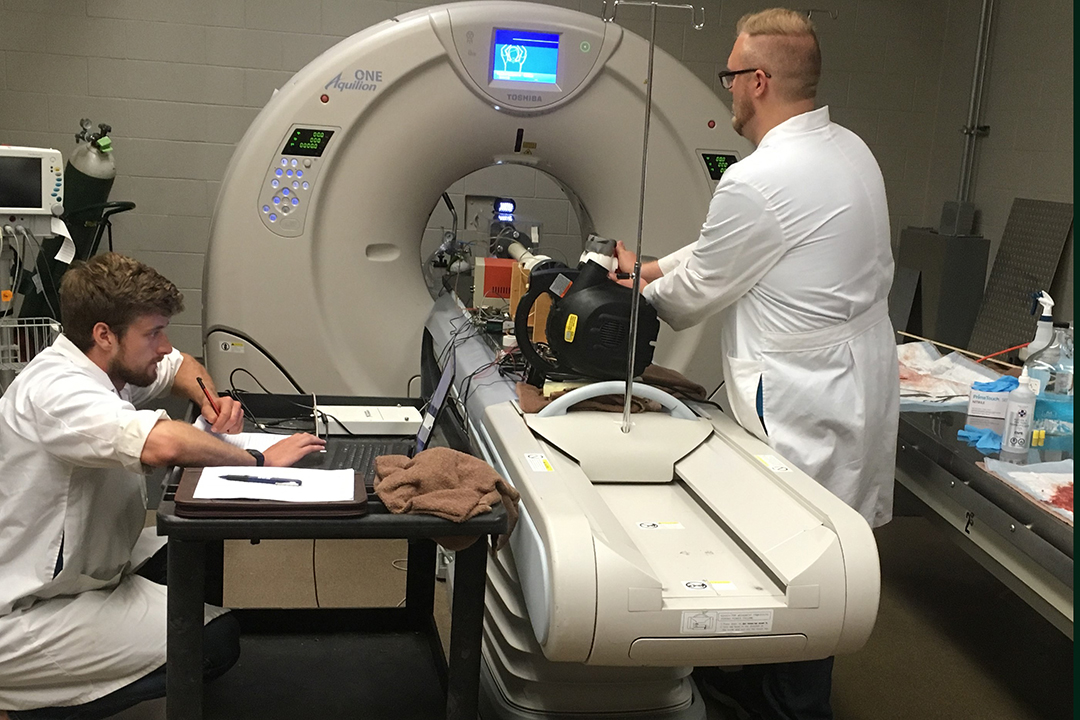 For Tucker, the most exciting part of her research was being able to explain some of the phenomena that veterinarians see in their patients associated with RLN surgery and why those happen from a fluid mechanics perspective.
"There's still so much that we don't know about that part of the equine airway, and a lot of exciting technology [is] on the horizon."
To perform her research, Tucker used equine larynxes from cadavers to replicate obstructions in the airway that occur with RLN and the surgeries that veterinarians use to treat the condition. Using computed tomography (CT) scans, Tucker created computerized versions of the larynxes and used engineering software to analyze airflow.
For her experiments, Tucker used two different models known as benchtop and computational models.
"The benchtop model is taking an actual horse larynx and putting it into a box where we generated airflow and measured the associated pressures with each surgery," says Tucker. "The computational model involved creating a 3D virtual version of the larynx and asking the computer to predict the airflow and pressure changes throughout."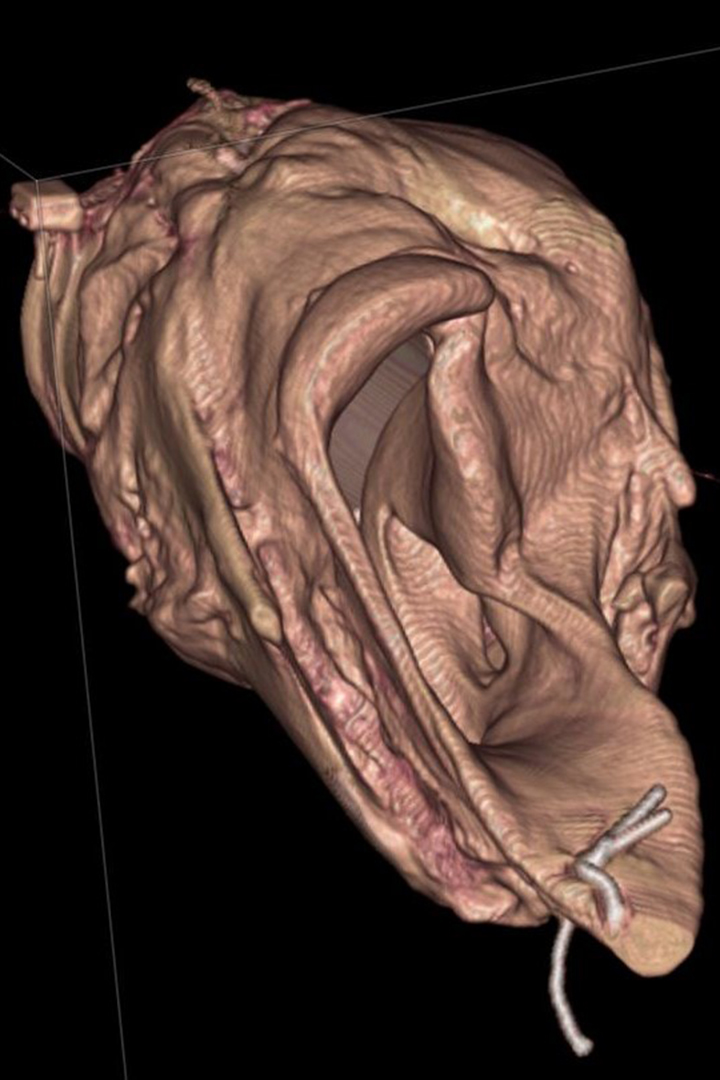 Tucker also used these models in another project including a model of a horse's head so the nostrils, pharynx and trachea could be included.
"The WCVM had all of the pieces I needed to make this work possible," she says.
Winning the Calgary symposium's grand prize in September meant a lot to Tucker, who says she struggled to continue her research during the COVID-19 pandemic.
"As any PhD student can tell you, there are so many days it feels like you are the only one who sees the value in what you are doing," says Tucker, who is now an assistant professor at Purdue University's College of Veterinary Medicine.
"At the beginning of my [symposium] presentation, I said that I was honoured to be there and to be presenting because it meant that I had finished and that every graduate student in the room should know that they will finish, too.
"To win was just amazing and was an encouragement that others can see the value in what I am doing."