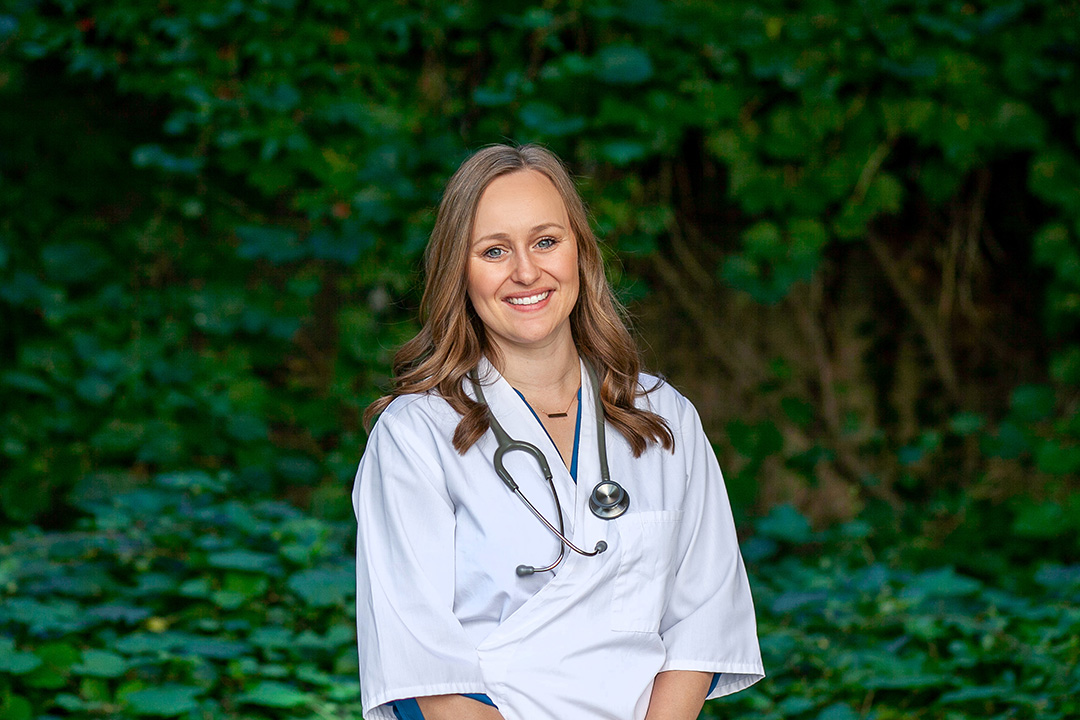 That intense experience with 180-degree turns, along with perseverance and determination, recently helped St. Hilaire make one of the biggest decisions of her life: pursuing her lifelong dream of becoming a veterinarian.
"I'm looking forward to the entire experience … learning science-based information, gaining experience and developing skills," says St. Hilaire, now a first-year veterinary student at the Western College of Veterinary Medicine (WCVM).
During the WCVM's fall awards program in late September, St. Hilaire received the Dr. David Stark Mature Student Award. The $3,000 scholarship recognizes a first-year student in the college's Doctor of Veterinary Medicine (DVM) program who has made the decision to change careers to veterinary medicine.
"I felt as though I did not have the confidence or maturity to pursue a veterinary career immediately after my undergrad [studies]," says St. Hilaire. "After several years working as a corrections officer, some self-reflection and support of family and friends, I decided to pursue my lifelong dream of becoming a veterinarian — you only get one life to live; pursue your dreams." 
For St. Hilaire, horses were the focus of her world from an early age. By the time she was in high school, travelling miles from her home near Prince Albert, Sask., to attend horse shows and reining competitions was routine for her and her family.
But St. Hilaire had no idea that a trip to Oklahoma for the 2006 National Reining Horse Futurity would change her life in a big way.
"What I didn't know was that there were recruits from several universities scouting prospective athletes," says St. Hilaire, who hadn't realized that United States' varsity sports included equestrian disciplines.
"One of my biggest opportunities was being offered a scholarship as a student-athlete to the University of Georgia's (UGA) Equestrian Team in reining. It was such an amazing experience!"
During her five years at UGA, St. Hilaire proved to be an exceptional rider. She earned the National Collegiate Athletic Association (NCAA) First Team All-American Honors in Reining in 2011 and won the NCAA Team National Championships for three years in a row from 2008 to 2010. She was also a two-time winner of the Southern Equitation Championship.
St. Hilaire was named to the Southeast Conference Academic Honor Roll for four years — all while showing and competing in reining as well as attending classes to complete a Bachelor of Science (psychology) degree and a Bachelor of Arts (criminal justice) degree.
Although St. Hilaire had always considered a career in veterinary medicine, she decided on a different path once she'd graduated from UGA. She returned to Prince Albert where she worked as a correctional officer for several years.
Once St. Hilaire made the decision to change careers, she began taking the prerequisite classes for admission to the WCVM. She also contacted several veterinarians for mentorship and advice, and she began volunteering at Park Range Veterinary Clinic.
"All the veterinarians and staff at Park Range have been absolutely awesome," says St. Hilaire. "They were supportive in my pursuit of becoming a veterinarian and helped me every step of the way. They were inspirational in their veterinary-client-patient relationships and how they addressed cases while always considering what is best for the animals and the clients."
In addition to her studies and volunteer work, St. Hilaire joined with her dad to become co-owners of a food truck called Moo Cow Soft Ice Cream (Moo Cow for short). Originally a family business operated by St. Hilaire's mother and grandmother, Moo Cow has been a familiar sight at Prince Albert events for over 15 years.
"While it is hard work, I love getting to spend time and make memories with my dad," says St. Hilaire. "The last couple of years, I have recruited my niece and nephews to come help out — maybe once I've completed vet school, I can pass on the torch."
The undertaking has also helped St. Hilaire to develop a business mindset as well as expertise in customer relations and legal requirements such as licensing and insurance.
St. Hilaire began her veterinary classes in mid-August, and as a hands-on learner, she's particularly enjoying anatomy, clinical skills and the animal handling labs that give her the chance to put lecture material into practical applications.
She's also inspired by comments that Dr. Chris Clark (WCVM's associate dean academic) made to her and her classmates. Clark described a veterinarian as someone who is trained as a general practitioner, a dentist, an ophthalmologist, a radiologist, a surgeon and other disciplines — all on multiple animal species.
And after graduation? St. Hilaire is mindful of where she comes from — she sees herself as a mixed animal veterinarian in Prince Albert with a special interest in large animals, specifically equine performance horses and ruminants.
St. Hilaire also plans to continue her interest in reining horses. She particularly enjoys seeing the progress after spending countless hours in the saddle.
"Reining horses keep you humble and honest. It takes a special reining horse that is pretty in the show pen but gritty enough to stop and turn. I enjoy getting to see that come to fruition."