In total, USask researchers will receive $5.2 million in funding from the program, which is jointly funded by the provincial and federal governments. 
The following stories feature two veterinary researchers — based at the Western College of Veterinary Medicine (WCVM) — whose research projects received vital ADF support this year. 
Click here to view all of the 2023 ADF livestock and forage research projects. 
Getting the poop on broiler chicken health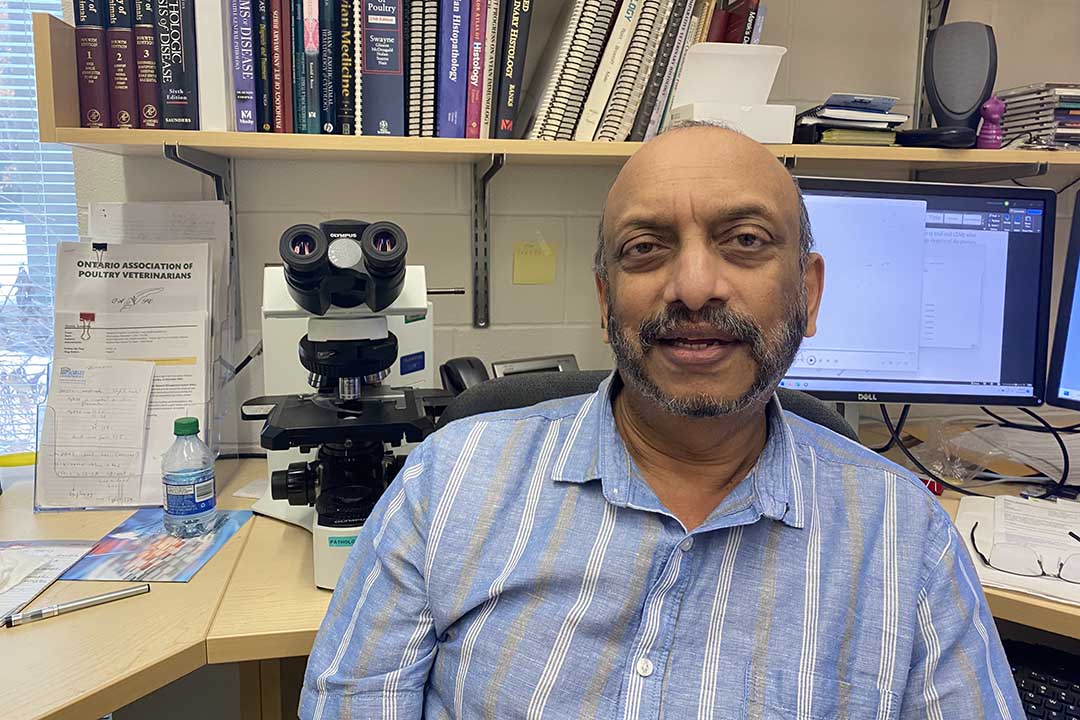 Dr. Susantha Gomis (PhD), professor and head of the Department of Veterinary Pathology in USask's Western College of Veterinary Medicine (WCVM), was awarded $170,000 to develop a biomarker-based fecal test for the early detection and control of diseases and performance improvement in commercial broiler chickens. 
"The key element of this project is the rapid diagnostics focus," said Gomis.  
With concern about antibiotic-resistant superbugs and consumer demands leading to eliminating antibiotics from broiler feed meant to prevent diseases and improve bird welfare, infection rates of pathogens such as E. coli and Clostridium perfringens are increasing in chickens. 
But as Gomis explains, with broilers headed to slaughter at around six weeks, conventional lab testing to diagnose a bacterial or viral infection (or both) and treat it take too long, as regulations require a 21-day withdrawal period for certain antibiotics to clear a bird. The industry currently lacks the ability to detect pathogens within one to two days of onset of an infection. 
Gomis already had been analyzing metabolites in the blood serum of broilers to identify biomarkers that signal an infection even before lesions are detectable under a microscope. He is now investigating if chicken feces provide a non-invasive method of detecting the biomarkers of infections. 
Such early detection of subclinical infections would be a boon for the industry, not only by providing early warnings of infection, but also in terms of savings for expensive feed whose calories are being diverted to activate the immune system of sick birds instead of being used as fuel for growth.  
"The technology to detect diseases early before clinical signs appear can help improve poultry health, food safety, and animal welfare, and ultimately enhance the competitiveness of Canada's broiler production," he said. 
Developing a regional influenza vaccine for pigs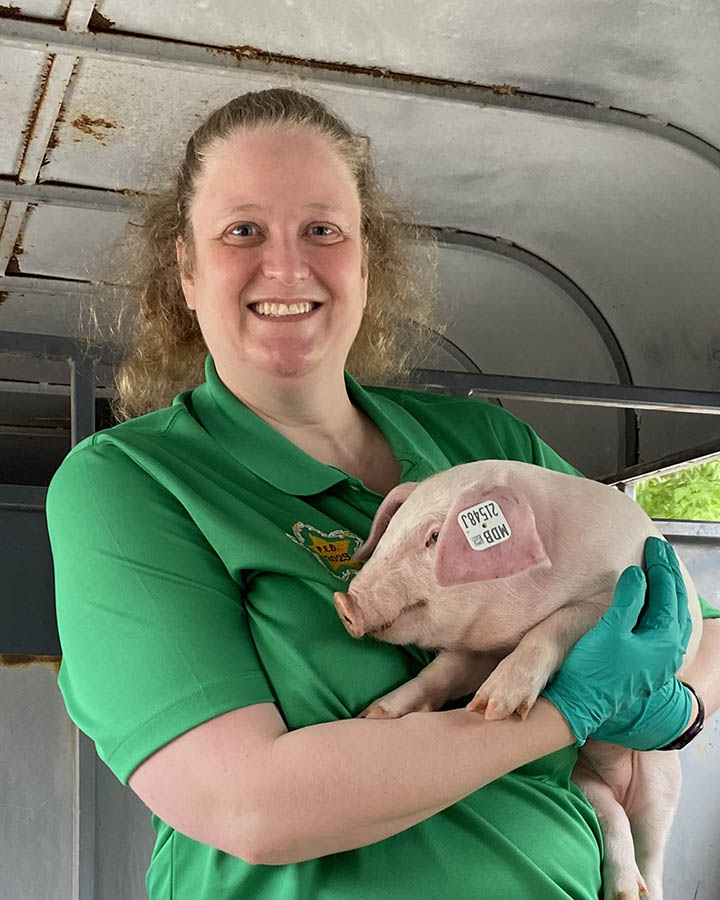 Dr. Susan Detmer (DVM, PhD), associate professor of veterinary pathology at the WCVM, was awarded $150,000 over three years to develop vaccines for pigs that are more effective against current strains of the influenza A virus than commercial products that have become out of date. 
"We have been working towards a regional vaccine because we have dominant viruses within a region," said Detmer, who has been doing influenza virus surveillance in pigs across Western Canada since 2011.  
"So, within Alberta and Saskatchewan, we have five viruses that are dominant. We can put those five viruses in a vaccine, and it will protect most of the pigs in our region. The same can be done for the five viruses that are dominant in the Manitoba region." 
She is also developing a vaccine for flu strains in the Quebec region, on a fee-for-service basis. 
"So, we can have three different vaccines or five different vaccines that will cover all of Canada because there's enough consistency and cross-reactivity between these virus that we should be able to get to most of the pigs," she said. 
Of special concern is a novel strain of the flu, Alpha H1N2, that first appeared in Manitoba in 2013, and  in Saskatchewan two years later, and subsequently has become a dominant strain. It has increased the mortality rate of nursery pigs by five per cent to 10 per cent, and has a high zoonosis potential, meaning it can infect humans and then reinfect pigs through human contact. This pig-origin influenza A viruses infected a swine worker in Minnesota in 2016 and in Manitoba in 2021. 
In developing the vaccine, Detmer is also testing its efficacy for having antibodies in immunized pregnant sows show up in their colostrum to protect piglets during their first six to eight weeks of life when they are most at risk of severe complications from influenza. 
Click here to view the Government of Saskatchewan news release.