"During the canola bloom each year in Saskatchewan, [bees] produce lots of honey and become very strong," says Dr. Sarah Wood, an associate professor at the WCVM. "But at the same time, we know that canola is widely treated with insecticides and fungicides."
Saskatchewan farmers are Canada's largest canola producers with 4.86 million hectares (12 million acres) allocated to canola production. According to Statistics Canada, canola accounted for nearly 30 per cent of the province's total cropland in 2021.
The idea for this study and others like it came about nearly a decade ago, when Wood says there was media attention about the effects of neonicotinoids on honey bees. Neonicotinoids are pesticides used in agriculture to protect crops from certain insects.
Since there was little evidence-based data available, Wood says she and her WCVM colleagues wanted to evaluate the actual effects of pesticide exposure on the honey bees and determine a safe dose range for bees.
"We need to find a balance between bee health and crop health. Farmers need pollinators because they increase canola yields. But at the same time, farmers need access to pesticides because it does help them control various pests, like the flea beetle," says Wood, who holds the University of Saskatchewan's (USask) Research Chair in Pollinator Health.
Established in 2022, Wood's new research chair position is supported by the Saskatchewan Beekeepers Development Commission, BASF, Saskatchewan Canola Development Commission (SaskCanola), Manitoba Canola Growers Association and the British Columbia Blueberry Council.
The WCVM study will look at honey bee colonies around Saskatchewan to gain a comprehensive look at the effects of neonicotinoids on bees that pollinate canola. The team will also evaluate levels of over 200 different pesticides and their metabolites in soil, honey, bees and pollen collected from canola fields.
"We want to understand what are the pesticide levels in honey bee colonies that are foraging on canola, and is this pesticide exposure acceptable and [does it] allow the colonies to continue to flourish when they're foraging on canola," says Wood.
The group is particularly interested in neonicotinoid insecticides, which the WCVM's honey bee health group has previously studied. During her PhD studies, Wood looked at the effects of chronic neonicotinoid exposure on honey bees in Saskatchewan.
"These systemic insecticides are taken up into the tissues of the canola plant, where they're present at low levels in the pollen and the nectar. When honey bees forage on canola, they are exposed to these low, low concentrations of neonicotinoids in the pollen and in the nectar," says Wood.
Once the bees return to their colony, their contact with neonicotinoids can contaminate the colony's honey and pollen.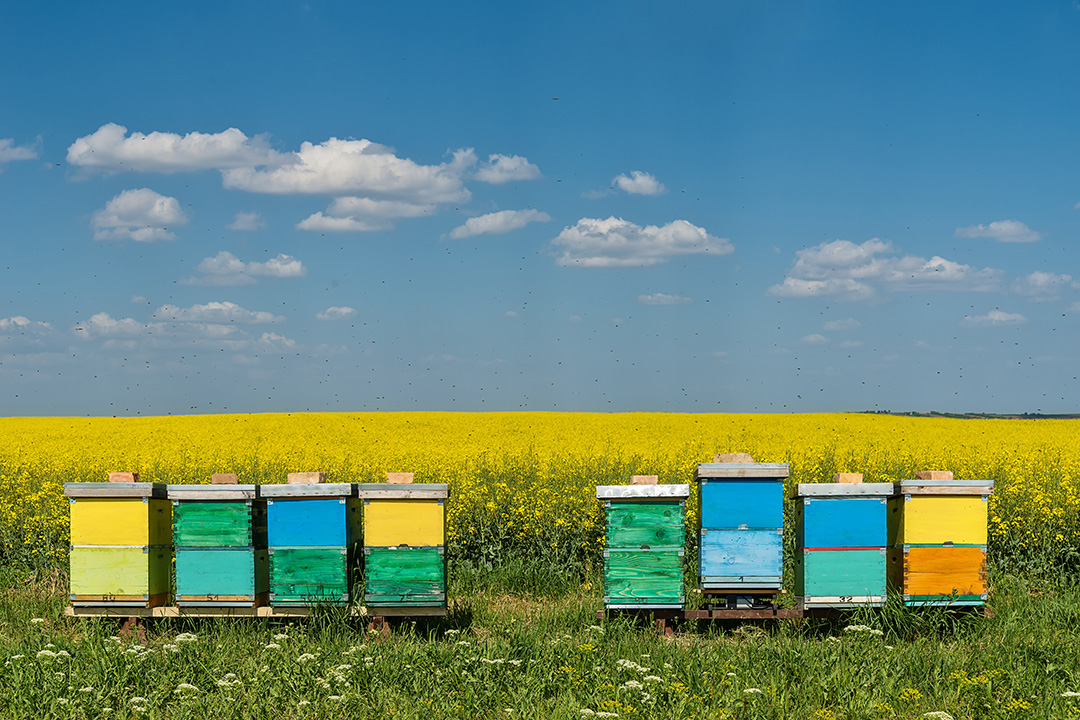 Pollinators are extremely important to agriculture in Canada and pollination is incredibly important to food production, says Wood. 
"Honey bees are really critical to the sustainability of our food supply," says Wood, adding that they annually contribute $5.5 billion worth of pollination services to the country's agriculture industry.
"The health of honey bees can also be an indicator for the health of other wild pollinators in Saskatchewan. And it's just really important that we preserve the ecosystem services that honey bees and wild pollinators are providing."
The WCVM researchers will place four different honey bee colonies in each of the study's 15 canola fields, owned by Saskatchewan farmers participating in the study. The goal is to have a very widespread surveillance of pesticide levels in these honey bee colonies around the province in different canola-producing areas.
"We're going to compare pesticide levels and productivity of honey bee colonies in canola fields to control colonies in the northern boreal region of Saskatchewan where there's no canola," says Wood, who co-leads the study with WCVM veterinary pathologist Dr. Elemir Simko and postdoctoral fellow Dr. Marcelo Polizel Camilli.
This two-year study, which received support from the Saskatchewan Agriculture Development Fund (ADF), will take place over the summer months in 2023 and 2024. SaskCanola and Mitacs Accelerate also provided funding for this project.
"[The funding] is tremendously important," says Wood. "It's allowing us to pay for the pesticide residue analysis of honey, pollen, bees and soil. It's allowing us to buy digital scales that we can put under every single colony so we can monitor the weight gain of the colonies, which reflects their honey production so we can tell how productive the colonies are."
Researchers will measure pesticide levels in the hives at three points during the summer: before, during and after the canola bloom.
"[This study] is going to give us a comprehensive idea of what pesticide levels are in honey bee colonies that are pollinating canola and whether or not those levels are harmful to colony health and colony productivity," says Wood.
"I think when we talk about sustainable agriculture, it really does need to be a team-based approach which emphasizes collaboration among scientists, beekeepers, farms and canola industry stakeholders. We need to build consensus and put our heads together to come up with the best solutions that protect pollinator health and crop health."
If you are a Saskatchewan canola producer and are interested in participating in this project, contact Dr. Sarah Wood (sarah.wood@usask.ca) for further details.