"Overall, [there's] minimal impact from our point of view on the bull breeding soundness side of things," says Dr. Vanessa Cowan (PhD), the paper's lead author. The team's findings were published online in the peer-reviewed journal Theriogenology.
Based on the researchers' results, adult bulls that have been fed ergot-contaminated feed are unlikely to fail a standardized breeding soundness evaluation. As well, results of semen analyses would not help producers determine if bulls had been previously exposed to ergot alkaloids.
Ergot alkaloids are produced by Claviceps purpurea, a fungus that infects rye and other cereal grains. Ergot-contaminated grain often makes its way into livestock feed, and when cattle and other animals ingest high levels of ergot alkaloids over time, ergot toxicity can cause blood vessel constriction.
"With changing weather patterns, ergot alkaloids are becoming more prevalent and more routinely detected in grain. Ergot alkaloids continue to be a common problem faced by producers," says Cowan, who conducted the study at the Western College of Veterinary Medicine (WCVM) as part of her graduate studies. Cowan is now in her final year of the college's Doctor of Veterinary Medicine program.
Besides Cowan, the research team included WCVM graduate student Moveed Chohan and WCVM professors Drs. Barry Blakley (DVM, PhD) and Jaswant Singh (BVSc&AH, PhD). Dr. Muhammad Anzar (DVM, PhD) of Agriculture and Agri-Food Canada and Dr. John MacKinnon (PhD) of the USask College of Agriculture and Bioresources also contributed to the published research.
The team's goal was to determine whether high levels of ergot alkaloids — but still meeting Canada's allowable levels for cattle feed — have any effect on bulls breeding soundness.
In Canada, the current recommended maximum amount of ergot in cattle feed is between 2,000 and 3,000 parts per billion.
"There's data out there suggesting that for cattle, the ergot alkaloids negatively impact female reproduction," says Cowan. "But there aren't really consistently affected endpoints in males and even less so in terms of Claviceps purpurea, which produces the ergot alkaloids." 
Other studies based in the United States focus on ergot alkaloids, but Cowan points out that the fungal disease mainly affects fescue grass in the U.S. and is caused by a different fungus than C. purpurea — the most common in Canada.
For the study, researchers worked with two groups of Angus bulls housed at the USask Livestock and Forage Centre of Excellence's Goodale Farm. After undergoing a control period of 12 weeks where both groups of bulls ate the same diet, the two groups then received different feed diets for the following nine weeks.
The first group of eight bulls ate daily rations of grain-based pellets containing 1,100 micrograms per kilogram (mg/kg) of ergot alkaloids, which is considered moderate for ergot contamination. The second group of six bulls received daily rations of pellets containing 2,200 mg/kg of ergot alkaloids — a high level of ergot toxicity.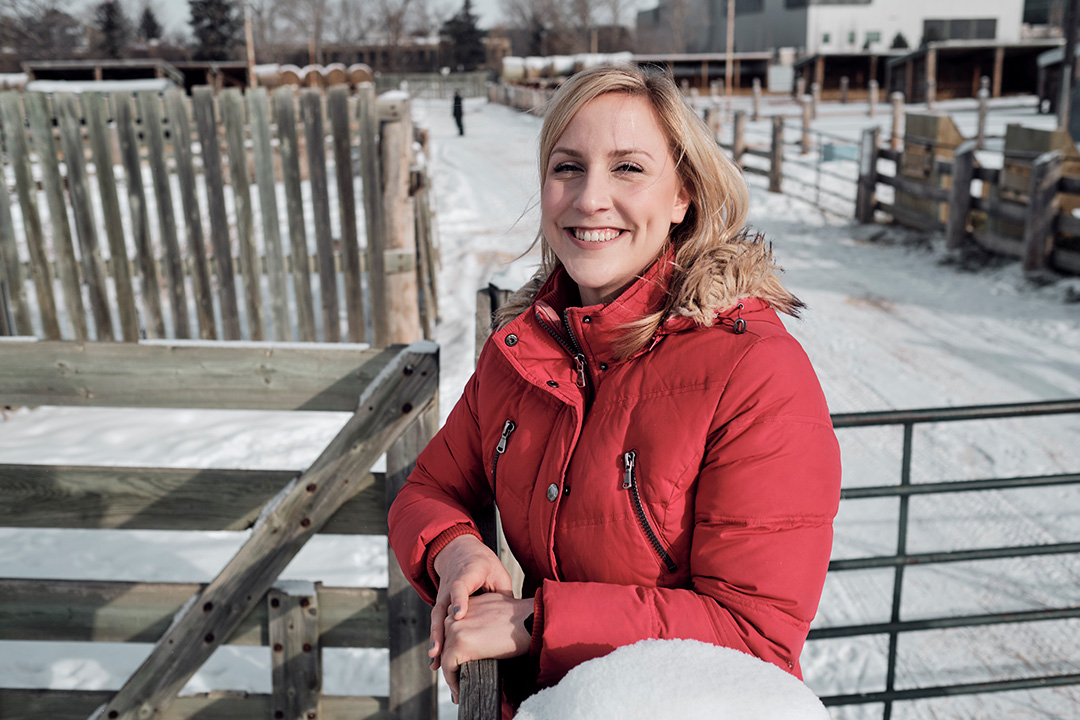 The team chose the nine-week exposure period based on the 61-day length of a single spermatogenic cycle (the process in which cells mature in the testicular tissues) in bulls. Researchers followed the bulls for an additional 10 weeks post treatment to see if there were any long-lasting effects on the animals' sperm production.
"We thought it would be most relevant to look over one spermatogenic cycle to see if [the bulls'] sperm production was actually affected," says Cowan. "We wanted to see if there's an effect and if there is a dose-dependent change on any of their fertility parameters."
Throughout the study, the research team collected blood and semen samples and rectal temperatures from the bulls, along with data about body weight and scrotal circumference. The researchers analyzed bulls' sperm samples for multiple characteristics as well as the animals' blood and plasma.
They found that bulls in the "high ergot level" feed group showed minimal effects based on the study's key endpoints. The ergot-contaminated diet didn't cause the animals to produce more dead or less viable sperm. While the ergot alkaloids may have affected forward motility of the bulls' sperm, the team reported that the animals' overall sperm morphology and development remained normal.
Based on a previous U.S. study, the USask team had hypothesized that blood flow in the testicular artery would be potentially affected by the ergot alkaloids.
"We thought maybe that energy production in the sperm would be affected because those things need oxygen. And with reduced blood flow to an area, you also have reduced oxygen. We didn't see that," says Cowan.
"However, we did find that there was decreased plasma prolactin in both of our treatment groups. We found that interesting because prolactin has somewhat been cited as a biomarker of ergot alkaloid exposure."
In earlier studies conducted by the USask research team, Cowan says they found no difference in the animals' plasma prolactin measurements. The bulls' plasma prolactin levels had returned to normal about two weeks after the animals stopped eating ergot-contaminated feed. At current Canadian levels, ergot alkaloids are not expected to interfere with bulls' breeding soundness.
The USask research project received funding from Saskatchewan Agriculture Development Fund and the Natural Sciences and Engineering Research Council of Canada (NSERC).