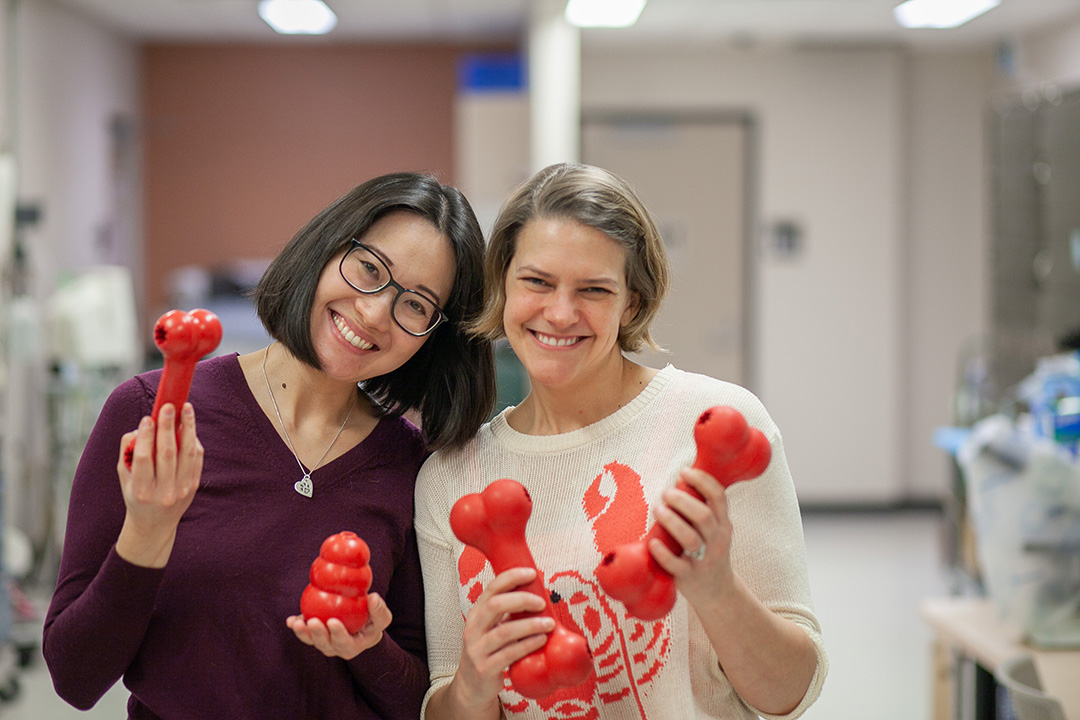 Kali's Wish is the only Canadian organization aimed at supporting pets and their owners after a pet cancer diagnosis and during treatment. It was created in memory of Kali, a dog who passed away after her cancer diagnosis in 2003.
"It's a hub where you can go to get information and you can talk to people who've dealt with [pet cancer]," says Gillian Gratton, owner and operator of the Pet Planet store located on Primrose Drive in Saskatoon, Sask.
Pet Planet, a Canadian franchise that promotes a health-minded approach to pet ownership, partnered with Kali's Wish to seek donations in support of a program that provides KONG toys for dogs fighting cancer. For every $8 donated to Kali's Wish, Pet Planet contributes one KONG toy to a dog fighting cancer.
KONG toys are snowman-shaped with a hollow centre. Pet owners often fill the rubber toys with treats such as peanut butter or wet dog food, or they can be frozen beforehand to provide some cooling therapy for dogs' mouths.
"It's a great way to cheer your pet up if they're going through a bit of a bad situation," says Gratton. "[Kali's Wish] provides the KONG toys because it's a great way to help the animals. It's just a great way to spread the love."
On Feb. 3, Gratton's Pet Planet store donated about 200 KONG toys to the veterinary oncology clinical service at the Western College of Veterinary Medicine (WCVM) Veterinary Medical Centre (VMC). The veterinary oncology team will distribute the toys to their canine cancer patients over the coming year.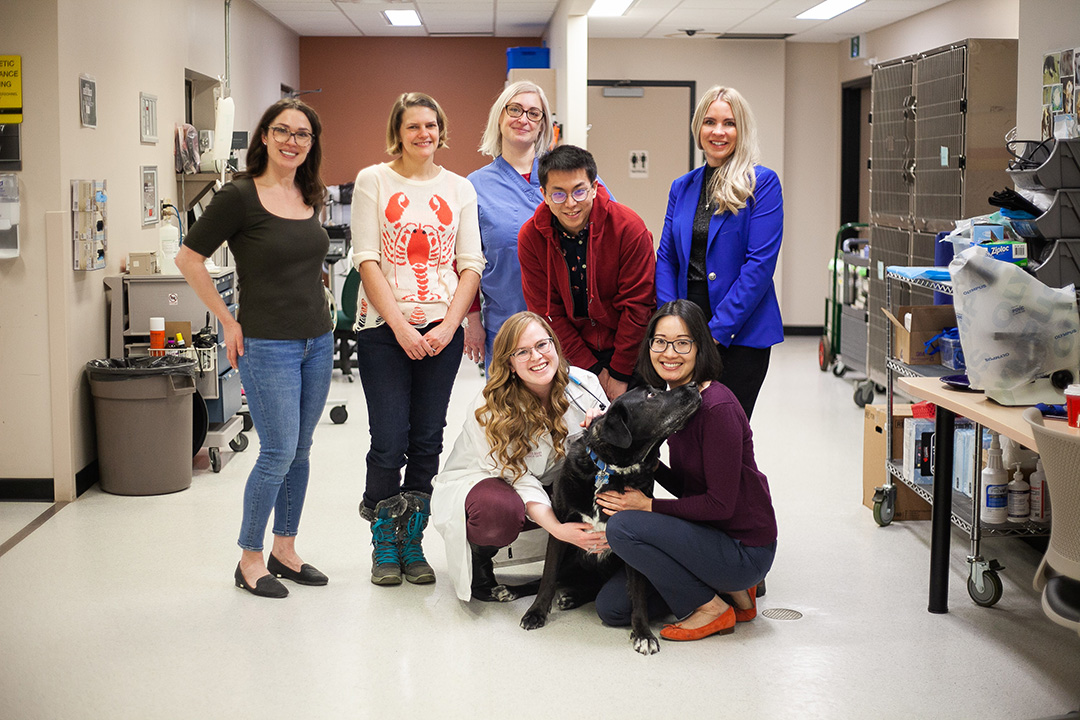 "I think [it will] help not just the patients themselves, but the owners as well, knowing that there's someone else out there that does care about … pets with cancer," says Dr. Vivian Fan, a medical oncology resident at the WCVM and member of the hospital's veterinary oncology team.
In the VMC's veterinary oncology service, the team's primary goal is maintaining a good quality of life for pets diagnosed with cancer. Similar to a human cancer centre, the VMC's oncology team includes board-certified specialists in medical oncology, radiation oncology, surgery and internal medicine along with registered veterinary technologists (RVTs) who provide patients with specialized care.
"The different specialties come together to work as a team to provide the best care possible," says Fan, adding that sometimes the day can be long for canine patients as they await their treatments. "It can be a bit stressful for some pets when they're at the clinic away from the owners. So, it is nice for them to have something to play with." 
Mike Tremblay's Labrador retriever Boh is receiving follow-up chemotherapy at the VMC's oncology department after surgery. When a growth on Boh's leg was confirmed as cancerous, Tremblay wasn't sure what the next steps were for his beloved pet. But once the VMC oncology team developed Boh's treatment plan, "it took a lot of the guesswork out of it for me," says Tremblay.
He says that Boh is just happy to see all the staff when she gets to the clinic: "She's a pretty social dog. I really appreciate the care that she's given at the clinic."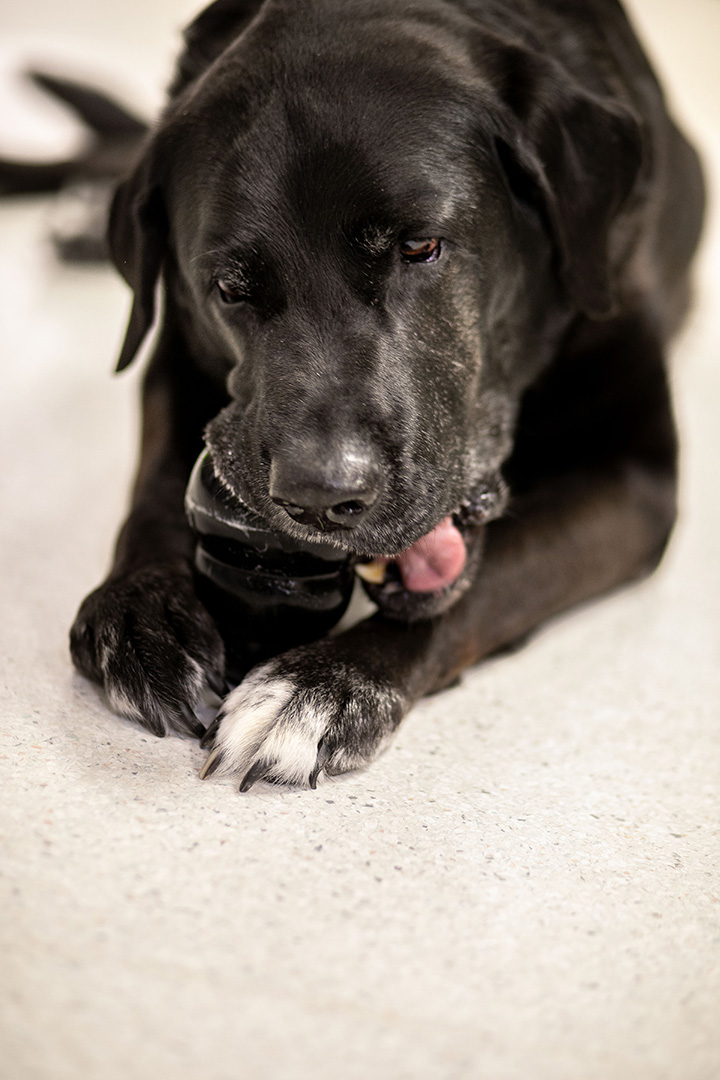 Ben, a Labrador-cross dog owned by Sheila Janzen, was diagnosed with lymphoma three years ago and underwent chemotherapy. His cancer is now in remission, but he still comes to the VMC for regular checkups. For Ben's cancer, the VMC oncology team used a treatment method called the "CHOP protocol," which contains three oncology drugs along with prednisone, a steroid. This cancer treatment has allowed Janzen to enjoy three more years with her pet.
While Janzen says Ben isn't a very social dog, he still loves his visits to see the VMC's oncology team — she thinks the clinic is one of Ben's "top four places" to visit.
"He basically pulls me into the front entrance and is wagging his tail, and he's not an overly 'waggy tail' dog," says Janzen. "He loves them all very, very much."
Gratton's Pet Planet store wanted to connect with the WCVM to bring the KONG toy initiative to Saskatchewan. The campaign originates in Alberta and has donated to multiple veterinary clinics in that province. In 2021, Kali's Wish raised $8,784 to support pet cancer programs and donated 1,098 KONG toys to dogs diagnosed with cancer.
"We're hoping that it just brings a little bit of joy to the dogs and for the owners to know that people are out there who care and who have also been in these situations," says Gratton. "And we just want them to know they're not alone."
Visit the Kali's Wish website to learn more about the KONG toy giving program.