But through a series of fortunate events, the small-town student with an interest in biology ended up shifting his focus to ticks — a line of research with a One Health focus that eventually helped Koloski earn a Vanier Canada Graduate Scholarship.
In November 2022, Koloski was announced as one of four University of Saskatchewan (USask) recipients for the Vanier Canada Graduate Scholarships and one of 166 scholarship recipients across the country. Valued at $150,000 over three years, the Vanier Canada Graduate Scholarship program helps to attract and retain world-class doctoral students in Canada.
Koloski's focus on ticks began a few years ago at Brandon University (BU). As part of his undergraduate honours program, he was supposed to study mosquitos with his supervisor, biology professor Dr. Bryan Cassone (PhD). But instead, his research switched over to a focus on ticks — work that he continued for his master's program with Cassone.
"I amalgamated my love for medicine, pathogens and disease into insects and arthropods, in regards to ticks," says Koloski, who completed a Master of Environmental and Life Sciences degree at BU.
In May 2021, Koloski began his PhD studies at USask after searching for a supervisor whose research program made a good fit. Koloski is especially interested in studying vector-borne diseases — illnesses that are transferred from arthropods, such as mosquitoes, ticks and blackflies. 
"I surveyed around who was studying it around here, and Maarten [Voordouw], my supervisor, was looking for people, I sent him an email and … here I am," says Koloski. "He has been really great to work for. I have been able to learn many new techniques and expand my knowledge in this field of research."
"[Cody's] extremely motivated and enterprising," says Dr. Maarten Voordouw (PhD), an associate professor in the Western College of Veterinary Medicine's (WCVM) Department of Veterinary Microbiology. "He's very dedicated to his work."
Koloski's current research project focuses on Borrelia burgdorferi, the bacterium that causes Lyme borreliosis (or Lyme disease) — a zoonotic infection that can pass from animals or insects to people. The disease-causing bacterium is transmitted among wildlife through the bite of blacklegged ticks (Ixodes scapularis). In nature, the main vertebrate hosts (animals with spines) include rodents and birds, but humans can also become infected after being bitten by an infected tick.
"[Wildlife are] where some of the most dangerous pathogens come from," says Koloski. "We want to understand what's happening in the wildlife population, so we can better understand — if it comes to us — how we can effectively target [and] treat it."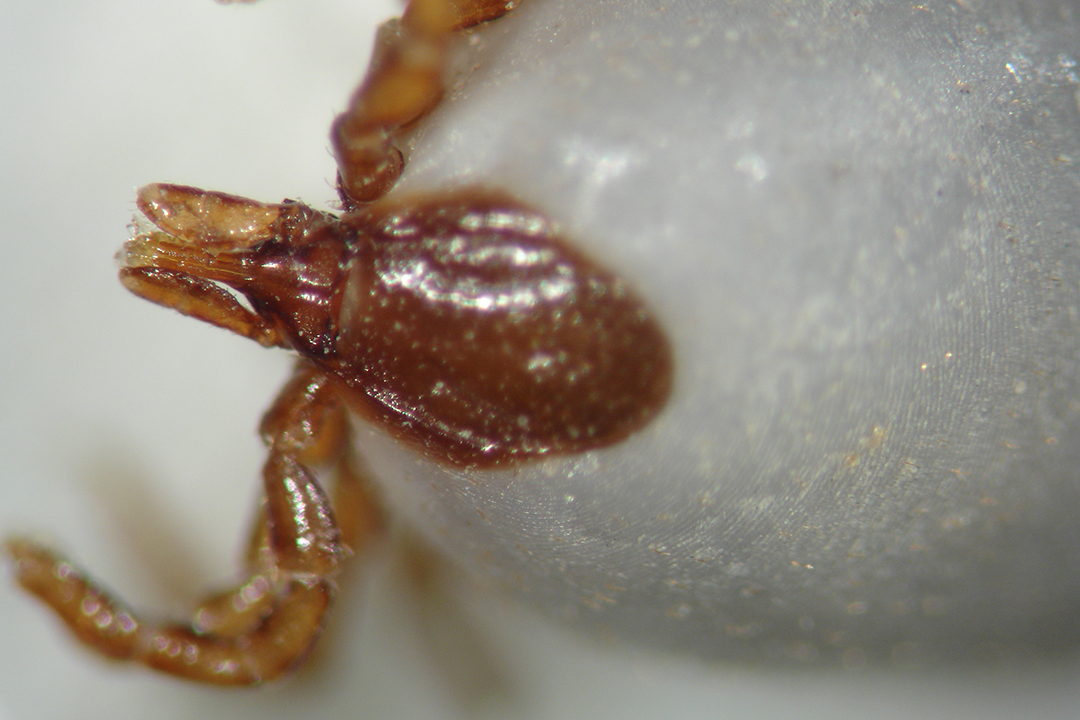 Ticks and vertebrate hosts are often co-infected with different strains of B. burgdorferi at the same time — making it difficult to diagnose, treat and develop vaccines. For his PhD thesis, Koloski is working to better understand the factors that determine whether a vertebrate host can become sequentially co-infected with different strains of B. burgdorferi.
He's particularly interested in how the amount of an initial or "resident" strain in the host's tissues influences the ability of an invading strain to establish infection in the same host. To create sequential co-infections, Koloski will infect mice with two different strains of B. burgdorferi at staggered times. To manipulate the amount of the resident strain in the host tissues, Koloski will use both normal mice and immunocompromised mice that have normal versus high amounts of B. burgdorferi in their tissues.
"We think that the first (resident) strain to arrive has an easy time to establish infection in a naïve host, so it's doing well," says Koloski. "Then the second strain to arrive is coming into a host where the tissues are already colonized by the resident strain, so it has to overcome that. We're studying if that can happen and what mediates that."
"We're interested in understanding how abundance of the resident strain in the host tissues influences the ability of the invading strain to establish infection in the mouse," adds Voordouw.
Dr. Bernadette Ardelli, BU's dean of science, recommended that Koloski apply for the Vanier Canada Graduate Scholarship based on his past volunteer work. Koloski served as BU's co-ordinator for a program called Let's Talk Science, a registered Canadian charity that focuses on developing skills and education for Canadian youth in science, technology, engineering and math programs.
"We [would] go into classrooms and work with the teachers and do various science experiments the show the students important concepts in science," says Koloski.
During his time at BU, Koloski worked with the Province of Manitoba and the City of Brandon as a lab technician for the provincial mosquito and tick surveillance program. Additionally, he oversaw the work of master's students and undergraduate summer students in the lab. When he had time, Koloski also did some volunteering at Brandon's Prairie Mountain Health Hospital.
Voordouw says the Vanier scholarship is an achievement that Koloski can be very proud of and is a testament to his strong work ethic. 
"For a supervisor to work with someone motivated, bright, passionate, dedicated — [it] makes the job a lot of fun," says Voordouw.
Koloski found out about his scholarship on a day last spring when organizers contacted award recipients by email — well in advance of the public announcement last November.
"I was walking through the WCVM and I could just hear my heart thumping," says Koloski. "I sat down and opened the email, and I was like, 'Wow, I got it.' I was pretty excited."
The scholarship will alleviate some financial stressors for Koloski, adding that the additional support will allow him to continue doing outreach work: "Thank you to everyone that has been a part of my journey through academia and my personal life."
The WCVM's Wildlife Health Research Fund (WHRF) provided funding for the Lyme borreliosis research study.