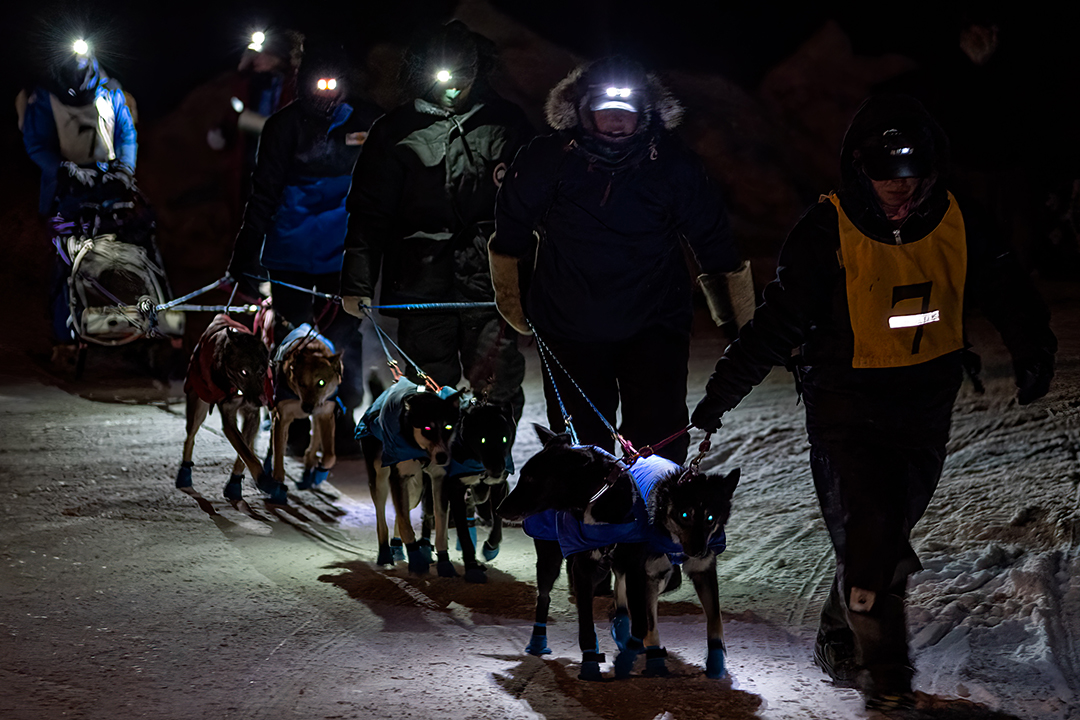 High above, the northern lights danced across the clear, cold sky and put on a "pretty spectacular show," recalls Elgersma, a fourth-year veterinary student at the Western College of Veterinary Medicine (WCVM).
She and three of her classmates — Steve Novakowski, Amber Carson and Lucas Grist — spent nearly a week in February as members of the Canadian Challenge's veterinary team led by WCVM veterinarian Dr. Romany Pinto.
Since 2019, a number of fourth-year veterinary students have volunteered with the race as part of a unique two-week clinical rotation offered during their final year of the Doctor of Veterinary Medicine (DVM) program at the WCVM.
Elgersma, who loves dogs and the outdoors, jumped at the chance to learn more about the sport of sled dog racing.
"It was hands-down my favourite [rotation] so far," says Elgersma, who is originally from Brooks, Alta. "I definitely would recommend it to any of the people in the years below me."
Dan Kirkup is president of the Gateway North Sled Dog Association, the non-profit organization that has organized the Canadian Challenge each year since the mid-1990s. He says the veterinary team — consisting of experienced and knowledgeable veterinarians along with veterinary students — plays a critical role during the annual race week that runs from Monday to Saturday.
"[The race] also allows the veterinarians to train a few students each year in sled dog medicine," says Kirkup.
"They (the students) get the unique experience of meeting all these amazing people and dogs and seeing canine athletes at their prime," says Pinto.
The Canadian Challenge consists of four races: the 80-km (50-mile) six-dog open race and the 161-km (100-mile) eight-dog race, along with two categories for 10-dog teams — the 288-km (180-mile) race and the 448-km (280-mile) race. The sled dog teams compete from Tuesday to Friday with a final awards breakfast on Saturday wrapping up the event.
Both 10-dog races also serve as qualifiers for the well-known Yukon Quest and Iditarod races.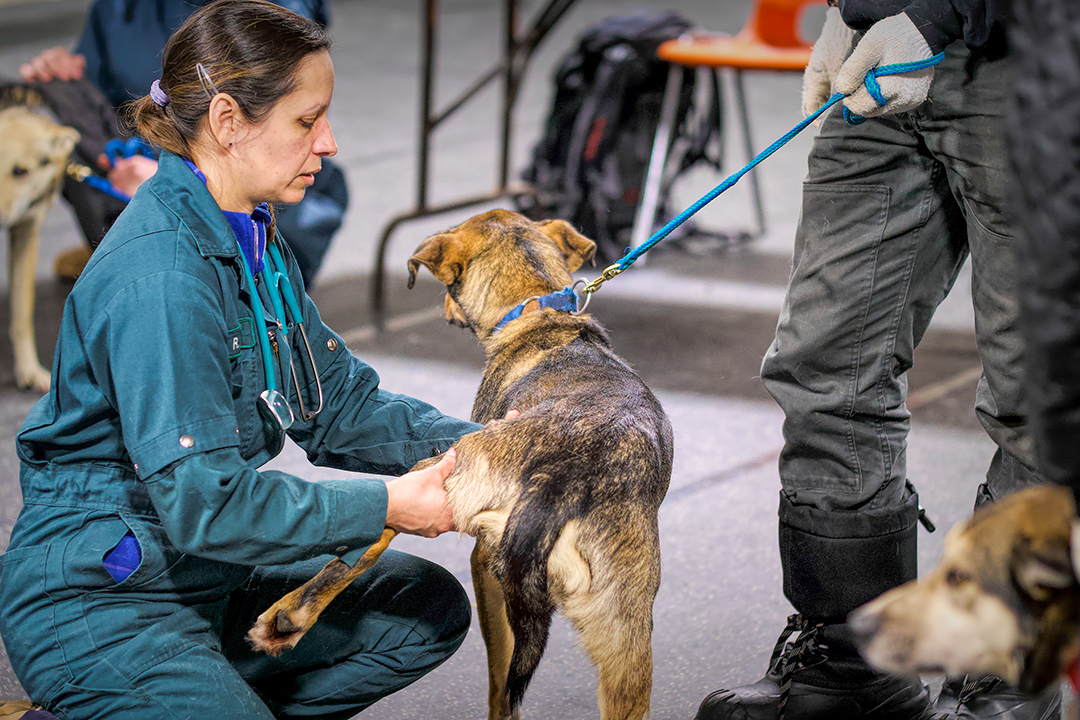 The day before each race starts, members of the veterinary team perform mandatory pre-race veterinary checks on all canine athletes and conduct additional vet checks at checkpoints along the trail. The veterinary team members are also on hand to respond to emergencies or to help mushers who have any specific concerns with any of their dogs.
Pinto, who has been involved in the Canadian Challenge for at least eight years, now serves as the event's head veterinarian.
"It's really the only exposure [that] students get to sled dog medicine," says Pinto. "It's pretty important to be able to find vets who have some training and desire to work with sled dogs. It's important for the sport."
During the rotation's first week, students spend most of their time in a classroom learning more about sled dog medicine. The week's highlight is a trip to Waskesiu, 90 km north of Prince Albert, Sask., where the students have a chance to drive a team of sled dogs and learn more about the management of a sled dog kennel with the owner-operators of Sundogs Excursions.
During the following week, students put their new knowledge and skills to practice at the Canadian Challenge. During the four days of racing, sled dog teams follow a route through the northern boreal forest — similar to the original sled dog trail that trappers, Northwest Mounted Police and First Nations community members used between Prince Albert and La Ronge, Sask.
This year, 18 teams with a combined total of 150 sled dogs competed in the four races.
"They [the students] have a lot of practice doing physical and orthopedic exams," says Pinto. "They get to see acute injuries when they've happened, which is not something we as vets get to see very often."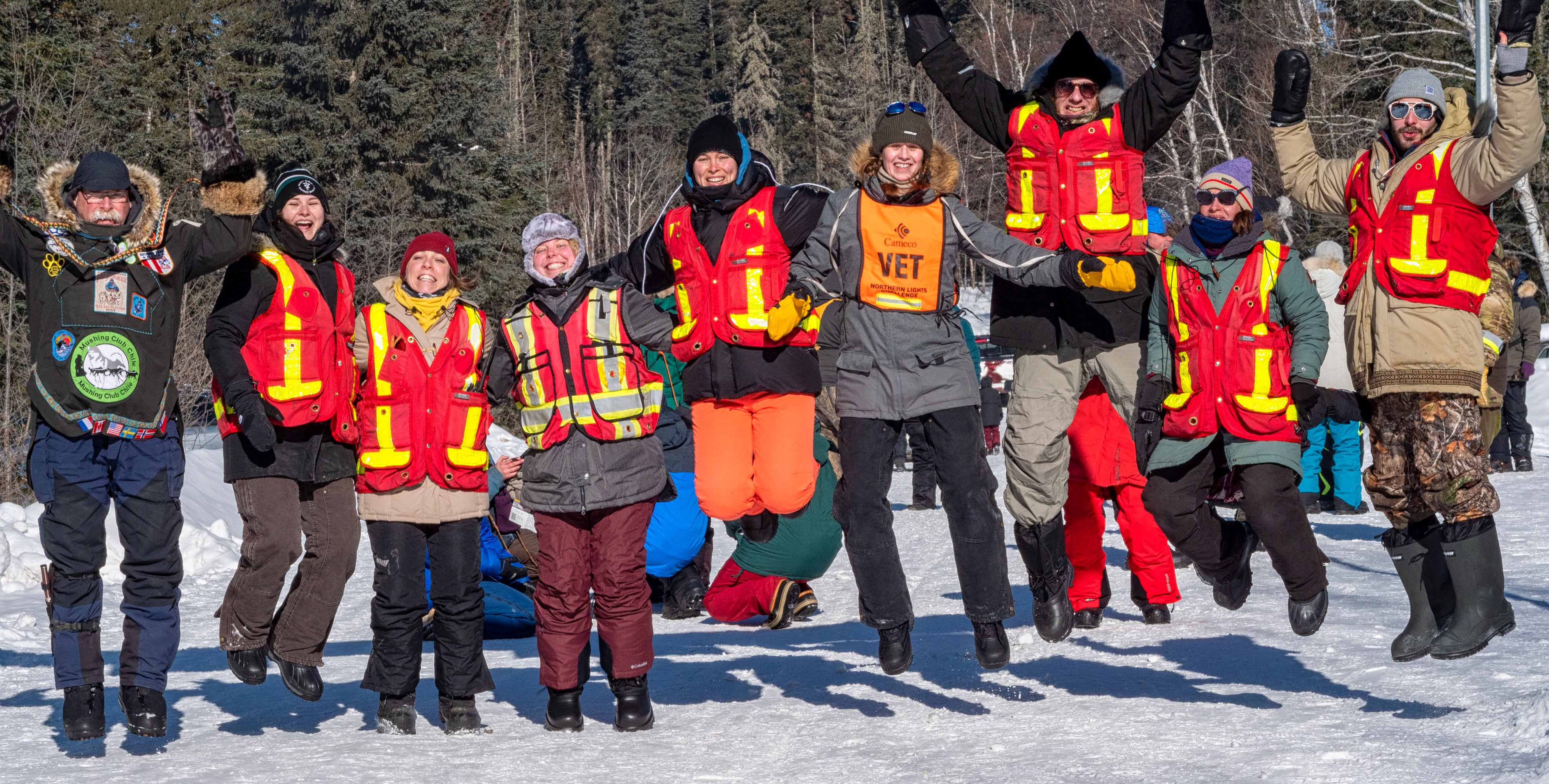 Pinto adds that the injuries they saw during the race aren't usually the same types seen in pet dogs or canine athletes in other sports.
Elgersma says each veterinary team member examined anywhere from 20 to 30 sled dogs per day, adding that the large caseload was beneficial.
In particular, Elgersma learned more about looking for muscle knots and tightness, carpal effusions (fluid buildup due to injury), dehydration, stomach ulcers and exertional myopathy (often referred to as "tying up") — a muscle disorder that often occurs in working dogs after extensive exercise.
Kirkup points out that two WCVM graduates who previously took part in clinical rotations returned to the veterinary team this year. Dr. Rylee Rentz (DVM'19) was part of the team in 2019 while Dr. Esther Derksen (DVM'20) took part in the rotation in 2020.
"Hopefully we'll be able to continue doing [the rotation] and supporting each other and being able to gain experience for our students," says Kirkup. "[Also to] get more of these volunteers and knowledgeable personnel out here in the sled dog world."
Besides watching the spectacular northern lights, Elgersma says meeting the mushers and being a part of the race's sled dog community were among the highlights of the week. She also enjoyed having the opportunity to further develop her clinical skills in performing orthopedic exams and palpating dogs' muscles.
Elgersma says that she would "absolutely" do the sled dog rotation again and gives some advice for other veterinary students.
"Go into it with an open mind. It's something you probably won't get the chance to see a lot of [once out in practice,]" says Elgersma. "Try to be really open to learning as much as you can and be ready to potentially not sleep a lot."
Visit the Canadian Challenge web site for more details.