In his first time participating in a 3MT competition, Pujari earned first place for his entry, "Flirty flies to funky physiology: the impact of sex on female metabolism." The three-minute presentation and accompanying slide skilfully encapsulated Pujari's research that's aimed at understanding human health by studying fruit fly metabolism.
"I utilize the humble fruit fly as a model organism to unravel the complexities of physiology that are shared by larger animals and mammals," says Pujari, a PhD student in the WCVM's Department of Veterinary Biomedical Sciences.
"Our work in the lab and at the college is gradually unravelling the mysteries surrounding health problems such as obesity."
Gautam, a PhD candidate from the college's Department of Veterinary Pathology, placed third for her presentation "Protecting chickens from a gut rotting bacteria." It was her second time competing at a USask 3MT.
"The main objective of my research was to develop a preventive strategy against necrotic enteritis without antibiotics, and I was successful in completing this task in our lab," explains Gautam, whose work is supervised by Dr. Susantha Gomis. "Our novel vaccination strategy against necrotic enteritis will help to reduce economic losses of the poultry industry."
Sponsored by USask's College of Graduate and Postdoctoral Studies, the campus-wide 3MT communication competition provides a unique opportunity for graduate students to explain their research using one slide and a three-minute oral presentation. 
Both WCVM graduate students entered the competition with the goal of improving their communication skills, particularly their ability to effectively present and explain their research to a diverse audience.
"I've always been impressed by how students can distil complex and specialized topics into a concise and engaging three-minute talk," says Pujari. As first-prize winner, he will now represent USask at the Western Regional 3MT Competition being held at USask on May 25.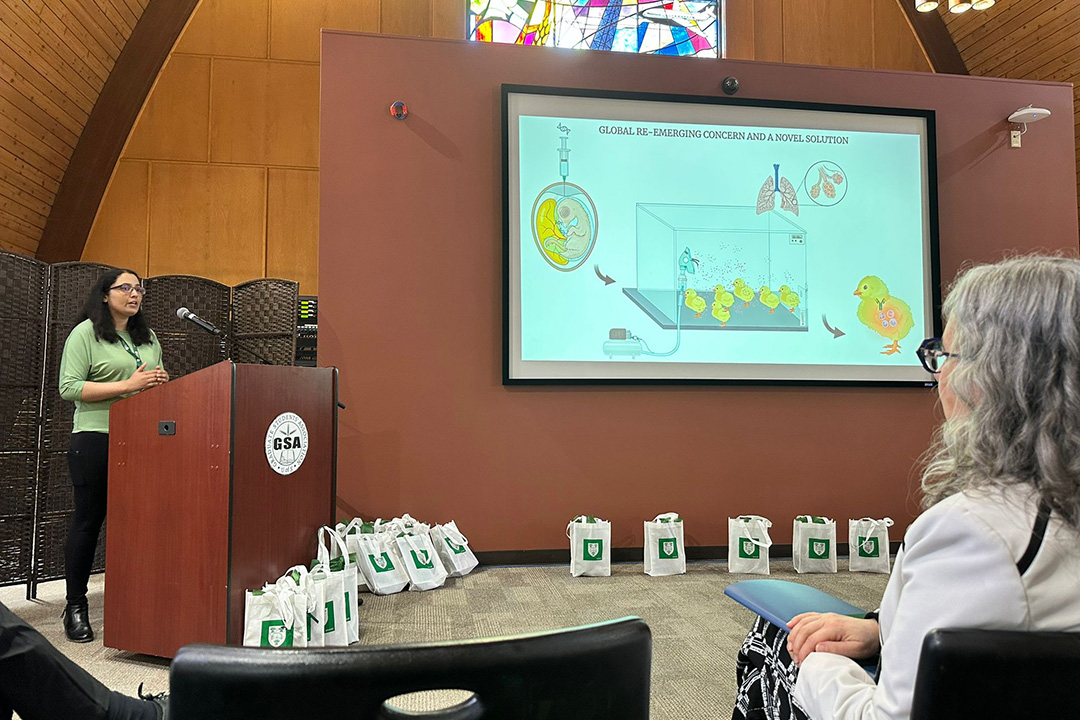 "I'm eager to showcase my research in a compelling way …. It's a thrilling experience to be part of such a dynamic and fast-paced competition that highlights the importance of effective communication in academia and beyond."
Effective communication has always been a passion for Pujari who appreciates the support and encouragement he's received from his supervisor Dr. Adelaine Leung.
His first tip for future competitors? Be prepared. To truly understand his topic, Pujari immersed himself in research articles and explored the wealth of resources — materials, links and competition videos — that were available on the university's 3MT webpage. 
He also emphasizes the importance of practice and of understanding the expectations of the competition. Finally, he advises future competitors to critically evaluate every sentence, ensuring that each one serves a purpose in conveying the overall message
By setting a specific goal for each minute of his speech, Pujari was able to "hook" the audience, explain his research and then leave a lasting impression on the listeners that encouraged further discussion.
In addition to his focus on creating an eye-catching, informative slide, Pujari crafted a catchy title for his presentation that would engage and pique the audience's curiosity.
Pujari points out that the event prompts competitors to step back and look at the bigger picture of their research as they reflect on the "why" of their work — the reason it matters to others.
"In today's world, effective communication is crucial for scientists and researchers," says Pujari. "Gone are the days of hiding away in a lab and solely focusing on our work. In the modern era, we need to convey our research to diverse audiences regularly, including funding agencies, competition judges, committee members, and even friends and family."
Both competitors agree that they would recommend the competition to other graduate students, not only as a means to improve their communication skills but also as an opportunity to gain exposure to ideas from different fields.
 Gautam appreciates that the competition showcases the wealth of research projects taking place at USask while exposing participants to people with different experiences and backgrounds as well as approaches and research perspectives — a fertile environment for creating revolutionary research ideas.
"It's truly inspirational to see researchers from different fields gathered at one spot presenting their research," says Gautam. "3MT made me realize that there are other groups in the university who are working on groundbreaking research and working toward making life better for everyone."
Everyone is welcome to attend the 2023 USask Western Regional 3MT competition on Thursday afternoon (2 to 5 p.m.), May 25, at the Quance Theatre on the USask campus.