"It's a way for us to give back to the college but to also provide opportunities for students in pathology," says Clark.
The retired veterinary pathologist, along with his wife Lorna, gave $100,000 to the WCVM in 2018 to create a new graduate scholarship. Now, the couple has pledged an additional $100,000 for another new scholarship that will support University of Saskatchewan (USask) veterinary pathology graduate students in any year of study at the WCVM.
"There is no question that there is a significant demand for pathologists right now," says Ted. He adds that the scholarship funding will allow for students to explore a variety of practices within the field of veterinary pathology including diagnostic, research, teaching and pharmaceutical fields.
He stresses the importance of students gaining hands-on experience before entering their field.
"I think it's important for anybody going into pathology to have some practice experience first because you have to be able to communicate effectively in your diagnostic reports," says Ted, who practised as a veterinarian for nearly a decade before pursuing graduate training at the WCVM.
"Clients and practitioners in the field need to be able to understand what you're saying."
Lorna Clark hopes that the new scholarships will help to offset some of the financial barriers that current students face.
"With the rising cost of inflation, we've decided now was a good time to top up our donation."
The "Dr. Ted and Lorna Clark Award in Pathology," which was created in 2018, is annually presented to two graduate students in their first year of veterinary pathology studies at the WCVM, with a $2,000 prize for each recipient.
The new scholarship will be awarded annually to one or more graduate students in any year of veterinary pathology studies.
This year's winners are Amber Allain, who's in the first year of her Master of Veterinary Science (MVetSc) degree program in clinical pathology, and Calandra Chuback, who is in the first year of her Master of Veterinary Science (MVetSc) degree program in veterinary pathology.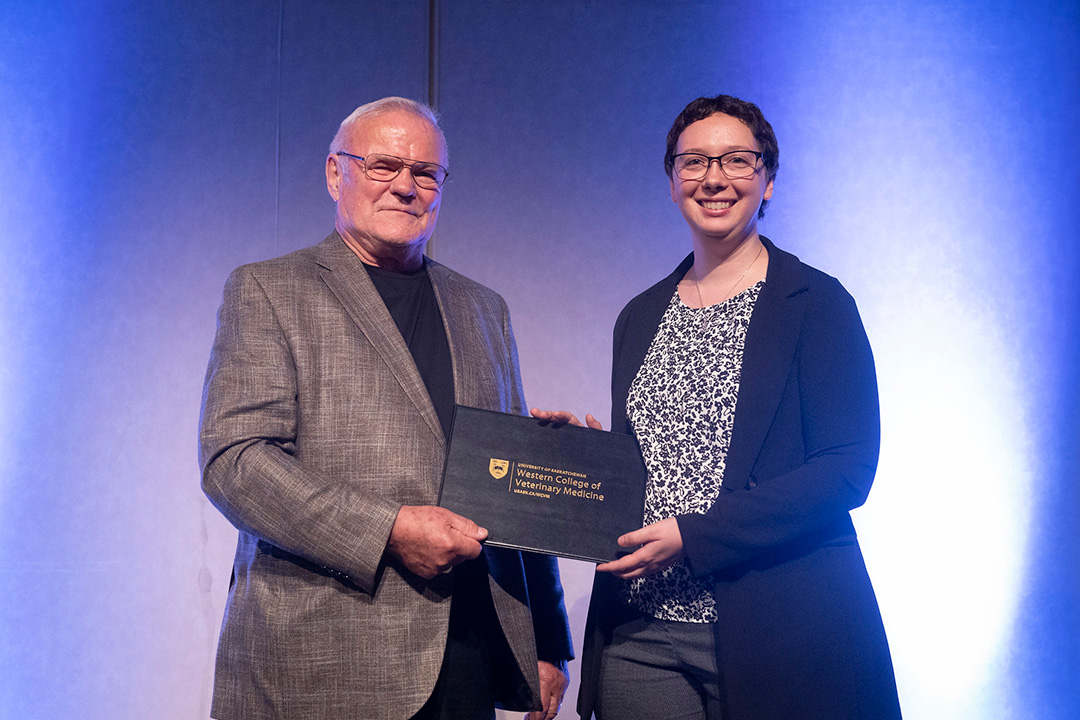 2021 award winner Dr. Madison Ricard in the WCVM's Department of Veterinary Pathology explains how the scholarship alleviated much of her financial stress as a student.
"Receiving the Dr. Ted and Lorna Clark Scholarship during my first year of studies was very much appreciated, as the decision to pursue further studies after accumulating student debts from my veterinary degree was not one I took lightly," says Ricard, who is now a PhD student in diagnostic veterinary pathology at the WCVM.
"Having the contributions of generous donors such as Dr. and Mrs. Clark through these scholarships goes a long way toward reducing financial stress, and it has allowed me to focus on my studies."
Ted has a long history with the WCVM as a veterinarian and as a veterinary pathologist. After completing his veterinary degree at the Ontario Veterinary College (OVC) in 1966, he worked as a large animal practitioner in Saskatchewan until 1975. Clark then went on to obtain his Master of Veterinary Science degree in veterinary pathology at USask in 1977.
For the next three decades, Ted worked as a diagnostic veterinary pathologist at the WCVM and Prairie Diagnostic Services — the provincial veterinary diagnostic laboratory. His focus included many research projects in addition to instructional teaching.
During this time, he made a strong impression on both students and instructors alike.
"He was an amazing, dedicated teacher with great enthusiasm in diagnostic pathology. He really wants to help graduate students succeed during their training program," says Dr. Susantha Gomis, professor and head of the WCVM Department of Veterinary Pathology.
He says Ted's generosity reflects the type of instructor he was and addresses the critical needs of veterinary pathology graduate students.
"We have a very robust diagnostic pathology program at WCVM, so this is a very valuable award for our students. It's very encouraging to our trainees, who are eligible in any stage of training to receive the award."
The Clarks now live in Calgary, where Ted is an adjunct professor at the University of Calgary Faculty of Veterinary Medicine. He credits his time at the WCVM for creating opportunities and relationships which have taken he and his wife across the globe.
"We've been able to travel to many conferences in many countries as well as throughout North America where I've been a guest speaker. I became very interested in public speaking," says Ted, whose presentation topics have ranged from small animal skin biopsies to large animal internal diseases.
One particular research investigation resulted in invitations to speak at numerous conferences and meetings.
"I got involved with a research project with Dr. Cheryl Waldner from WCVM, working on postmortems [examinations] on neonate non-viable, stillborn and aborted bovine fetuses, which led to many talks around the world as well."
Grateful for their many years in Saskatchewan, the Clarks hope their awards will continue to help future veterinary pathologists. 
"WCVM was always very good to us, and we want to share in giving these types of experiences to others as well," says Ted.