A group of graduate students from the Western College of Veterinary Medicine (WCVM) introduced their research to attendees at the Livestock and Forage Centre of Excellence (LFCE) Summer Field Day on June 20.
The annual event includes a graduate research poster competition, which allowed students to present their research to a wide range of people including their target audience: livestock and forage producers. 
One student, Katrina Garneau, is a Master of Science (MSc) student whose work focuses on beef cattle behaviour and welfare. In addition to presenting her research poster, Garneau was also one of the speakers during the field day's outdoor tours.
Her research, which is supervised by Dr. Diego Moya (DVM, PhD) of the WCVM's Department of Large Animal Clinical Sciences, assesses the accuracy of visually diagnosing bovine respiratory disease in feedlot cattle.
Moya, who had three graduate students presenting their research during the 2023 LFCE field day, notes that the event is a great way for students to showcase their research work.
"Some of these students have been working in projects with animals or analyzing samples in the lab for months, and now is the time when they can go out, talk to producers, explain their results and talk about their projects," Moya says.
"It's a good opportunity for students to get that experience and to get that exposure to the industry."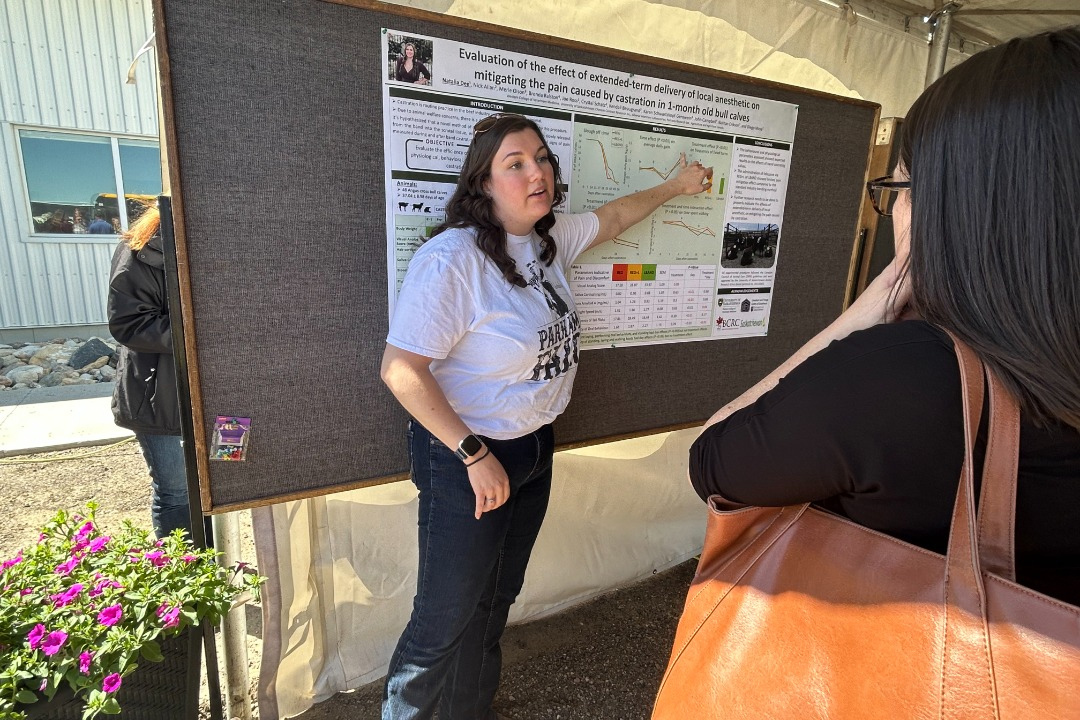 Overall, 10 USask graduate students participated in the event, and after judging, three students received cash prizes for their posters:
first place ($100) — Heidi Tymko (College of Agriculture and Bioresources). "Financially optimal culling strategies for Western Canadian cow-calf operations"
second place ($75) — Natalia Dee (WCVM). "Evaluation of the effect of extended-term delivery of local anesthetic on mitigating the pain caused by castration"
third place ($50) — Judson Christopherson (College of Agriculture and Bioresources): "Deriving, analyzing, and valuating net carbon emissions from forage production in the Saskatchewan cow-calf sector"
Five students based at the WCVM and one USask College of Medicine graduate student, whose work is supervised by WCVM researcher Dr. Tony Ruzzini, took part in the poster competition alongside students from USask College of Agriculture and Bioresources (AgBio). The following summaries give a quick snapshot of the WCVM students' research projects. 
Does feedlot pen density cause health issues in cattle?
Josie Pugh, WCVM graduate student. Research team members: Kathy Larson, Gabriel Ribeiro, Greg Penner and Diego Moya
This three-year study examines the impact of pen design and bunk spaces on the welfare of feedlot cattle. When animals aren't housed in large enough spaces, less dominant animals have less time to eat and are more prone to developing acidosis and liver abscesses — types of build-ups in the body that can lead to infections. Researchers aim to assess the impacts of competition for space on animal behaviour and if dense bunk spaces and pens can make cattle more vulnerable to liver abscesses and acidosis due to competition-related circumstances. This study's results can help to improve animal welfare and prevent liver abscesses, so animals are less prone to harmful infections.
Can a slow-release drug relieve pain caused by castration in bull calves?
Natalia Dee, WCVM graduate student. Research team members: Nick Allan, Crystal Schatz, Kendall Beaugrand, Merle Olson, John Campbell, Nathan Erikson, Brenda Ralston, Joe Ross, Karen Schwartzkopf-Genswein and Diego Moya
Castration is a routine practice in the cattle industry, but since the procedure causes pain to the animal, there are animal welfare concerns that need to be addressed. Researchers are seeking ways to effectively reduce the pain caused by castration using lidocaine, an anesthetic drug that's regularly used to reduce pain for human dental patients. Lidocaine can be slowly released from a band (a tool used for castration) into the animal's scrotum to ease pain. Dee and her research team are evaluating the drug's effectiveness in reducing pain in one-month-old bull calves. This study's results can help to improve animal welfare conditions. 
What clinical signs can help to make an early diagnosis of bovine respiratory disease?
Katrina Garneau, WCVM graduate student. Research team members: Murray Jelinski, John Campbell, Karen Schwartzkopf-Genswein, Emily Snyder and Diego Moya 
Bovine respiratory disease (BRD) is among the most common and costly diseases in beef cattle. Accurate diagnoses are crucial for treating the disease without compromising animal health and growth performance. Beef cattle feedlot operators rely on pen riders — people who regularly monitor livestock health — to subjectively evaluate clinical signs and to detect the disease. Garneau worked with these employees to characterize clinical signs associated with different BRD cases in newly arrived calves. In this completed study, researchers found that symptoms such as nose and mouth secretion and flat tail are associated with BRD diagnoses. This study's results can help producers learn how to identify BRD early on so affected animals can be treated more quickly. 
Can feedlot water bowls be used to monitor antimicrobial resistance in cattle?
Daniel Kos, WCVM graduate student. Research team members: Brittany Schreiner, Stuart Thiessen, Tim McAllister, Tony Ruzzini and Murray Jelinski
Antimicrobial resistance (AMR), when infectious microorganisms no longer respond to microbe-fighting drugs, is a worrying issue in livestock health. AMR specifically poses a threat to current treatments for bovine respiratory disease (BRD) – a life-threatening disease in cattle that is costly to the beef industry. Since monitoring AMR in cattle microbiomes is invasive and expensive, researchers are using the animals' water bowls as an effective way to monitor AMR. This study helps researchers better understand how water bowl-dwelling organisms and pathogens interact and expands on previous research that's monitoring AMR's impact on BRD. 
Is a bacteria-isolating media in water effective in preventing antimicrobial resistance in cattle?
Danilo Wadt, WCVM graduate student. Research team members: Tony Ruzzini and Murray Jelinski
Antimicrobial resistance (AMR) is a concern for current treatments of bovine respiratory disease (BRD). In his research, Wadt is analyzing biochemical characterizations of bacterial pathogens linked to BRD, given that there is increased AMR in these pathogens. Researchers believe that feedlot water bowls could pass AMR genes to other animals. Wadt is looking to develop a media that isolates bacteria in feedlot water bowls and will prevent further spread of AMR genes. This study's results can assist producers in preventing AMR and ensuring that antibiotic therapy options remain effective.
What enzymes cause antimicrobial resistance in people and animals?
Iryna Myziuk, USask College of Medicine graduate student. Supervisor: Tony Ruzzini
 Macrolide antibiotics are drugs used to treat human and animal infections, but antimicrobial resistance (AMR) threatens their effectiveness in treating disease. AMR can occur when macrolides inactivate through water-related chemical breakdowns caused by forms of enzymes called "macrolide esterases." From water sampling at a western Canadian feedlot, scientists discovered a new macrolide esterase that is antimicrobial resistant. This prompted researchers to search for additional macrolide enzymes that may also be causing AMR. Scientsts need to conduct more studies to further identify enzymes and antibiotics that are linked to AMR.