Working closely with students in animal anatomy courses at the Western College of Veterinary Medicine (WCVM), Dr. Brent Bobick (PhD) feels privileged to play a part in their academic growth and success.
"The most rewarding aspect of teaching animal anatomy is helping students learn material that they will put to daily use — both professionally and personally," says Bobick, the WCVM's 2023 recipient of the Provost's College Award for Outstanding Teaching.
Each year, the University of Saskatchewan Provost's Themed Award series recognizes outstanding teachers at all colleges on the university's campus.
Bobick is a lecturer and director of the WCVM anatomy lab in the college's Department of Veterinary Biomedical Sciences.
After earning a PhD degree in anatomy from USask in 2007, Bobick spent time at the National Institutes of Health (NIH) and the University of Calgary before returning to Saskatoon and joining the WCVM in 2015.
Known by his students for his enthusiasm and student-centred approach to teaching, Bobick takes pride in seeing students develop skills and knowledge that will transfer to their professional lives.
"Because I spend so many close-contact hours with my students during practical anatomy sessions, I'm able to watch their anatomical knowledge grow over the course of the academic year."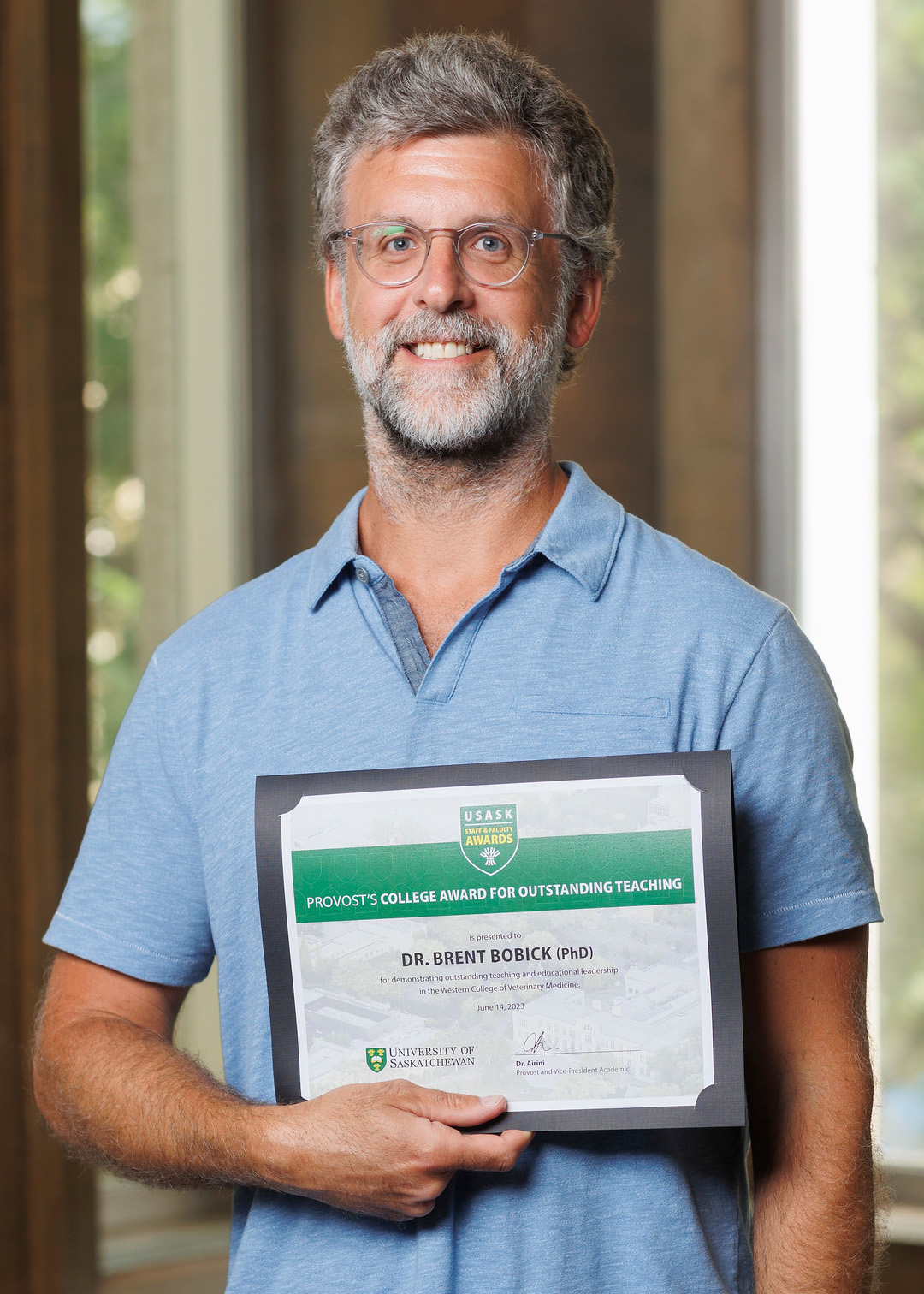 https://wcvmtoday.usask.ca/articles/2023/06/wcvm-shows-strong-representation-at-usask-faculty-and-staff-awards.phpTeaching wasn't Bobick's initial professional pursuit, but through experience, he's realized that it's something he thoroughly enjoys.

"I lectured and demonstrated in labs when I was a doctoral student. Then, during my first postdoctoral fellowship, I chose to abandon teaching in order to focus on research," says Bobick. "Although I greatly enjoyed this fellowship, I always felt like something was missing from my professional life. A bit of self-reflection revealed that missing something to be teaching."

When the time came for Bobick to move on to a second postdoctoral fellowship, he took on a position with an associated lectureship and has been teaching ever since.

Spending many hours with students in anatomy labs, Bobick says that hands-on active learning provides students with unique opportunities to critically analyze and understand complex material. He encourages students to ask questions and embrace curiosity in their studies.

"It's doing and thinking about this doing — or active learning — that is the central tenet of my teaching philosophy."
Click here to read more about the WCVM award recipients at the 2023 USask Faculty and Staff Awards event.