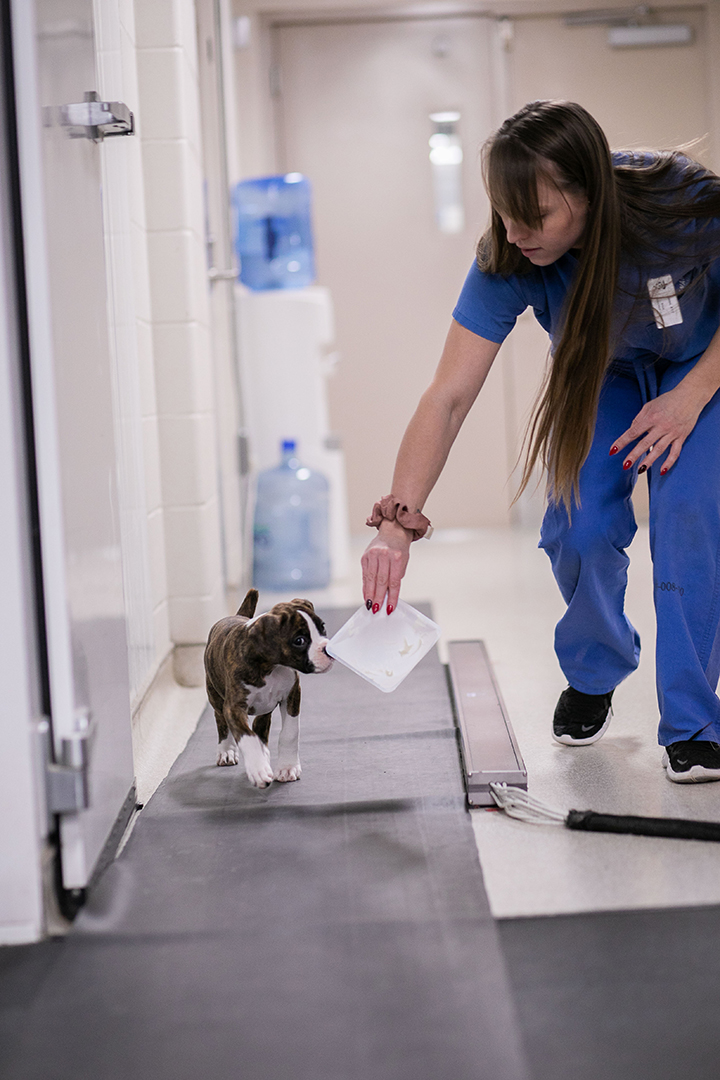 Penney is a clinical associate in the VMC's pet rehabilitation service. As part of her work, she can provide dog breeders with orthopedic assessments of puppies to ensure that the young animals are growing normally or to flag potential issues.
"I'm going to check them from their nose to their tail," says Penney. "Whatever age they are when we see them, they're not exactly easy on themselves. They like to T-bone each other and fall over and trip."
As a result of this roughhousing, little things can happen to the puppies. For example, Penney says a puppy might have a rib out of place or a sacroiliac (SI) joint, located in the pelvis, might need adjusting. She also checks over each animal's muscles, joints and overall shape or conformation.
"We're not expecting to find any of the big orthopedic issues at this age, but we still check to make sure that there's nothing out of the ordinary that might make us want to keep an eye on that puppy."
Penney, who used to show Irish setters, says that people involved in showing dogs are breeding for conformation, health and function: "They're looking at structure, how their bones fit together, how closely it fits to the standard for that breed."
Penney began offering the puppy/litter evaluations about five years ago and usually performs a couple of sessions per year.
Morgan Conrick and Kat Hueggenberg are co-breeders who brought their litter of eight boxer puppies into the veterinary teaching hospital to meet with Penney in mid-February. 
"We just wanted to go to [the VMC] early, before there were any issues, to get them evaluated by Dr. Penney and get good feedback and measurement on how they're actually constructed," says Hueggenberg.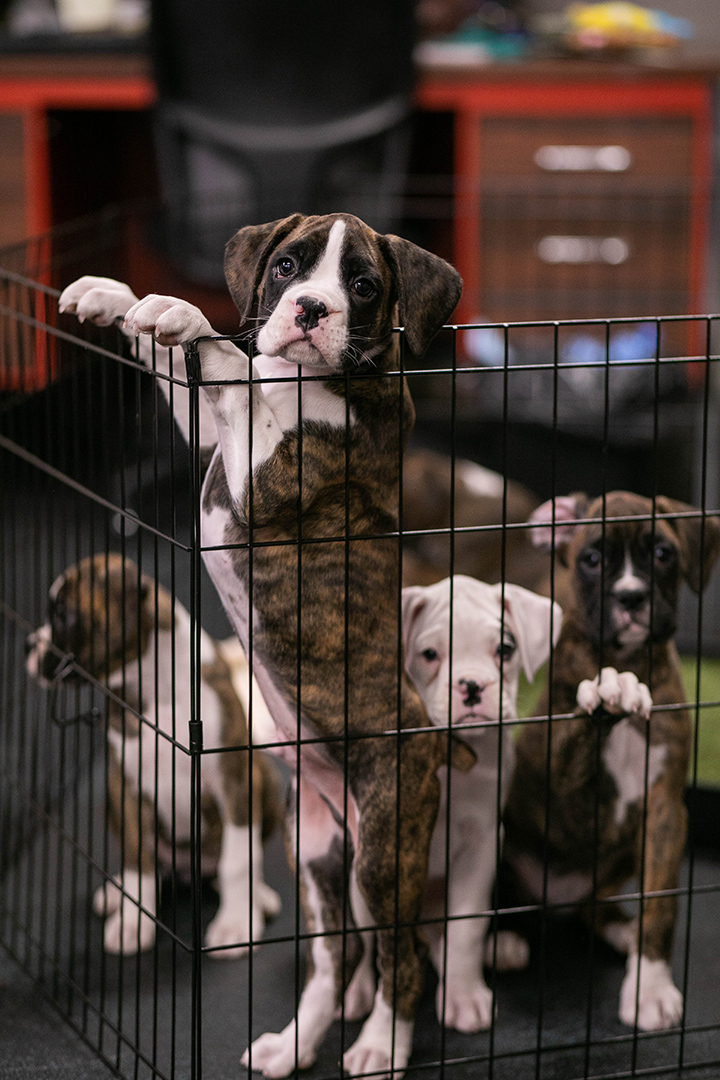 For Hueggenberg, she learned more about how to measure and feel a puppy's bones to determine their strengths and weaknesses.
"Having Dr. Penney there, she was able to give us information," says Hueggenberg. "For example, one of the puppies was a little weaker on one side than the other side, and she was able to tell us that and that it's going to balance out fine."
These evaluations are conducted sometime between seven and 11 weeks of age, shortly before puppies are scheduled to go to their new homes and usually after they've had their first set of vaccines.
Hueggenberg adds that these types of appointments offer peace of mind for owners. She adds that an appointment like this can help to prevent or predict a weakness before it becomes a larger issue.
"An ounce of prevention is worth a pound of a cure," says Hueggenberg. 
Hueggenberg and Conrick have done evaluations of their litters before, but nothing as thorough as what Dr. Penney offers.
"We're actually planning on doing it again [for future litters]," says Conrick.
In addition to the musculoskeletal exam, the puppies are also checked for heart murmurs and undergo a neurological exam. Penney says if they do find a minor musculoskeletal issue, it's fixed right in the appointment — if possible.
"We hope that by being proactive with these little guys, it might make them more comfortable and growing up a little bit better with less problems," says Penney.
"It was a really fun learning opportunity and we have nothing [to say] but good things," says Hueggenberg.
To learn more about the functional assessments for puppy litters, please contact the WCVM Veterinary Medical Centre's Small Animal Clinic (306-966-7126).