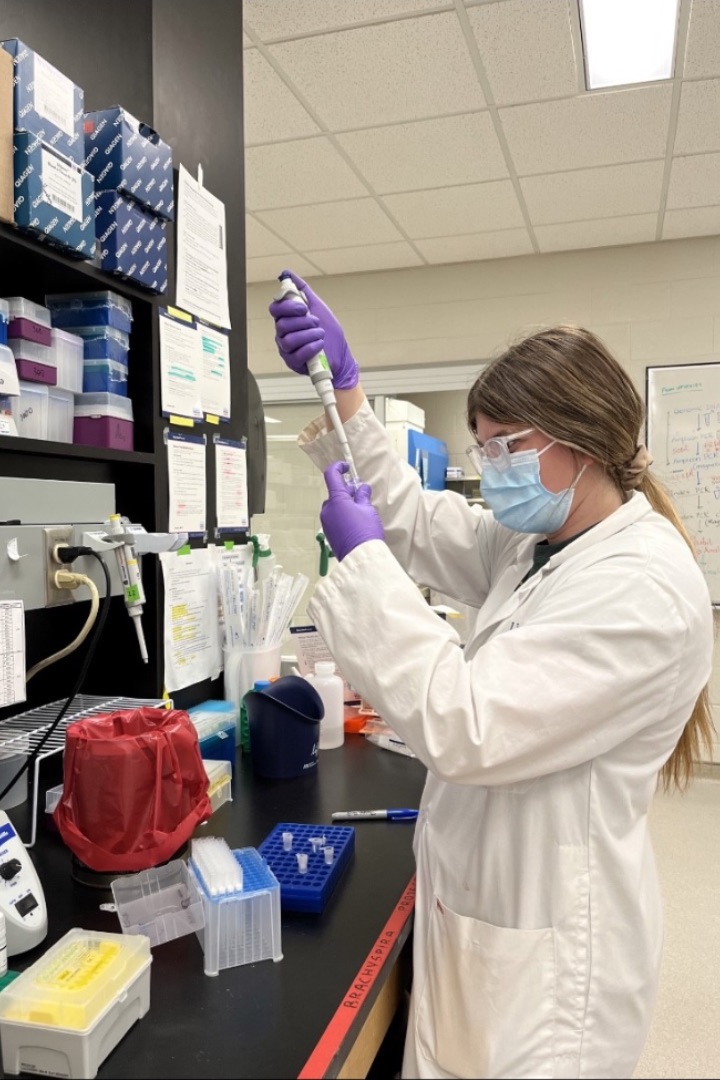 Last summer, I had the chance to delve into the fascinating world of veterinary ophthalmology research while investigating the microbiome — or community of microorganisms — that's found on the corneas of dogs.
My experience as a research student at the Western College of Veterinary Medicine (WCVM) has turned out to be one of the most enriching and rewarding journeys of my life.
Guided by Dr. Marina Leis, a renowned specialist in ocular health and surgery at the WCVM, I was immersed in the world of veterinary ophthalmology. Dr. Leis and her colleague, Dr. Lynne Sandmeyer, are both board-certified ophthalmologists whose expertise extends across various species. They both opened my eyes to the diverse challenges and possibilities in this field.
Our research project compared ocular microbiomes between dogs with healthy corneal biopsies and those with deep corneal ulcerations. To achieve this, I collected ocular samples from canine patients undergoing corneal surgery as well as from healthy dogs. Then we meticulously analyzed and compared these samples to reveal insights into the ocular surface microbiome.
The surface of dogs' eyes is inhabited by only a sparse population of microbes, unlike other mucosal surfaces. Conventional culture techniques can't fully capture the diversity present on the ocular surface, making it crucial to adopt alternative methods for comprehensive analysis.
To gain a more detailed understanding, our team used high-throughput sequencing (HTS) — a technique that allows us to detect all microbial DNA in a given sample. This approach gave us a deeper and more accurate picture of the microbiome present on the ocular surface, both in healthy and diseased states.
Dr. Leis emphasized the importance of rigorously controlled analysis — from sample collection to DNA sequencing — to ensure reliable results that differentiate a healthy ocular surface from an ulcerated one.
"There is such a low bacterial load on the ocular surface that this area is susceptible to the detection of contaminants," said Dr. Leis. "Having rigorous control groups at several levels of the analysis — from sample collection to sequencing of the DNA — helps to ensure we are measuring a true signal representative of a healthy ocular surface versus an ulcerated one."
During my summer research, another significant project involved collecting ocular swabs from clinical patients referred to the ophthalmology service at the WCVM Veterinary Medical Centre (VMC). I'm grateful to the dog owners who generously allowed their beloved pets to participate in this study.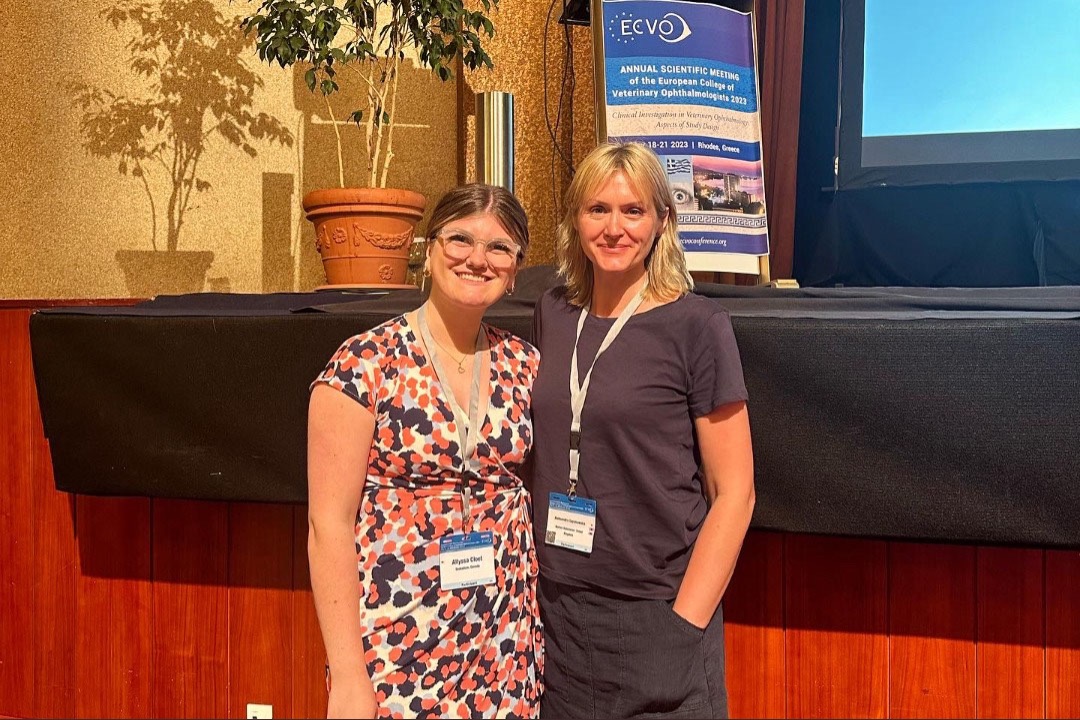 In this project, we focused on determining the presence of Streptococcus canis (S. canis), which is often associated with severe corneal ulcers in dogs. Our findings, which were recently published in Acta Veterinaria Scandinavica, indicated that S. canis might be more prevalent on the ocular surface of western Canadian dogs than previously reported by other research teams.
In May 2023, I travelled to Rhodes, Greece, for the European College of Veterinary Ophthalmologists (ECVO) conference where I presented our project's findings. In addition to sharing our results, this experience gave me the opportunity to engage with veterinary ophthalmologists from around the globe. Witnessing their pioneering clinical research and developments firsthand was truly inspiring.
The knowledge gained and connections established during this event have enriched my academic and professional journey in the field of veterinary ophthalmology.
Beyond the research experience that I gained, assisting Dr. Leis in surgery are among my most cherished moments of the summer. It was awe-inspiring to witness ophthalmology procedures for which precision and finesse are critical. I'm amazed at the level of skill and expertise involved in the delicate nature of operations such as conjunctival graft surgery and cataract surgery that must be conducted under an operating microscope.
Throughout my summer research journey, I gained invaluable knowledge, hands-on clinical experience and exposure to various laboratory techniques. There was never a dull moment and every day brought new revelations.
My passion for ophthalmology has only deepened, and I'm more determined than ever to contribute to this remarkable field in the future.
Allyssa Cloet of Hartney, Man., is a fourth-year veterinary student at the Western College of Veterinary Medicine (WCVM). Her story is part of a series of articles written by WCVM undergraduate and graduate students.