The skeletal ossification index (SOI) is a four-point grading system that generations of veterinarians have used to assess bony development in newborn foals and to predict their future conformation and athletic performance. 
Designed in 1988, this system uses film cassettes and one radiographic view of the knee (carpus) and hock (tarsus) for assessing a foal's bony development. It's especially used in cases where the foal is premature (gestation under 320 days), has a poor functioning thyroid (hypothyroid) or has a long gestation of over a year with signs of prematurity (dysmaturity).
While this method is widely used in clinical practice, it needs updating due to technological advancements over the last 40 years and the widespread use of digital radiographs (X-rays).
With the aim of improving neonatal foal management and their overall well-being, Card and her research colleagues are conducting a study that uses a four-view series of digital radiographs to re-evaluate the bone formation scoring system. 
Members of Card's team include Dr. Jasmine Gu, a board-certified radiologist at the WCVM, Dr. Maria Lopez Rodriguez, a WCVM field service veterinarian and reproduction specialist, WCVM large animal surgical resident Dr. Alannah Friedlund, veterinary student Brooke Tonkin and Garrett Beatch, and support staff at the WCVM Veterinary Medical Centre. Dr. Gillian Haanen, an associate veterinarian at Moore Equine Veterinary Centre Ltd in Calgary, Alta., is also part of the research team.
 This study is part of a large, multi-year research project at the WCVM that's led by Card. She and her team are examining congenital hypothyroidism and dysmaturity syndrome (CHDS) — a clinical disorder that arises when pregnant mares have foals born with an abnormal thyroid and a deficiency in thyroid hormone production.
Without iodine — a critical building block for the thyroid hormone — healthy skeletal development is disrupted, says Card. The SOI system helps veterinarians determine how severe the disturbance is to bony development in newborn foals.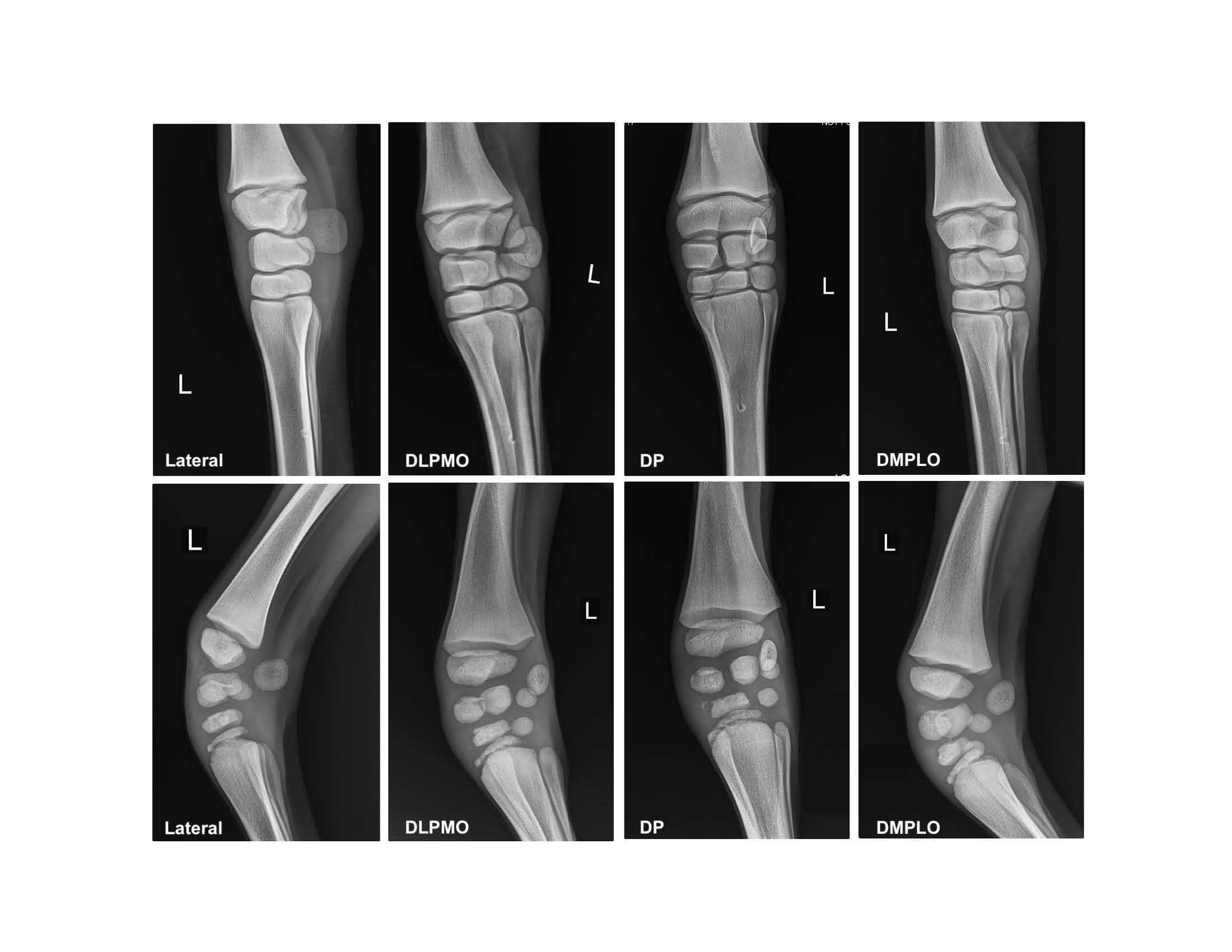 "The Prairies are known to have iodine-deficient soils and we found that salt blocks were not providing enough iodine to pregnant mares," says Card. "Additionally, we found that when pregnant mares were fed a low-iodine diet combined with feeding compounds from mustard plants (glucosinolates), limb contracture and disturbed bony development occurred in their foals — essentially reproducing CHDS."
Card adds that the study's findings fit with their field observations: pregnant mares may selectively eat the plants that contain glucosinolates or nitrates. Other sources of high nitrates could include dugout water and feeds from fertilized pastures. Another known source of nitrates is green oats, which was previously identified by WCVM researcher Dr. Andy Allen as a risk factor for CHDS.
 Foals diagnosed with CHDS can have a range of symptoms including long gestations, low body temperature, enlarged thyroid glands, a "monkey mouth" (lower jaw extending past the upper jaw), contracted limbs, ruptured tendons and poor development of the small bones in their knees and hocks. 
Card says high levels of ergot — a fungal contaminant of grass, forage and grain — and nitrate in a mare's diet also appear to be risk factors for the syndrome since both affect thyroid function.
"There has never been a systematic study of the radiographic features of these foals to help determine their prognosis in spite of the fact that they are a common reason for hospital admission for neonatal intensive care," says Card. 
But the processes affecting foal growth across the four groups — healthy foals, premature foals, CHDS foals and dysmature foals — differ fundamentally.
"Neonatal foals need a strong skeletal foundation to support their weight," says Card.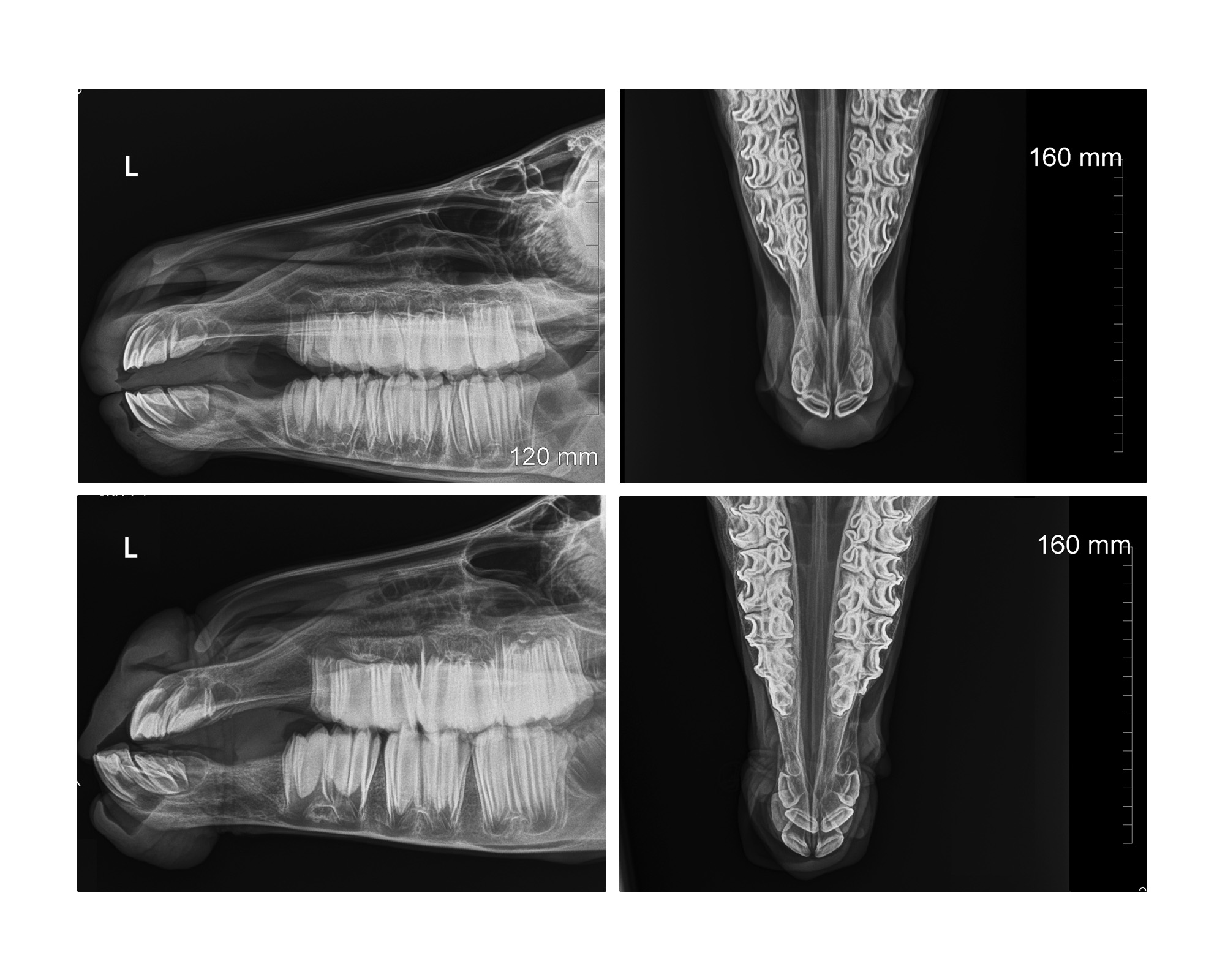 Premature foals typically display "underbaked" bones, which can potentially recover if given the chance. Management usually includes limiting affected foals' activity and any strain placed on their bones until they're sufficiently developed.
In contrast, foals with CHDS undergo changes that don't occur in the normal development process, and it's likely that affected animals won't recover after rest alone. For example, by taking skull radiographs, a dysmature foal with CHDS can be identified based on the diagnosis of "monkey mouth."
"Many horse owners have a substantial investment in their foal before it is born," says Card. Consequently, veterinarians are faced with a difficult decision between recommending euthanasia versus intensive care that comes with its own financial risk. She adds that the SOI system helps to inform this conversation.
Digital radiography produces higher resolution images that can undergo post-processing. Manipulating several aspects of these X-rays — such as contrast or size — allows researchers to perform a more comprehensive assessment. 
Veterinarians have observed bony lesions in the knees and hocks of some healthy foals. In these cases, the overall well-being and potential sale value of the animals may be affected. For clients who expect a certain performance level from their adult horses, this study may help to determine if particular foals that score lower on the bony development grading system are good investments.
"It takes many years of publishing research findings and presenting results to get the message out. [But] we feel like we are making progress," says Card. "This particular study on the SOI system will aid in the management of neonatal foals where we have to make life-or-death decisions."
This project is funded by the WCVM's Townsend Equine Health Research Fund and the Saskatchewan Agriculture Development Fund.
Brooke Tonkin of Kamloops, B.C., is a second-year veterinary student at the WCVM. Her story is part of a series of articles written by WCVM summer research students.