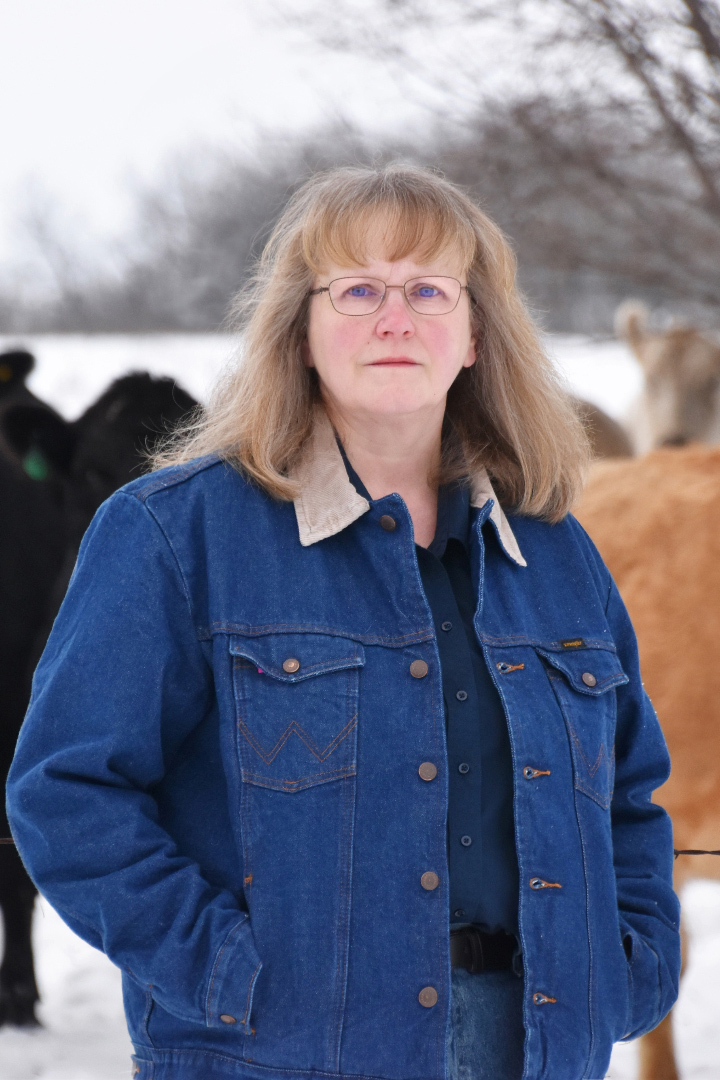 The Canadian Cow-Calf Health and Productivity Enhancement Network (C3H-PEN) is a surveillance and research network of cattle herds across Canada that will operate for five years from 2023 to 2028. Led by Dr. Cheryl Waldner (DVM, PhD), a professor at the Western College of Veterinary Medicine (WCVM), the network will serve as a "living laboratory" for 150 cattle herds across the country.
The network will help cattle producers and veterinary professionals understand the performance, management, health and disease, and economic viability of cow-calf operations nationwide.
"Surveillance and on-farm research provide critical information to producers, veterinarians and industry leaders to inform the management of disease risks that have an impact on animal health and productivity as well as important issues such as animal welfare and antimicrobial resistance," says Waldner, who also serves as the NSERC/Beef Cattle Research Council (BCRC) Industrial Research Chair in One Health and Production-Limiting Diseases at USask.
C3H-PEN will receive $1,378,350 in funding through the BCRC, Canada's national industry-led funding agency for beef, cattle and forage research. The network is one of 23 beef cattle-focused projects that will receive funding over the next five years from the BCRC in partnership with the Government of Canada's Beef and Forage AgriScience Cluster.  
C3H-PEN stems from the work of two previous cow-calf surveillance networks directed by Waldner and her WCVM colleague, Dr. John Campbell (DVM). From 2014 to 2017, the Western Canadian Cow-Calf Surveillance Network (WCCCSN) provided benchmarking productivity data and disease prevalence estimations for herds in Alberta, Saskatchewan and Manitoba. The Canadian Cow-Calf Surveillance Network (C3SN), which ran from 2018 to 2023, continued this work for herds but expanded to include cow-calf herds and producers from Eastern Canada. 
The two previous surveillance networks provided critical information for both livestock producers and veterinarians. 
"As a result of the WCCCSN and the C3SN, cow-calf producers have baseline data on herd health and productivity, antimicrobial use and resistance, trace mineral nutrition, vaccine use, factors affecting calf health and survival, and a number of important infectious diseases including Johne's, trichomoniasis, vibriosis and bovine viral diarrhea virus."
Dr. Reynold Bergen, the BCRC's science director, recently wrote an article about the value of having a national cow-calf surveillance network in place and listed some of the important findings recently gleaned from the C3SN initiative.
C3H-PEN builds on the work of the two previous networks while further examining how different environment and production styles have an impact on Canadian cow-calf herds.
Waldner says the new project will examine the diversity of the Canadian cow-calf industry, identify opportunities to enhance herd health and productivity within specific sectors of the industry, and analyze the economic impacts of varying herd management practices.
The surveillance network brings together collaborators from various backgrounds and perspectives. In addition to Waldner and Campbell, the team includes Kathy Larson, a research associate at the University of Saskatchewan's College of Agriculture and Bioresources; Dr. Claire Windeyer (DVM), an associate professor at the University of Calgary Faculty of Veterinary Medicine; and Dr. Marjolaine Rousseau (DMV), an associate professor at the University of Montreal Faculty of Veterinary Medicine. Jayce Fossen is the project co-ordinator for C3H-PEN.
The network will provide an opportunity for producers to share their experiences and promote the industry.
"This network will work with Canadian producers to learn how to best optimize reproductive, calving and calf productivity under a range of management conditions," says Waldner.
To support this research, the network's 150 herds will represent winter and early spring calving herds as well as late spring and early summer calving herds from across Canada. The network is also looking to recruit a range of more and less intensively calved herds, including those calved in barns and small pens, and those calved on large pastures.
Researchers can then investigate how producers can improve outcomes for more extensively managed, later calving herds as compared to earlier calving herds that are more intensively managed.
"The C3H-PEN will help answer questions related to reproductive performance, winter feeding practices and preweaning calf survival — three key factors affecting economic viability," says Waldner.
Participating cattle producers will be asked to share important health and productivity data after calving and after weaning. They will also be asked to complete one survey per year that gathers data on specific management practices of interest to the industry including feeding in the face of climate extremes such as drought. As well, they will answer questions about extended grazing, environmental management, animal welfare and antimicrobial use.
The nationwide network of herds will also provide more in-depth research opportunities for subsets of participating cow-calf producers who will be recruited to share their stories through interviews at various times during the study and to collect biological samples with help from local veterinary clinics.
Researchers will work with these smaller groups of participants to explore more detailed research questions about improving calving outcomes — information that will enrich the team's findings gathered through producer surveys and production records.
Because cow-calf production is among Canada's largest livestock sectors with over 53,000 operations across the country, the surveillance network's outcomes will help to further address industry concerns and help strengthen the beef industry, says Waldner.
"The knowledge we gain from the network will improve our overall understanding of beef production and support sustainability," says Waldner.
"It will contribute to the international competitiveness of Canada's beef industry and will help address questions from the public, retailers and food service partners. Improvements to animal productivity will also contribute to our industry's environmental performance." 
The C3H-PEN network plans to recruit cow-calf producers for the project this fall. The network is seeking both participants with early and later calving herds as well as producers who use a range of management styles. 
Please contact c3h.pen@usask.ca or cheryl.waldner@usask.ca if you are interested in participating in the C3H-PEN project.