"Data left in the field are dollars left in the field" aptly describes the mindset of University of Saskatchewan (USask) researchers who are experimenting with "smart farm" technology at the Livestock and Forage Centre of Excellence (LFCE).
Smart farming refers to digital technologies and tools that allow crop and livestock producers to optimize their food systems.
Led by Dr. Jaswant Singh, a professor from the Western College of Veterinary Medicine (WCVM), the research team is working with various companies to test the effectiveness of technologies that are now available to the beef cattle industry. These tools are designed to collect data for livestock producers so they can make informed management decisions without the need for human intervention.
"In Canada … we have very expansive systems, where one farmer would have a ranch of 300 to 1,000 animals but only two family members to look after them," says Singh, a reproduction specialist in the college's Department of Veterinary Biomedical Sciences. "To gather the data, we need to have technologies that can give us all those inputs without human intervention."
Today's beef producers rely heavily on the physical characteristics of their cattle to help them make important animal selection decisions. However, many other factors beyond these phenotypic traits need to be considered — factors such as grazing preferences, calving difficulties and mothering ability.
Although these characteristics can be much more difficult for livestock producers to monitor and quantify, technologies are available that can do the work for them. Singh and his team are investigating some of those technologies — including heat detection devices, smart weigh scales, hyper-spectral cameras and GPS ear tags — on cattle at the LFCE.
For example, a "gomer bull" (a sterile bull used to detect when a cow is in estrus or heat) can be fitted with a heat detection collar that detects when he mounts a cow and then identifies the specific cow being mounted using proximity sensors that detect her ear tag. The information is then uploaded using LoRaWAN (long-range wide-area network system) technology, even when the remote pasture may not have cell phone coverage.
Researchers and producers alike can use heat detection devices to determine the optimal timing of artificial insemination or the point of postpartum when cows resume their cycles.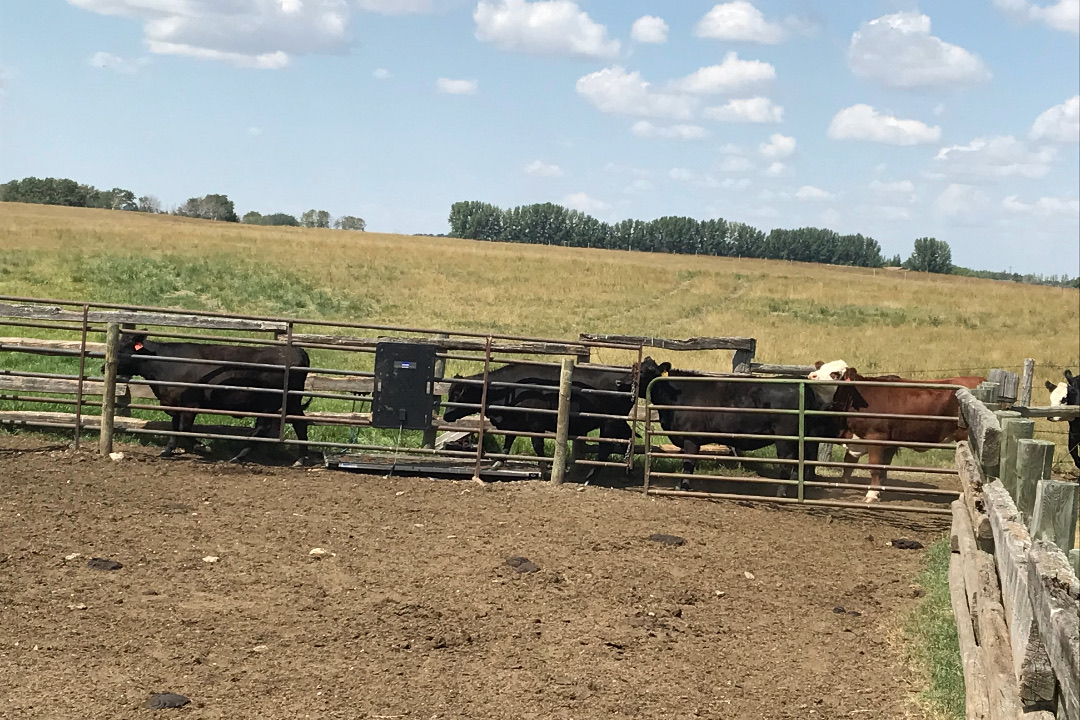 As well, scientists can use a smart weigh scale to identify an animal by reading its radio frequency identification (RFID) tag as it passes over the scale. Once the scales are placed in highly travelled areas, they can regularly track the weight of the animals and determine their daily body weight gains.
Since calves are now typically weighed only twice — shortly after birth and then again at weaning — technology such as the smart weigh scale will increase the information available to producers.
Cameras are another important tool that producers can use for tasks such as monitoring behavioural characteristics of specific animals and quantifying these characteristics through artificial intelligence (AI).
"We are going to physically characterize their mothering ability but then have the cameras also record the behaviour of the animals," says Singh. "Then by using artificial intelligence … the cameras will take over at some stage."
The camera recordings will help to quantify behavioural traits so cattle producers can rely on individual animals' scores to make management decisions without having to regularly observe the desired behaviours — such as cows demonstrating good mothering traits.
GPS tags can also be used to track each animal so producers can combine that information with details about forage in a particular pasture to ensure the cattle are grazing in the areas with the best nutrition.
These technologies can provide valuable information that producers can use to make informed management decisions for their livestock operation, but farmers still need to understand them and then determine the tools that work most efficiently for their operations.
To help with those decisions, Singh and his research team are focusing on technologies that will improve a producer's economic gains, and they're performing economic analysis benchmarking of the various technologies as part of their investigations.
"The beauty of the LFCE is that we have invested in these technologies, and we are making the platform ready so that companies can come here and test whatever algorithms they have developed," says Singh. "This will validate company claims to ensure the products they are developing are a worthwhile investment for livestock producers."
In addition to increasing farm income, smart farm technologies provide other benefits that include improved animal welfare, reduced animal handling and decreased manual labour.
Wellness is a very important component of the technologies; many of the tools can detect illness, lameness or weight fluctuations — important information about the welfare of the animals.
In addition, specific technologies are designed so they provide low-stress methods or no-stress methods for producers to gain information about their animals. By minimizing the need for producers to handle the animals, these tools can greatly reduce the stress to the cattle.
Less chute visits also mean less manual labour. Producers constantly struggle to find skilled workers, but if they can rely more on technology and less on people, they can manage their operations more efficiently.
As Singh and his research team investigate the various technologies, they're also looking to ensure that the tools and the information they provide are easily accessible and useful to the producers.
"There is a specific company in town that is specializing in integrating all the data from different platforms … so that I don't get messages from 10 companies on 10 different aspects," says Singh.
The researchers anticipate that the development of this type of unified platform will enable producers to manage many aspects of their farms using both animal-smart farm technologies and pasture-based technologies.
The Saskatchewan Agriculture Development Fund (ADF) provided financial support for this research project. The study is part of IntegrOmes (Integrated omics for sustainable animal agriculture and environmental stewardship), a $17-million-dollar research initiative that's based at the LFCE.
Kathrin Waeckerlin of Meacham, Sask., is a second-year veterinary student at the Western College of Veterinary Medicine (WCVM) who worked as a summer research student in 2023. Her story is part of a series of articles written by WCVM summer research students.