"My motivation to be a veterinarian started out from simply being a child who loved animals," says Santos, now a first-year student at the Western College of Veterinary Medicine (WCVM). "But my drive for veterinary medicine only grew stronger as the years went on and as I gained more knowledge and experience with the profession."
During high school, Santos began volunteering at a local veterinary clinic, and over the years she enhanced her experiences with animals by volunteering at an animal shelter and a hobby farm as well as two other local clinics.
Santos is particularly grateful for the mentorship of Dr. Toni Moritz (DVM'19), a WCVM alumna based at Winnipeg's Whyte Ridge Veterinary Hospital. Moritz involved Santos in her appointments and surgeries and cheered her on as she strived to accumulate more knowledge and experience in the veterinary field.
Moritz and the other clinicians also provided opportunities for Santos to observe and work with the multiple exotic species that were brought to the Winnipeg hospital for various needs.
"Learning about all of the different techniques, handling and routine treatments that these exotic animals required was fascinating and piqued my interest in possibly working with exotics in the future," says Santos.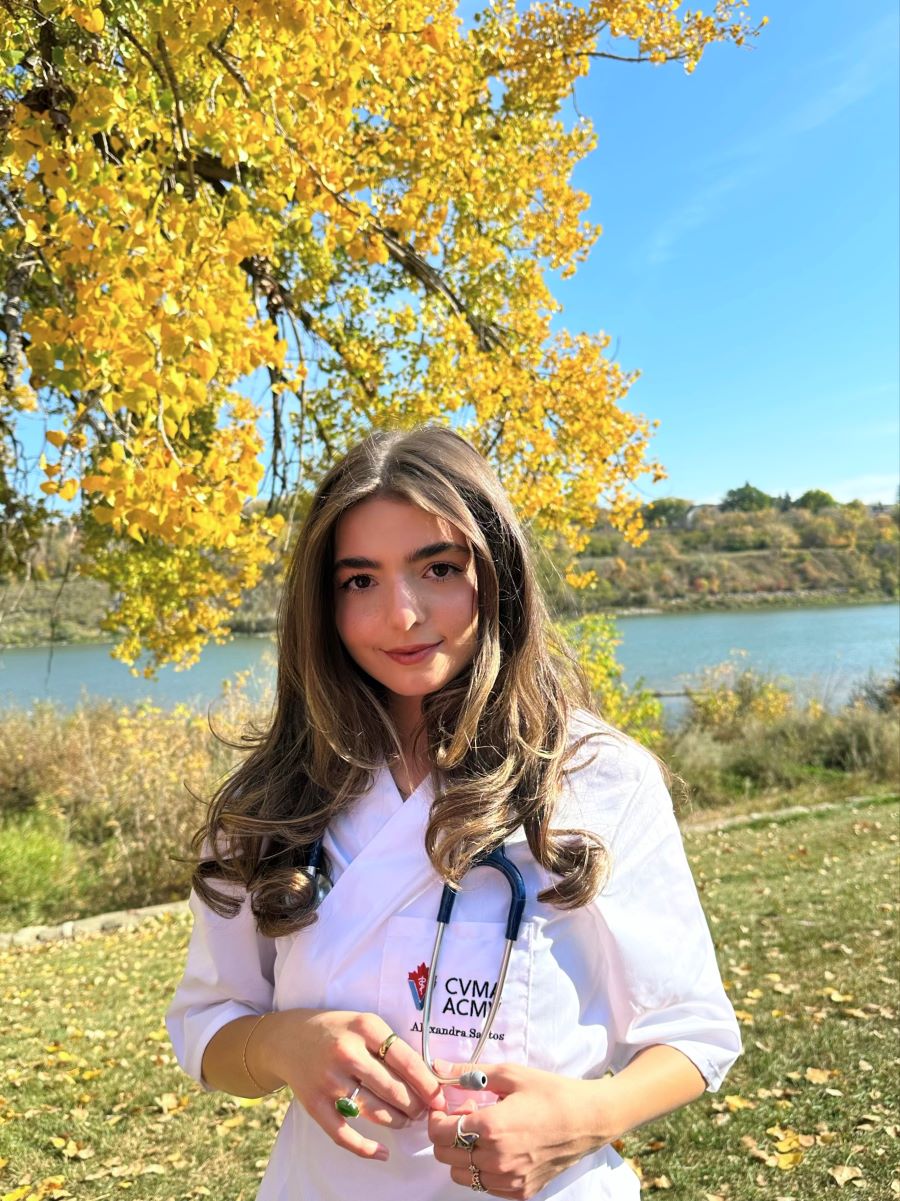 While completing a Bachelor of Science degree at the University of Winnipeg (UW), Santos was active in the UW Pre-Veterinary Club and attended seminars, meetings and events that increased her commitment to a veterinary career.
In addition to her work with animals, Santos is an active member of Winnipeg's Portuguese community. She has volunteered and danced at the Casa Do Minho Portuguese Centre for the past 12 years, and she continues to represent her Portuguese culture by performing at events, fundraisers and festivals throughout Manitoba.
Santos appreciates that her mother, a Portuguese immigrant, and her father, a Brazilian immigrant with Portuguese roots, have instilled in her the importance of preserving the culture that has moulded who they are.
"For as long as I can remember, my Portuguese culture has been at the heart of who I am, and as I have matured, it has only become an exceedingly greater part of my life," says Santos. "Through the centre, I have been able to connect with other Portuguese young people in my community who are motivated to share our cultural heritage with others and keep our culture alive in Manitoba."
Santos especially enjoyed participating in Winnipeg's annual Folklorama — a chance for her to share her culture through nightly dance performances while learning about and embracing the cultures of the other participating nations.
Santos also had a keen interest in competitive soccer and played in the Winnipeg Women's Soccer League for several years. She hopes to join a recreational team in Saskatoon as a means of maintaining a healthy school-life balance, getting some exercise, meeting new people and playing the sport she loves.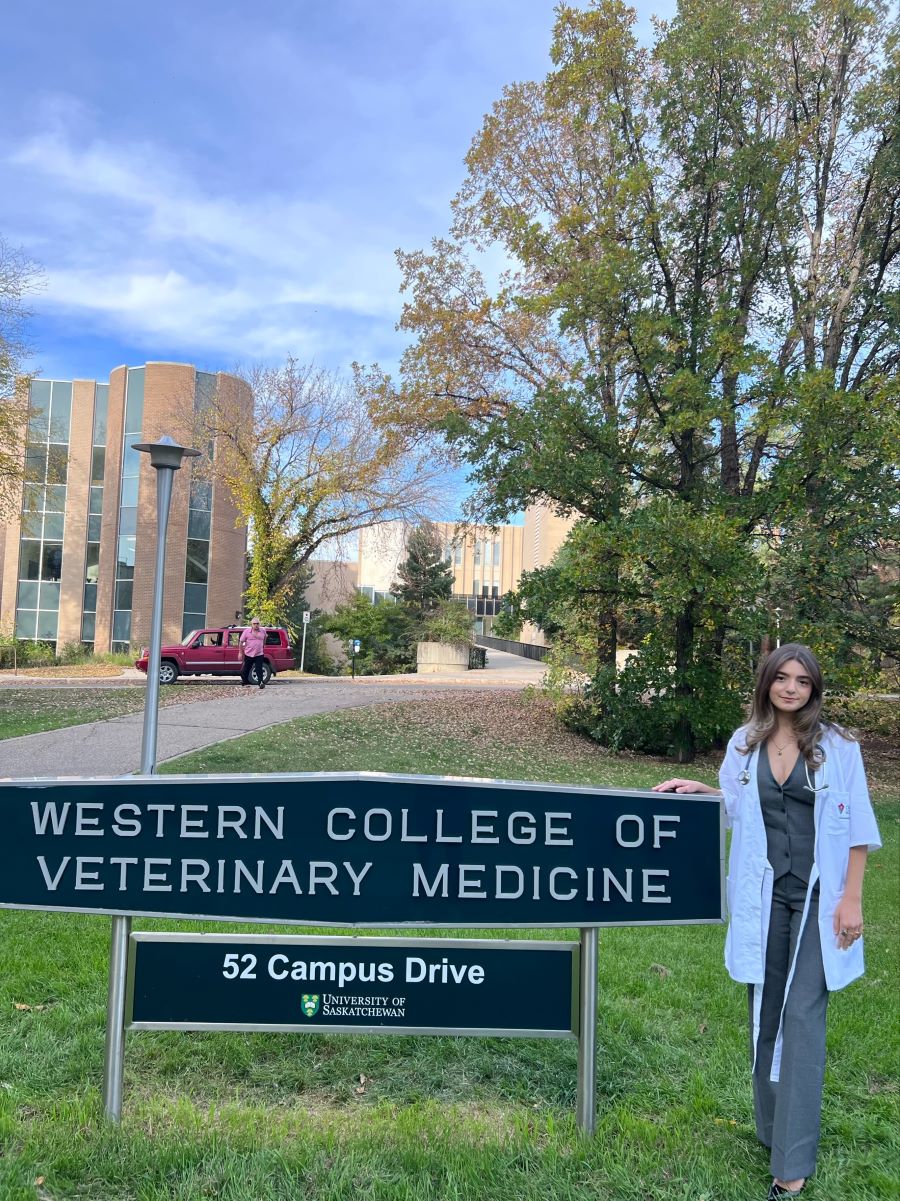 When Santos looks back on the people and experiences that have helped her achieve her dream of a veterinary career, she's especially grateful for the unwavering support of her parents over the years, and she appreciates all the times they have helped her cope with the stress and the sleepless nights of studying.
"Although neither of them had attended university or knew how to navigate the process of applying to vet school, they have always been my biggest supporters," says Santos. "They have done their best to give me all of the opportunities that they didn't have when they were younger and put me in the position to pursue my dream."
Since Santos began classes at the WCVM in August, her favourite experience has been participating in the bovine labs, and she looks forward to more hands-on animal labs and new experiences working with animals.
While Santos has no specific plans for her future veterinary career, she's interested in returning to the Winnipeg area for potential employment in a mixed animal practice or in a small animal clinic that accepts exotic patients.  
"I do love working with exotic animals and learning more about them as it proves to be a bit of a challenge sometimes, so I hope to fit that in somewhere," says Santos. "I also hope to begin to get involved in pro bono veterinary work in my community in some way."