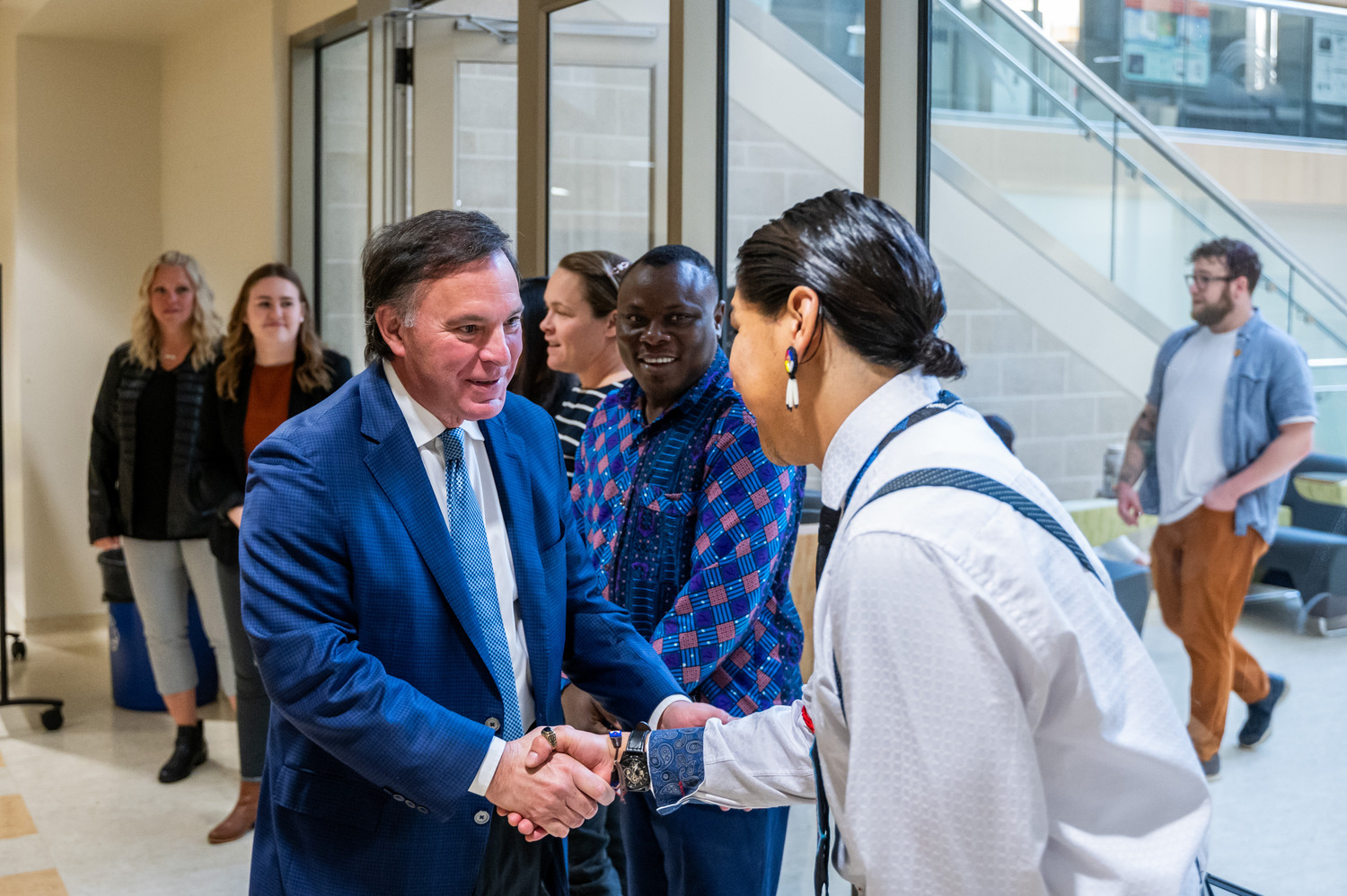 The event kicked off with a welcome from CGPS Dean Debby Burshtyn, who shared her enthusiasm for the high-caliber research conducted at USask.

The Minister of Advanced Education, the Honorable Gordon Wyant, attended at the showcase and had the opportunity to speak to researchers about how their research contributes to a brighter future for Saskatchewan.

"All of you here represent the promise of what lies ahead," said Wyant, "And your hard work will shape our province for the better and I thank you for that."

Dr. Baljit Singh, USask's Vice President Research, also attended the event and spoke about the impacts of USask's research, scholarly, and artistic achievements on Saskatchewan's future. "The work that we do is to make life more prosperous, more sustainable, more resilient, and better for the communities who have been marginalized over history," said Singh.
Cody Koloski, a PhD student and Vanier scholar who spoke at the event, was eager to highlight the top-notch research talent at the university, "We have world-class researchers here at USask who are experts in their fields," said Koloski, "That's why I came here."

As part of the Maarten Voordouw Tick and Lyme Lab, Koloski works with tick and animal models under Dr. Maarten Voordouw. Ticks and the pathogens they carry are an important area of study, as Canada continues to see an increase in Lyme Disease cases. "I was excited to speak at the event because tick research is important and many people are impacted by tick-borne pathogens," said Koloski, "I'm glad I get to shine a spotlight, on not only my research, but our research program here at the lab as well."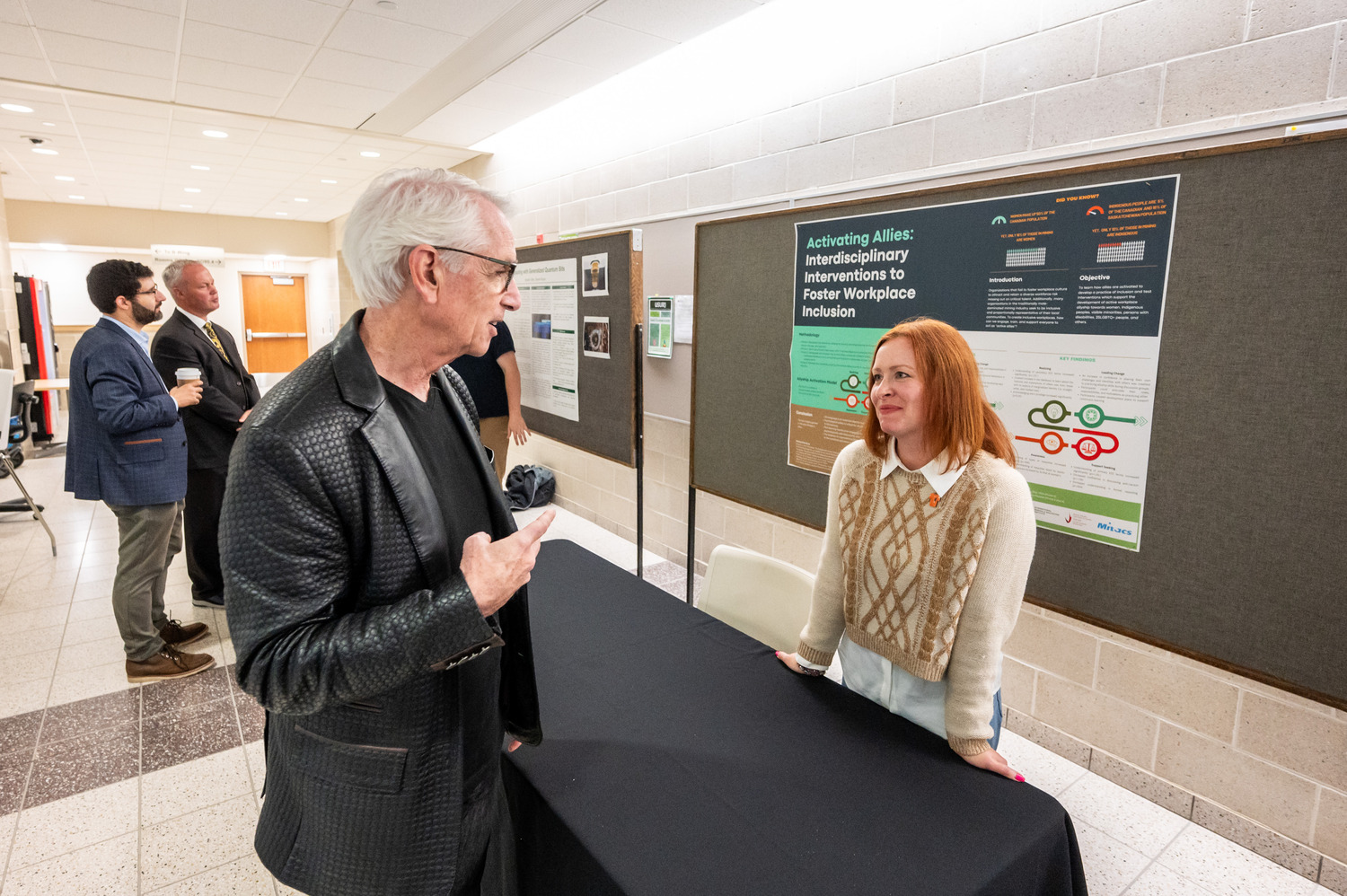 For Jocelyn Peltier-Huntley, the showcase offered an opportunity to share about her experience as a PhD candidate whose research spans across multiple disciplines. Peltier-Huntley's work with her supervisors, Dr. Jeanie Wills and Dr. John Moffat in the Ron and Jan Graham School of Professional Development (College of Engineering) focuses on empowering individuals to create more inclusive workplaces for those who may be underrepresented.

"When we get together across interdisciplinary studies, people are working on such vastly different projects, trying to solve some of the big challenges that exist in our society and our world right now," said Peltier-Huntley.

Peltier-Huntley earned the Vanier Canada Graduate Scholarship in 2021 for her research surrounding allyship in the workplace. This funding, along with support from the International Mineral Innovation Institute and Mitacs, helped her pilot a training program for the College of Engineering and has now expanded the training within the mining industry throughout the province.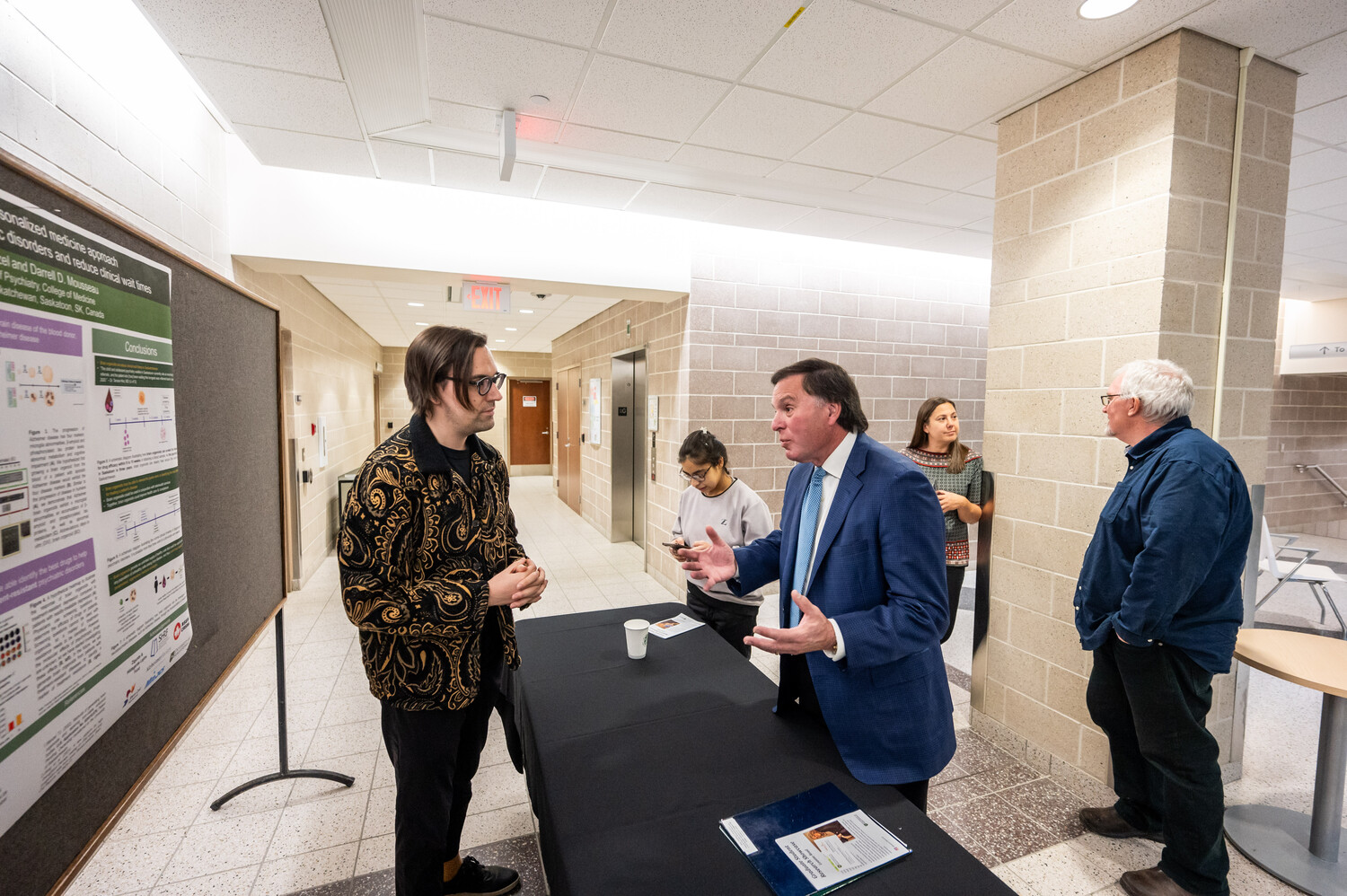 Dr. Tyler Wenzel, a postdoctoral fellow co-supervised by Dr. Darrell Mousseau (Department of Psychiatry, College of Medicine) and Dr. Jane Alcorn (College of Pharmacy and Nutrition), was looking forward to the opportunity to share his research with the distinguished guests in attendance.

During his fellowship at USask, Wenzel invented a technique that takes stem cells from a small blood sample to grow miniature copy of an individual's brain. Under the supervision of Dr. Mousseau, Wenzel has been working to determine how this revolutionary technique can be used to diagnose brain disorders, such as Alzheimer's disease, and identify potential treatments.
"I was honoured to be invited to talk in front of the Minister and other stakeholders. But, importantly I was also excited to be able to show that the research at USask will improve healthcare across Saskatchewan from reducing clinical wait times to improving rural healthcare," said Wenzel. "This technology, which was invented here in Saskatchewan, was only made possible by a philanthropic donation by a private Saskatchewan donor and support from the provincial government."
The Graduate Student Research Showcase featured fifteen USask researchers who contribute to USask's Signature Areas of Research. The Master's students, PhD students, and postdoctoral fellows who presented their research at the event demonstrated what USask does for the people of Saskatchewan through research, scholarly, and artistic work.