Itogawa's father was the ranch foreman at Gapview Ranch, and he relied on horses to treat, move and sort cattle whenever possible; Itogawa has wonderful memories of working with him on jobs such as checking cows and roping calves for branding.
"I loved how my dad and I could always tell each other's minds and get a job done effortlessly, how proud I felt when I was the only girl roper in the branding pen or the joy of pulling a live, healthy calf," says Itogawa, now a first-year veterinary student at the Western College of Veterinary Medicine (WCVM).
"My father, along with neighbours and friends, taught me how to ride horses, to train horses, to rope and to read cattle behaviour."
While everyone working on the ranch felt like family to Itogawa, she was especially close to ranch owner Stuart Morison who was like a grandfather to her. He encouraged her to become a veterinarian from the time she was little, and he supported everything she did to follow that dream.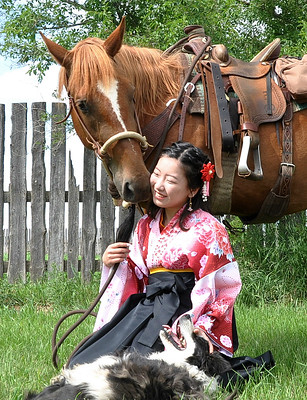 Itogawa began volunteering at Stoughton Veterinary Services while she was in high school, and she loved working with the friendly, helpful staff — particularly clinic owner and WCVM alumna Dr. Anne Kernaleguen (DVM'78) who became a valued mentor to her.
"She explained procedures, answered all of my questions, let me help out and gain as much experience whenever possible," says Itogawa who eventually worked full time as a summer student at the clinic. "She'd take me to emergency or farm calls or let me listen to heart murmurs. She's incredibly kind, patient and goes above and beyond for her staff, clients, patients and students, which makes her the best role model."
During high school, Itogawa decided to follow in her father's footsteps and try her hand at training ponies. Listening to her father's advice, she started out by working with a miniature pony so that "in case I got bucked off, I wouldn't have too far to fall."
As Itogawa gradually learned how to listen to each horse's unique body language, she developed different approaches to teaching different horses until she had acquired her own training style. While she needed a lot of patience, she really enjoyed the "aha" moments when both she and the pony came to a mutual understanding.
"My ponies were wild at the Candiac Auction Mart, but by the time I sold them, I could rope calves off them, open and close gates without getting off and hula hoop on top of them bareback," says Itogawa. She adds that she also took pleasure in selling them to families and watching kids feel that spark of interest and excitement with a pony she had just trained.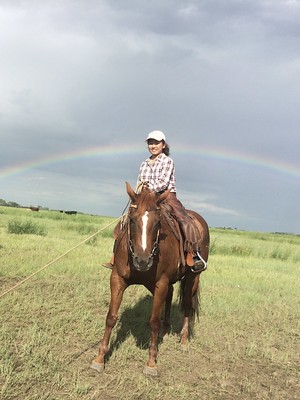 After high school, Itogawa completed two years of the Bachelor of Science in Animal Bioscience program at the University of Saskatchewan's College of Agriculture and Bioresources before being accepted at the WCVM and starting the Doctor of Veterinary Medicine (DVM) program in August.
So far, Itogawa's favourite course has been anatomy – mainly because it's straightforward and satisfies her curiosity about the inner workings of an animal. She looks forward to making many new memories with her classmates over the next four years and hopes to develop lifelong friendships.
Once she completes her veterinary training, Itogawa anticipates working at an established clinic, probably a mixed practice or an emergency clinic because she's attracted to the diversity they offer.
"I think I would love the challenge of new or different cases and just the feeling of 'you never know what's going to come through the doors' sparks a lot of excitement for me," says Itogawa.
She also looks forward to continuing her work with cattle and horses. Wherever she ends up, she hopes to experience that same sense of community that she enjoyed during her childhood.
"I want to have my own horses that I train and maybe some cattle that I can come home to after my vet job," says Itogawa. "In any case, I don't plan to pass up any opportunity to go to brandings, help neighbours move or sort cattle on horses, or even just go on a trail ride."