Yang was a child when her family immigrated to Canada, and during high school in Langley, B.C., she began pursuing her dream of a veterinary career by volunteering at a local cat shelter and at Brookswood Veterinary Hospital. She was greatly influenced by the clinic owner, Dr. David Marlow, who was instrumental in her decision to continue working toward her career goal.
"I witnessed Dr. Marlow's empathy and ability to make veterinary medicine accessible to clients from diverse backgrounds," says Yang, now a first-year veterinary student at the Western College of Veterinary Medicine (WCVM). "He inspired me with the attitude of service and leadership he holds for his community, and he continued to mentor me during university — sharing advice on what it means to be a good leader, practice owner and veterinarian."
Yang was also active in the Langley community, working as a recreation leader in charge of designing educational programs for children. She continued her involvement by joining a number of student and university organizations once she entered the Bachelor of Science program at the University of British Columbia (UBC).
"My different involvements at UBC helped me to find my community at a large university, explore different interests and form some of my closest friendships," says Yang, who particularly enjoyed her experiences with the UBC Pottery Club. "I learned to throw pottery from some very talented students, and it's been a creative outlet for me when school gets stressful."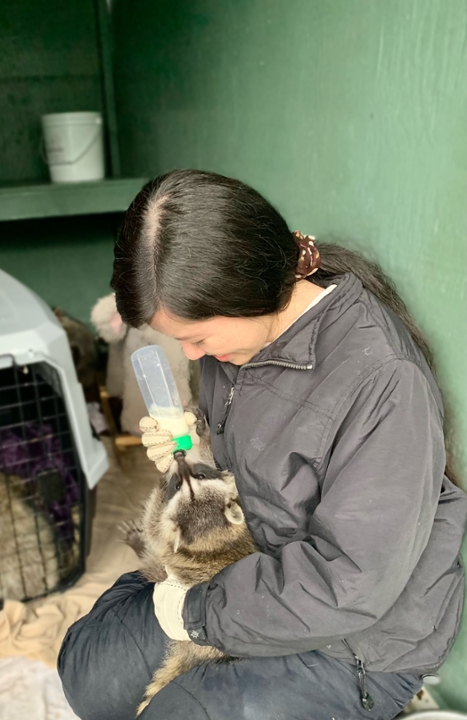 Yang also worked as a residence adviser for UBC Housing, and she enjoyed supporting first-year students during their transition to university by providing personal guidance and organizing community events.
With the goal of diversifying her experience, Yang also sought opportunities to work with a variety of animals. While volunteering at Critter Care Wildlife Society, she cared for various wildlife species and gained an appreciation for the hard-working volunteers who were involved in wildlife rehabilitation.
When Yang had a volunteer opportunity to train rats for a project in UBC's Animal Welfare Program, she jumped at the chance to expand her knowledge. The experience had a profound impact on her; she became intrigued by the idea of research — the concept of asking questions that could add to the current scientific knowledge.
Yang's interest in research led her to a summer job at the WCVM where she worked as a research technician with Dr. Matheus Costa, an assistant professor in the college's Department of Large Animal Clinical Sciences who specializes in swine medicine, health and production.
"Dr. Costa was the first to guide me through the process of experimental design, helping me to gain independence and confidence in the research environment," says Yang. During her research experience, she grew cell cultures in the laboratory, worked with pigs for the first time and eventually presented a research poster.
"As a DVM and PhD, Dr. Costa also revealed the diversity of careers in veterinary medicine and the concept of One Health — how a strong animal science background can be applied to improve the relationship between animals, humans and the environment."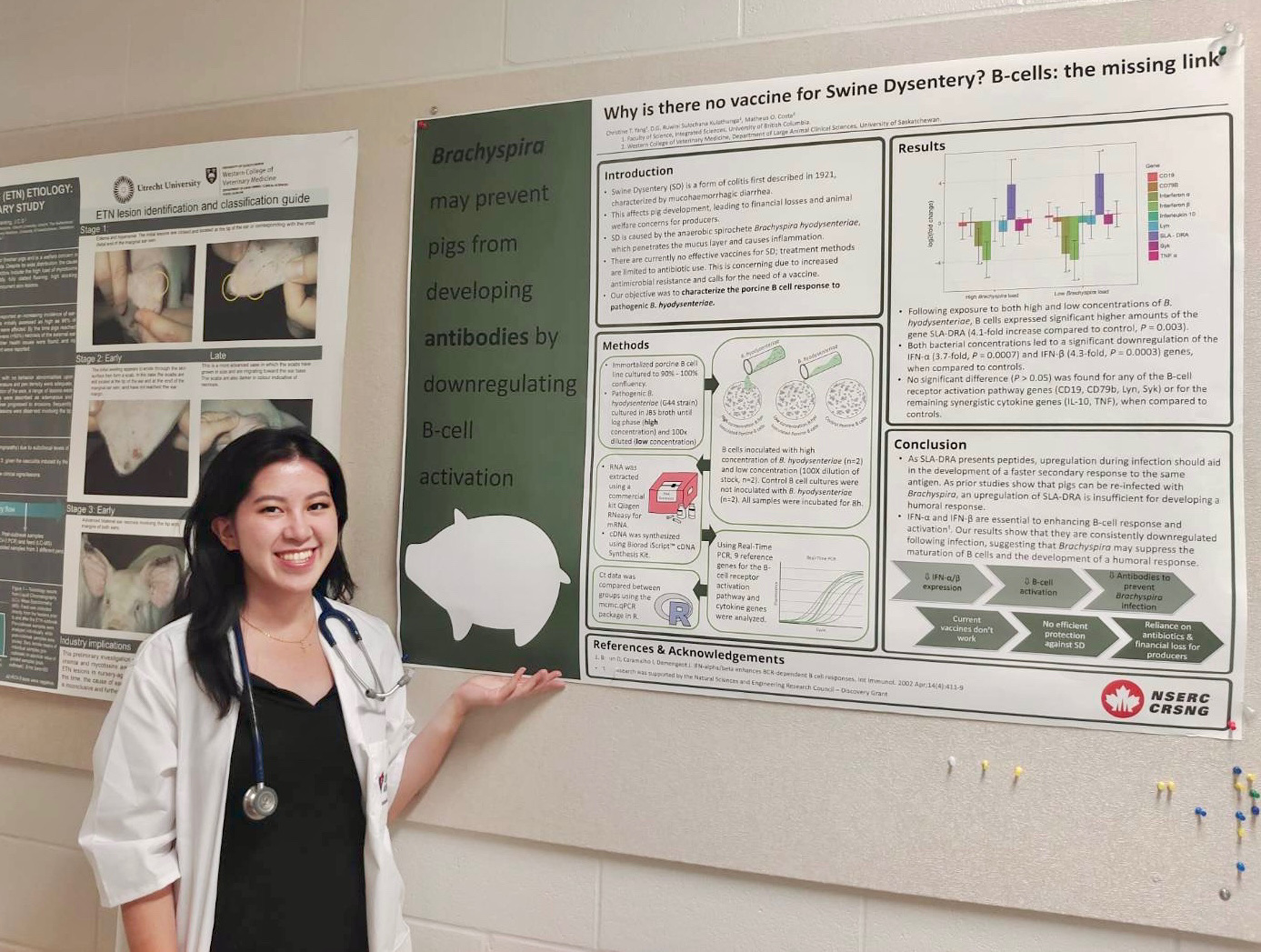 Yang continued her involvement with research when she returned to UBC. She joined a lab at the International Collaboration on Repair Discoveries (ICORD), a research centre focused on spinal cord injury. She witnessed the translation of knowledge from preclinical to clinical research and engaged with both rodent models and human patients. During her co-op year, Yang also participated in a project that used rodent models to study wild mushrooms for potential antidepressant compounds.
After completing four years of her undergraduate degree at UBC, Yang began her veterinary studies at the WCVM in August. So far, she's particularly enjoying the anatomy class as well as the opportunities to practise clinical skills on large animals.
"As someone who's been more focused on the small animal side, I'm excited by the variety of animals that we get to work with in the program," says Yang. "I also think it's fascinating to learn about the diverse animal experience types our classmates bring with them to vet school."
Yang knows she has a lot to learn and experience during her veterinary program, and she's considering several options after graduation, including a residency in laboratory animal medicine, a position at a small animal clinic or an involvement in academic research.
She credits her research experiences for helping her to learn about the many ways in which laboratory animal medicine and veterinarians in academia are contributing to scientific advancement.
"My time in the research field has fostered my appreciation for veterinary medicine and its practical applications to One Health," says Yang. "Even when I was uncertain that I wanted to work in private practice for my whole life, I knew that my passion for veterinary medicine could lead to a variety of fulfilling careers that would make a difference."