With the World Health Organization confirming that the new strain of coronavirus, SARS-CoV-2, continues to spread rapidly (more than 114,000 people infected in 110 countries and more than 4,000 deaths as of March 10), VIDO-InterVac researchers have successfully grown the virus in a cell culture and are now testing a new vaccine in animals as part of the global effort to combat the coronavirus threat.
"The virus continues to spread, with more cases and further geographic reach than what was initially anticipated," said Dr. Volker Gerdts (DVM), director and CEO of VIDO-InterVac, which received approval in early January from the Public Health Agency of Canada to work with this new strain of coronavirus. "I think the world is preparing for a scenario where this coronavirus will continue to appear over the next few years. I don't think this is going to go away like SARS-1 did.
"We are working with the World Health Organization, and I attended a meeting in Geneva to lay out the blueprint for this disease (COVID-19) and the research that needs to be done."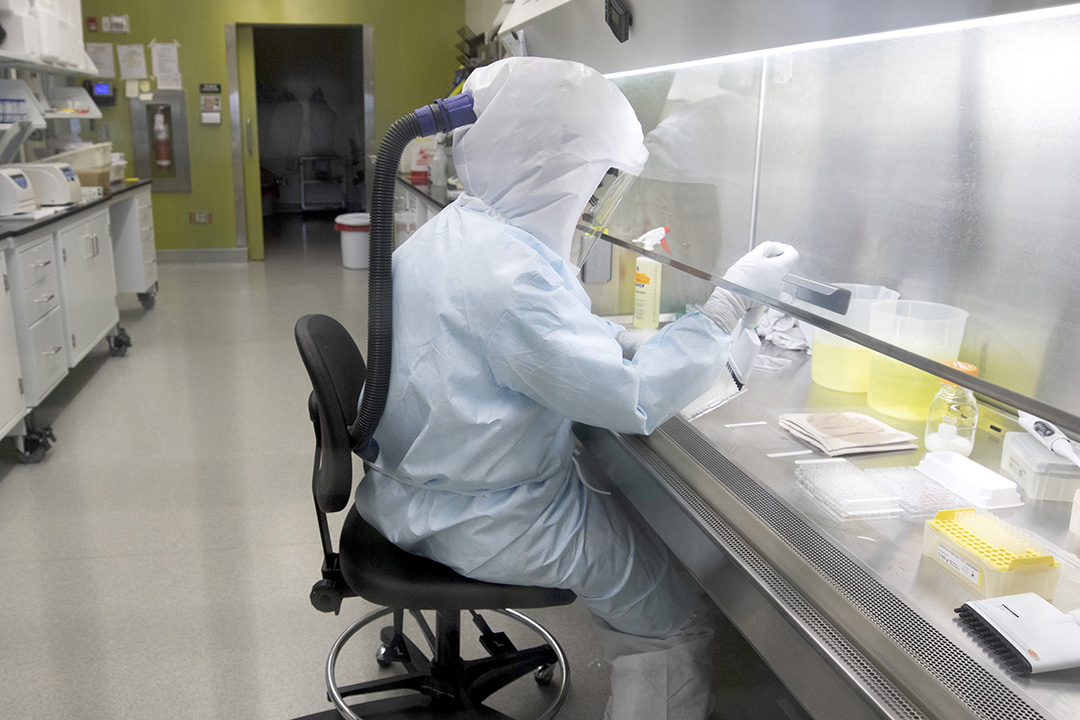 Scientists at universities and research facilities across the country and around the world are working on the coronavirus outbreak, with VIDO-InterVac collaborating with a number of labs at home and abroad, including the National Microbiology Laboratory in Winnipeg. Gerdts said VIDO-InterVac—one of only a handful of labs in the world that currently has been able to isolate the virus—is taking a leading role in the global fight against coronavirus.
"We are very well-positioned for this," said Gerdts. "We are one of the few facilities approved to work with it. There are a lot of labs and a lot of people with ideas, but there are only a few labs like ours that can actually do the work. VIDO-InterVac is one of the largest Level 3 high-containment facilities in the world. There are four pathogen levels, and SARS-CoV-2 requires Level 3 containment."
While testing is still in the early stages, Gerdts said they hope to have an indication by early April whether the vaccine generated at VIDO-InterVac is successful in protecting against the infection. Gerdts said it would likely take another six months of testing, development and manufacturing before the vaccine would be ready to go into clinical testing.
"We have worked on other coronaviruses, including MERS and SARS, and coronavirus infections in cattle and pigs," said Gerdts. "We have developed two coronavirus vaccines for animals, so based on our expertise and knowledge, we believe that our approach may work with this outbreak."
With additional staff and resources already re-allocated for the coronavirus research, Gerdts is looking for more funding to prepare for the next phase of clinical human trials. This includes current efforts to build a pilot-scale manufacturing facility within VIDO-InterVac's Level 3 containment facility.
"Current manufacturing capacity for vaccine development is extremely limited in Canada," he said. "We want to build a manufacturing facility that allows us to manufacture vaccine candidates and take them into clinical testing for humans and for animals. We recently received funding to start Phase 1 of the VIDO-InterVac manufacturing facility. We need another $10 million to fully establish the manufacturing facility to industry standards. Once established and fully operational, the manufacturing facility could also play a role in Canada's emergency preparedness for this and other emerging infectious diseases."
In addition to combating the coronavirus outbreak spreading through the human population, VIDO-InterVac is also working hard on a vaccine to fight the growing threat to the world's swine population, with serious implications for global food security.
"African swine fever is spreading and VIDO-InterVac is the only non-government Canadian facility that has received permission to work with the virus, and that disease—in the global picture—is equally important. It is not affecting humans, but there are estimates that every third pig on this planet is going to die from this disease and that would have a major impact on protein supply, so it is huge." 
Read more: VIDO-InterVac-led research team at USask awarded almost $1M to fight new coronavirus
Prevention and precautions:
While the risk of coronavirus to Saskatchewan residents remains low, the campus community is encouraged to follow recommended precautions to help prevent illness at this time of year: 
Wash your hands frequently with soap and water for at least 20 seconds
Sneeze into your sleeve or elbow and throw away soiled tissues, followed by hand washing
Avoid touching your eyes, nose, or mouth
Make sure your vaccinations are up-to-date
Stay home if you are sick
As part of regular operations, the university has an emergency management plan with protocols and procedures in place in the event they are needed. For more information, go to: usask.ca/updates